HOW FAR WILL YOU GO?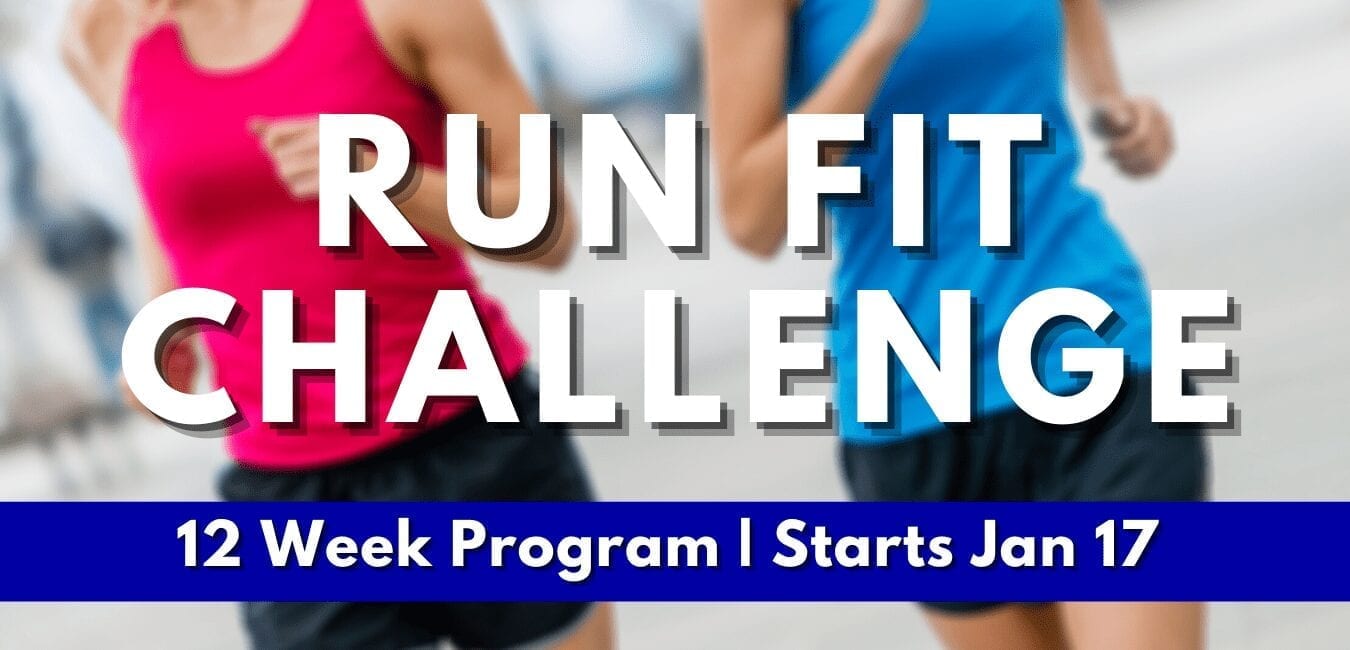 What is the Run Fit Challenge?
A 12 Week Running, Strength & Conditioning Program And
Virtual Run Club
designed to help you run your best life.
7 different training plan options are included –
so you can start right where you are today!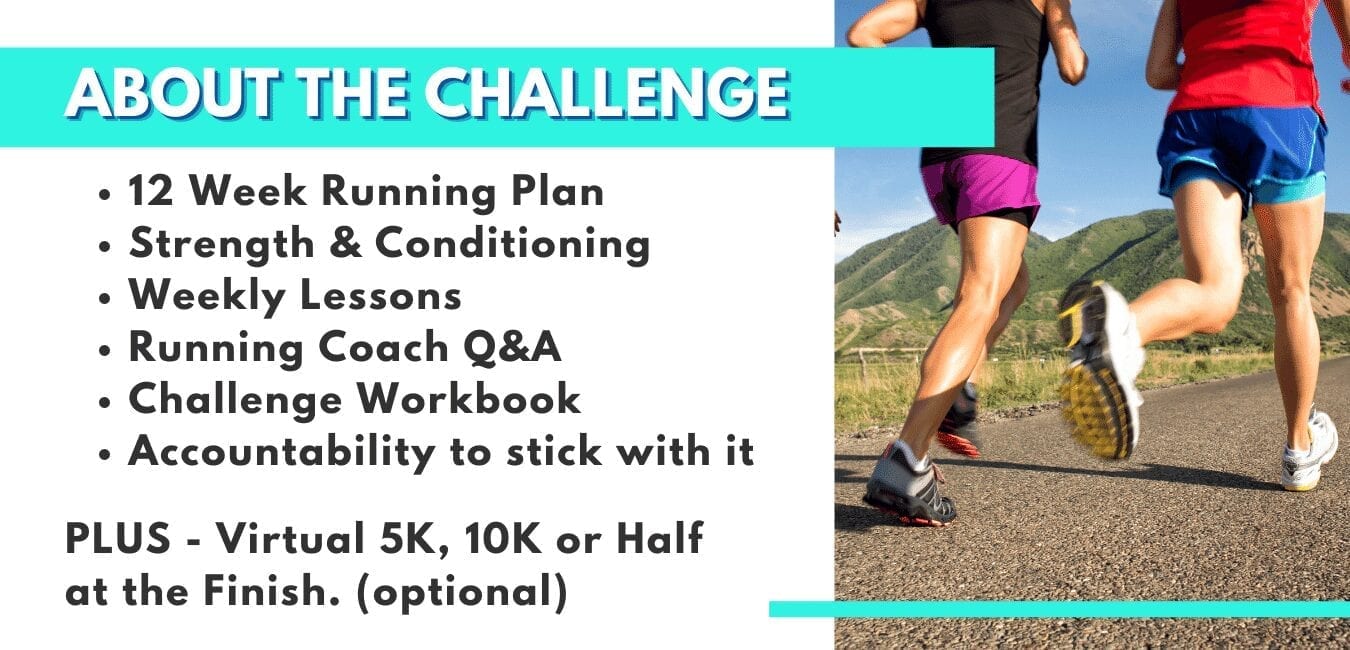 Where do you want to be in 12 weeks?
Running is the BEST way to get fit, lose weight, have fun, make friends, set new goals and turn a hobby into a lifestyle. Every decision you make either improves or impairs your running. 
The Run Fit Challenge will help you identify your most important goals and chase them down. Consistency is KEY to fitness. And our running community will help you stay consistent every week. This program gives you the tools you need to feel healthier and happier! 
YOU can become a better runner.
You can improve your fitness in 12 weeks.
You can make friends.
You can have fun on the run!
This isn't your average fitness program. This is a virtual running club with others just like you. You'll feel the difference in this community and you'll feel the difference in your health. 
RUNNING PLANS FOR ALL LEVELS
YOU choose the plan that's best for your current fitness ability and running goals. There are 4 Running for Fitness plans and 3 Running Plans to prepare you for a race (5K, 10K or Half Marathon).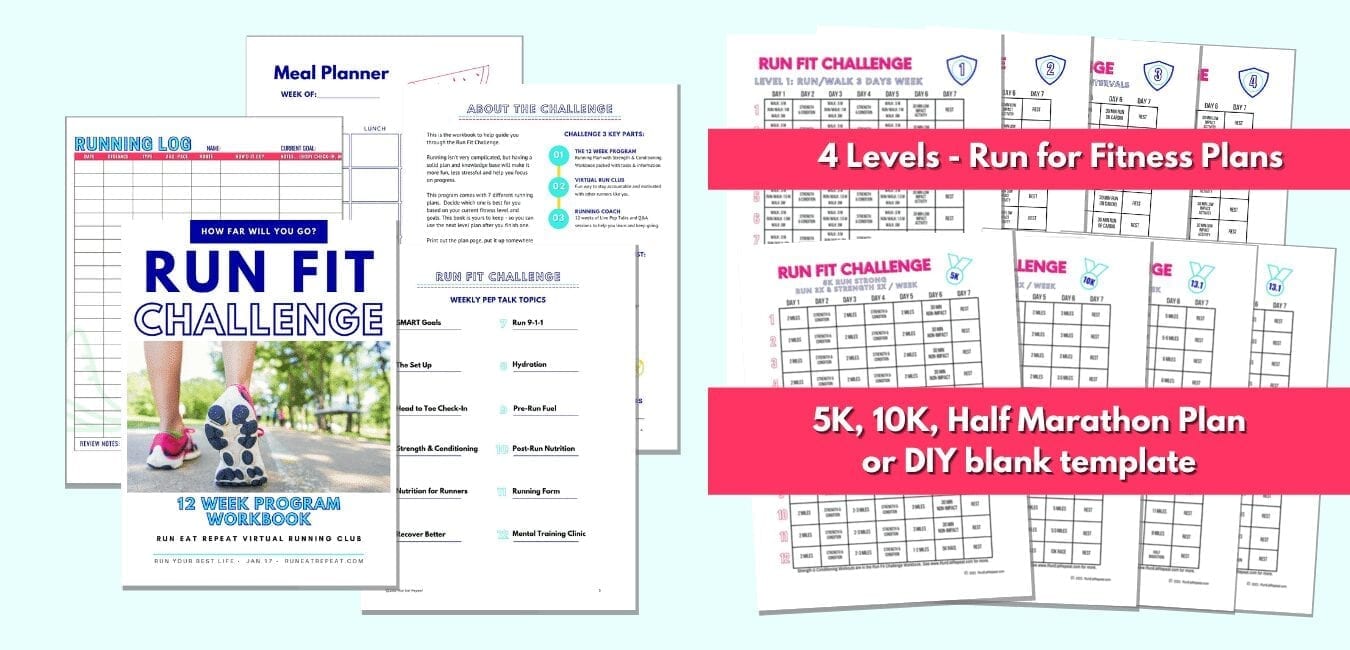 Running for Fitness Plans:
Level 1 – Run / Walk Plan: Best for New Runners or Returning Runners after Injury (cleared by your doctor)
Level 2 – Run 3x a Week : Best for New Runners or Returning Runners after time off who currently exercise at least 3 days a week for 30 minutes.
Level 3 – Run 3-4x a Week w/ Hills & Intervals : Best for Runners who want to incorporate speed workouts to get faster and improve fitness.
Level 4 – Run 4-5x a Week w/ Hills & Intervals : Best for Runners who want to run 5 days a week and want to incorporate speed workouts to get faster and improve fitness. *This is a good base plan if you want to start a half or full marathon training program at the end of the 12 week program. Choose this plan if your goal is to run a half or full marathon in Fall 2021 and you want to start to build up your endurance.
Race Training Plans
If you want to run a Virtual Race with us at the end of the 12 Weeks OR have your own race in mind for April 2021 – choose one of these plans. Note: The Virtual Race with our Run Club is optional and a separate fee for your medal and t-shirt.
5K Plan : 3 Runs a Week 
10K Plan : 3-4 Runs a Week
Half Marathon Plan : 4-5 Runs a Week


THE VIRTUAL RACE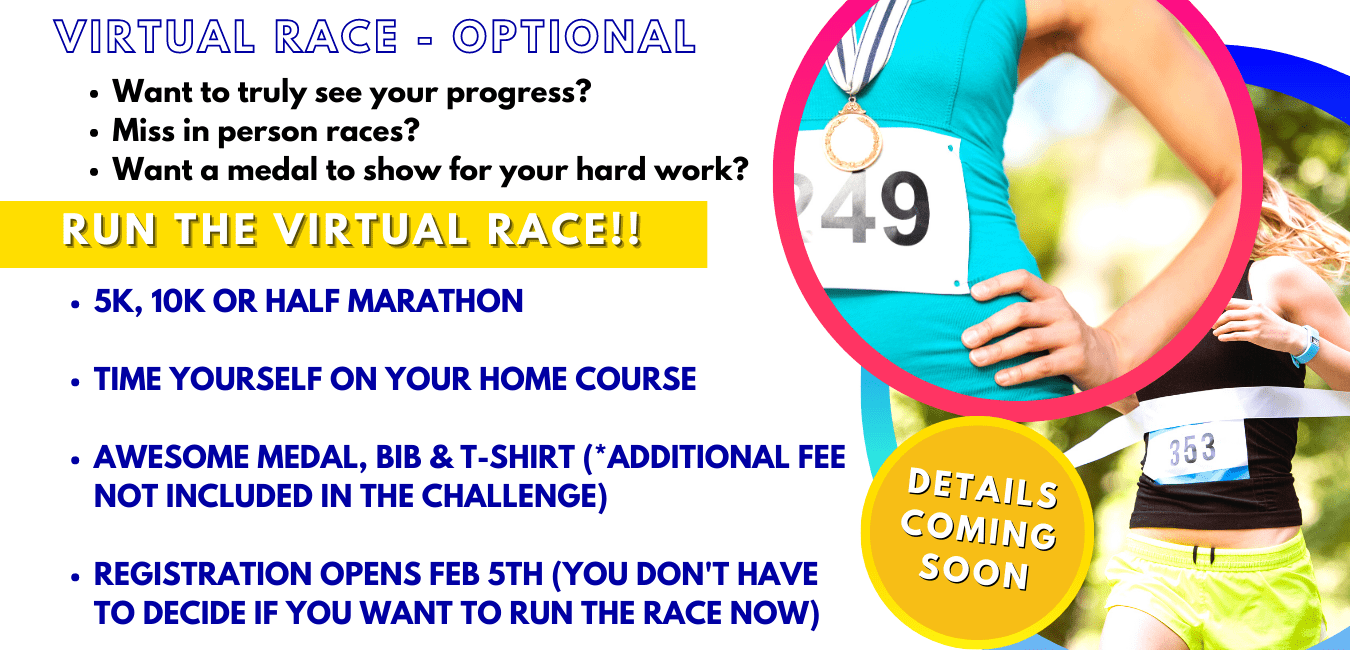 You can use the Run Fit Challenge to train for our Virtual Race, Run an 'in person' Race or both!
This program is great for runners who want to run a 5K, 10K or half marathon in 12 weeks.
The Run Fit Challenge is great for you if you:
Want to Run a 5K, 10K or Half Marathon in 12 Weeks
Want to Train for a Virtual Race with a Group
Want to Run an 'in person' Race in April or May
Want to Jumpstart your fitness to train for a PR
Want to get consistent and stay on plan
Want to challenge yourself to chase down a goal in 12 weeks
Want to push through a rut and make progress
Want to have fun running & meet others like you
Want to finally transform your fitness this year
Want access to a Run Coach for their questions
Want to ditch the excuses and be accountable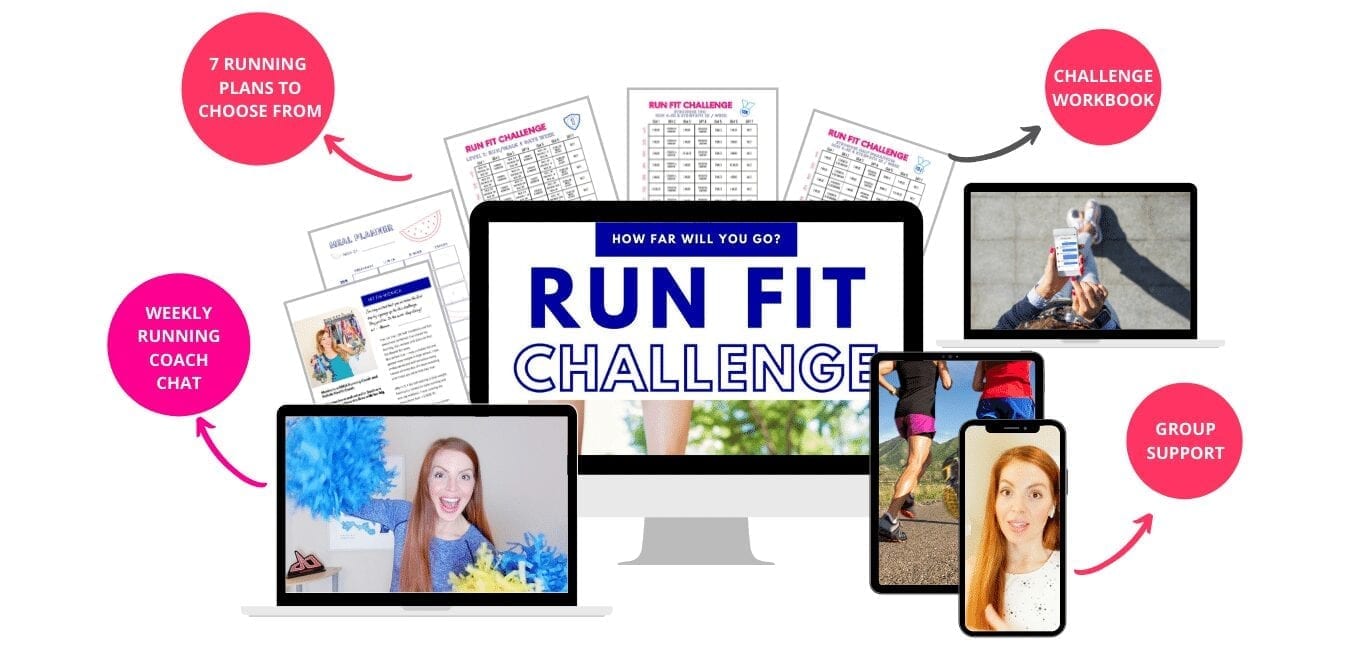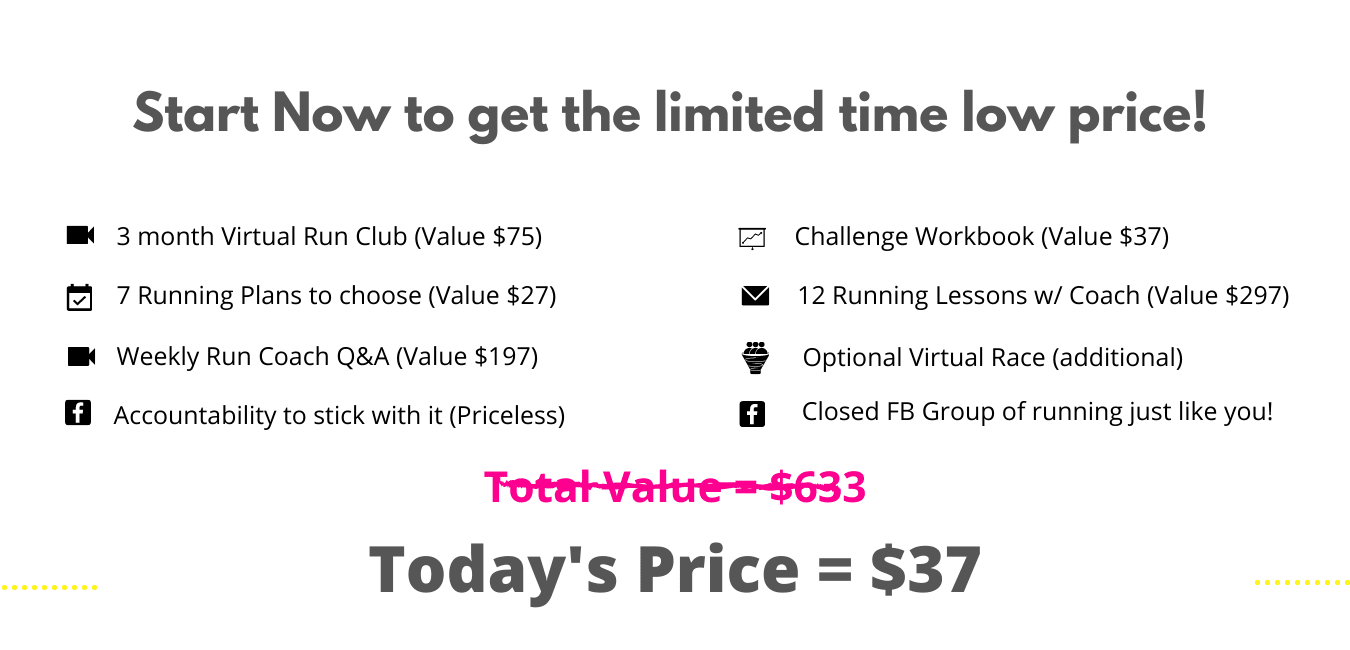 ABOUT YOUR RUNNING COACH


Running Challenge FAQs
Q: How long is the challenge?
A: The Challenge RUNS – 12 Weeks from January 17-April 10.
Q: I'm a new runner… what if I can't keep up?
A: You run your pace! You can Run/Walk the running workouts or completely walk them until you are ready to run. And if it's super challenging for you – repeat a week until you feel ready to move on to the next.
Q:  What is the refund policy?
A:  Due to the digital nature of this product (you receive a pdf of Workbook immediately) – there are NO REFUNDS.
Q:  I used to run a lot but took some time off & am looking to get back to it. Is this plan right for me?
A:  Yes! My friend has run tons of (super fast!) half and full marathons. Due to an injury and schedule she hasn't run in months. But she joined the challenge to get back on the running wagon!
Q:  My gym is closed right now & I need to workout at home. Can I use this in place of gym workouts?
A:  Yes! You don't need any equipment or access to a gym. There are 4 'Running for Fitness' plans you can follow if you mainly want an exercise routine to follow. It's a combination of cardio (running) and toning (strength & conditioning).  And the Virtual Run Club Community will give ya that group support of gym buddies.
* See all the FAQs here – Running Challenge Frequently Asked Questions *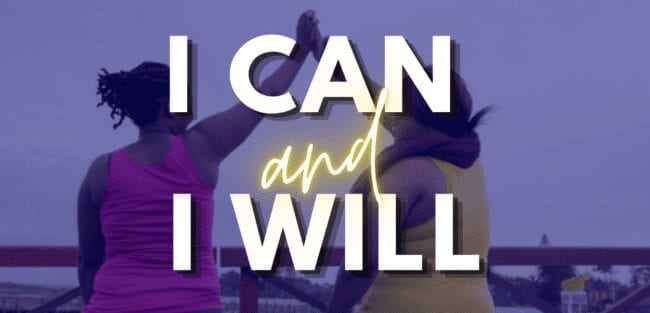 Don't Get Left Behind! Sign Up Now.
You Get:
12 Week Fitness Plan – You Keep All 7 different plans
Strength and Conditioning Workouts
Workbook with Goal Tracker, Run Log, Meal Planner & more
Virtual Run Club Membership – private Facebook Group
Weekly Coach Q&A – access to Monica for your running questions!
Key Lessons covering a different hot topic each week
VICTORY LAP! (optional) Virtual 5K, 10K, Half Marathon Race at the finish!!
BONUS: You'll have FUN!!
I truly believe running is the BEST way to get in shape AND that it can be fun. It's the only way to workout, burn tons of calories, build confidence, make life long friends, let go of stress, learn who you are, chase down a goal and more – without a gym membership.
This program is valued at over $600! This promotional price will be gone soon.
JOIN NOW to get the limited time price of $37!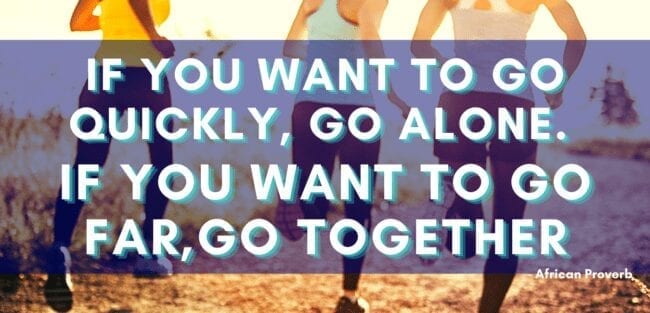 Next Steps:
Join the Challenge Facebook Group for info on how to ask your questions and when the weekly live videos will be.

The Challenge Starts Jan 17th!! Print out your plan. Set a goal. Chase it down!