< 7 Minute Workout how to is below >
Happy Mother's Day!
I spent the day with my mom. We went to church and then I made brunch for the fam.
It was the usual brunch fare. I rolled up Pillsbury Croissant rolls with ham and cheese and baked them like that.
Then, I made a batch with chocolate in them! To die for.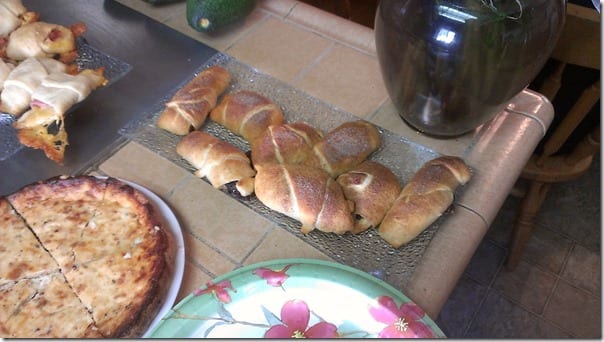 The 7 Minute Workout
Today the New York Times Magazine wrote about the 7 Minute Workout. It's a study published American College of Sports Medicine Healthy & Fitness Journal claiming that
"In 12 exercises deploying only body weight, a chair and a wall, it fulfills the latest mandates for high-intensity effort, which essentially combines a long run and a visit to the weight room into about seven minutes of steady discomfort — all of it based on science."
I know a lot of you are already familiar with Tabata style workouts where you exercise intensely for a short period, rest, then go back to intense for a 5-8 rounds and then do it all again.
Well, I agree with the Tabata style for getting in an effective workout in a short period – doing a straight up 7  minute workout made me skeptical so I decided to drop everything and try it real fast.
The video is tragic, but that's what happens when you don't plan it out. But you can do the 7 minute workout yourself by using this
and /or doing it along with me –
Warning: It's very boring since it's just me doing random exercises for 30 seconds at a time. Plus it was after 9 pm and I'm a tired grease ball.
How to do the 7 minute workout – for each move:
30 seconds of exercise
10 seconds of rest
The exercises:
Jumping Jacks

Wall sit

Push ups

Crunches

Step ups

Tricep dip

Plank

High Knees

Lunge

Push up with rotation

Side Plank
Question: What is your favorite exercise out of that list?
Least favorite?
Winner of the Glossy Box Giveaway:
*Always consult with your physician before trying a new exercise program.