Sunday morning we woke up and took a walk around Emily & Mark's neighborhood in Portland, CT. It was so nice to get out and walk around after being in the car for so long yesterday.
Before we went on the walk I ate Kashi with a banana and milk. I always bring cereal with me on road trips – it's great for snacking or breakfast!
Ben seriously has baby fever, while I light up when holding a cat or petting a dog. I miss my pets so much, and I have Matt (my little bro) for the times I want to be a mom. Chill out Ben, it will happen. Someday.
Here is Ben, Julie and Owen on the walk…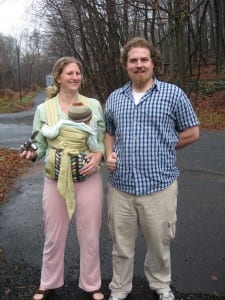 We left around noon and I was hungry so I ate this apple and drank this massive iced tea.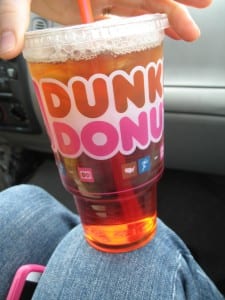 Lunch was Subway. I had a big dilemma at Subway because I do not eat meat, but didn't want to eat tuna for the 3rd time this week (because of the mercury and child bearing age thing). But I knew bread and veggies would not keep me full for long (Veggie Delight). What is a girl to do? What Would Jesus Do? So, I reluctantly ordered the turkey sub. I feel guilty because I am constantly eating things I would rather stay away from lately, but it was the healthiest choice I could make given the circumstances.
There were also many chips and a Kashi bar consumed.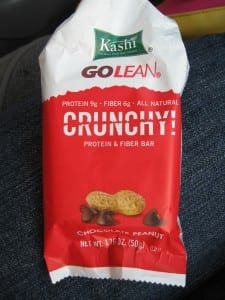 Plus I drank water from my  trusty sidekick bottle 🙂 At one point I had to go to the bathroom so bad I barely BARELY held it until we found a rest stop. It was a veryclosecall.
At that rest stop I bought a Massive Diet Coke because that's how I roll and we continued on our way. But, we encountered a huge accident only a few miles from our house and were completely stopped for almost an hour. I had to pee again! And now my bladder was super weak from holding it so long earlier. At one point I could not take it anymore and considered just peeing in my pants. Then, I found a Gatorade bottle and created a portable restroom. Don't judge me, you would have done the same thing.
I hope I haven't ruined the thought of yellow Gatorade for you (but I do think it's kinda funny if I have). In all honesty I also drank a ton of water so it wasn't actually yellow at all. I would have taken a pic of the bottle, but I have to draw the line somewhere.
I can't believe I just admitted this on the internet. What have I become???
Run SMART Goals
Fill out this form to get the SMART Running Goals worksheet to your inbox!