Run Eat Repeat Podcast Episodes List, Notes and how to Subscribe
How to listen to the podcast on your phone:
Use one of these free apps. iPhones have Apple Podcasts already installed. Android users can get Spotify or Stitcher from the Play Store.
Other Podcast Apps – the show is available on most! Please contact us if it's not on your fave podcast app.
How to listen podcasts from your computer:
Right on the blog post – Click the link on the post & there's a sound bar towards the top where you can press play.
Alexa – say, "Alexa play the Run Eat Repeat Podcast"
Google Home – say, "Okay Google, play the Run Eat Repeat Podcast"
Spotify for desktop
Run Eat Repeat Podcast Episodes List
Click on the link to see the show notes for that episode for pictures, links and more information. 
You can listen right from that page or from the podcast app on your phone. The Run Eat Repeat podcast is available on iTunes, Spotify, Stitcher, Google Play and more!
Run Eat Repeat Podcast Episodes List
Podcast 126 – How I Stopped Binge Eating
Podcast 125 – What the Boston Marathon Cancellation Means for Running
Podcast 124 – How to Run Your BEST Virtual Race (part 2)
Podcast 123 – How to Run Your BEST Virtual Race (part 1)
Podcast 122 – Lorena Ulta Runner Documentary Recap Review
Podcast 121 – 5 Tips For Buying the Best Treadmill for You
Podcast 120 – Running & Coronavirus Info and What I'm Doing
Podcast 119 – What To Do When You CAN'T Run 
Podcast 118 – What Happened to My Book & Talking to Strangers
Podcast 117 – TMI Questions with Doctor Nita Landry 
Podcast 116 – Life is a Marathon with Coach Matt Fitzgerald 
Podcast 115 – Book Reviews Round Up – Non-fiction 
Podcast 114 – Book Reviews Round Up – Fiction 
Podcast 113 – Foods to Eat for Better Sleep w/ RD Karman Meyer
Podcast 112 – Is Chocolate Milk the Best Recovery Drink w/ Dr. Jason Karp
Podcast 111 – Rock N Roll Marathon Behind the Scenes w/ Race Director 
Podcast 110 – How & Why to Un-Follow Someone on Social Media
Podcast 109 – Why I Went to Therapy & Running Buddy Kaleena 
Podcast 108 – First Half Marathon Tips & Instagram Q&A
Podcast 107 – Catalina Marathon Winner Pam Shares Tips
Podcast 106 – Run to the Finish Amanda on Running & Injuries
Podcast 105 – 3 Announcements for the New Year
Podcast 104 – Run Eat Repeat Podcast Interview Form 
Podcast 103 – How to Prevent Injuries w/ Coach Nate The Running Experience
Podcast 102 – 300 Pounds and Running  Martinus Evans : Part 2
Podcast 101 – 300 Pounds and Running Martinus Evans : Part 1
Podcast 100 – Pile on the Miles & Boston Marathon Team Video Host
Podcast 99 – New York City Marathon Tips with Ashley Diamond
Podcast 98 – Should You Take Collagen w/ Dietitian Lindsey Janeiro
Podcast 97 – Crisis Text Line Chief Medical Officer 
Podcast 96 – How To Make Time to Train w/ Running Coach Andrea
Podcast 95 – Best Podcast Lists and Running with Underwear? 
Podcast 94 – Self Defense for Runners w/ Expert Gloria Marcott
Podcast 93 – Egg Freezing & Getting Pregnant for Runners w/
Podcast 92 – Instagram Story Q & A 
Podcast 91 – Best Running Shorts Round Up
Podcast 90 – Diz Runs Podcast Host Running Coach Denny
*Older Podcast Episodes List Updates Coming Soon*
Episode 1: How I got started Running
Episode 2: Your Running and Eating Questions 1 
Episode 3: Fast Friday – Tips from the 1st Place Run Eat Repeat Marathon Team. 
Episode 4: 100 Marathon finisher AND 'Your Pace or Mine' Author Lisa Jackson 
Episode 5: Fast Friday – How to do a Fartlek Run 
Episode 6: How to Run 55 Marathons have fun and NOT get injured with David Deniere. 
Episode 7: Fast Friday – How to Measure Effort Level When Running 
Running Questions
Got a question you'd like me to answer on an upcoming episode?
Email Monica at  –  [email protected]
Leave a voicemail with your running / food / life question and I may answer it on the Run Eat Repeat Podcast
Run Eat Repeat Question line: 562-888-1644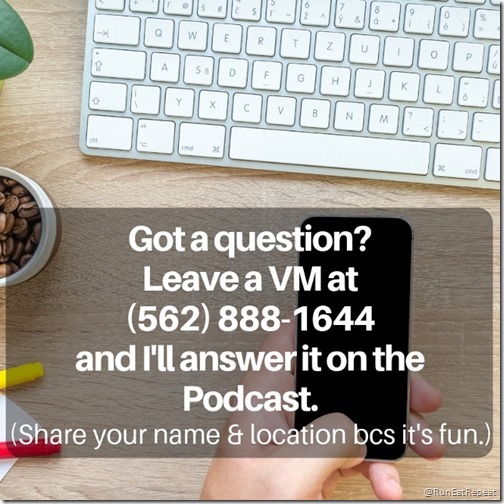 Please subscribe in your podcast app so you don't miss the next episode!
And I would really appreciate it if you can leave a review.  It really helps spread the word and get more people listening and chiming in.
Thank you so much for following! – Monica