Today's eats were really random… since I ate a big breakfast at noon I didn't get hungry again until around 2:30/3pm – and I don't think I was really even hungry, probably just tired from the whole "I ran 19 miles today" thing.
I ate a mango and nachos for "lunch". Yes, I ate nachos. I just threw them together with tortilla chips, salsa and cheese in the micro. I don't know where the idea even came from, but I'm not going to dwell on it 🙂
<Insert mental picture of cereal here. I've already told Ben we will probably be taking a break from cereal after we're done with this batch.>
The big highlight of today's eats is my new recipe for a mini batch of Chocolate Chip Cranberry Muffins. I love just making recipes up as I go along. I didn't use any recipe, just my head movies.
Ingredients: (makes 6 muffins)

1/3c ww flour
1/3c oatmeal
1/3c egg beaters
1/3 c brown sugar
1/2c apple sauce
1/4c soy milk (use more or less until you get the right consistency)
1/4tsp each: baking soda, salt, vanilla
1/2tsp salt
1/3c chocolate chips
1/3c cranberries
Directions: Heat oven to 350 degrees. Mix all ingredients except last two. Once well mixed, add choc chips and cranberries. Place in greased muffin pan (I sprayed with non-stick spray). Bake for 15 to 20 minutes. Makes six muffins.
I love mini-batches of baked goods! I love fresh from the oven muffins and cookies, but don't want a ton of leftovers (cause they will end up in my belly). Enjoy 🙂
*Updated to add: Ben wasn't feeling the muffins and said they needed frosting. I made frosting for his with cocoa powder, maple syrup and a little cream cheese. He was happy 🙂 And I was happy to lick the spoon!
Ben wasn't feeling well most of the day so we just hung out at home all day. I was fine with this since my legs wanted to rest. But, he was starting to go stir-crazy so we opted for dinner out. We tried a new Sushi/Thai restaurant. I have never been to a restaurant and not liked my food to the point of not eating it, but that happened tonight. I don't think it was the chef, I think I just ordered wrong. I got Vegetable Udon with tofu. The tofu was measly and super fried and the veggies were non-existent.
I picked at my food and then ordered a cup of brown rice and stole some of Ben's veggies. I LOVE brown rice with soy sauce. I meant to just eat half of it, but then I remembered that I am not a saint and went at it 🙂
We also shared a baked sushi roll. It was one of those decadent ones with too much good stuff. I requested "no cream cheese". I've never changed a sushi order before! It never even occurred to me, but Ben wanted this roll and cream cheese on sushi grosses me out. It was delicious!
I also want to point out that I am a camel. Some readers have asked about my water intake. I drink like an alcoholic on a downward spiral. For real. Tonight I ordered a diet Coke and a water (my usual). I finished both and got refills – this is standard.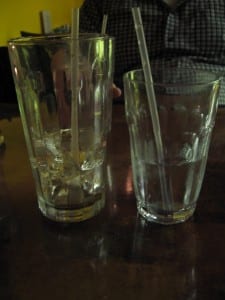 I am super tired! Often times tired = random snacking for me, but I am brushing my teeth and closing the kitchen. Hope you have a great evening!
Run SMART Goals
Fill out this form to get the SMART Running Goals worksheet to your inbox!