Who else would title a post "The C Word" and put a picture of her self under it?
I know. Thanks for reading.
But, I'm not talking about the C word you're probably thinking of, I'm talking about the COLD! It is painfully cold, as in if the air outside touches your skin, it burns. Ouch! I don't know if you've caught on during my 7,451 previous rants about MD, but I do not enjoy the cold.
I had some seltzer bottles in my car and it froze them!!! Now, stripping all feeling from my fingers and toes is one thing, but when you start messing with my seltzer we're going to exchange some words.
When I last left you I was on my way to kick boxing which I predict will become my latest obsession. I love it! When it was over I had an apple and a SB snack bar.
All I wanted for lunch was something opposite of the "C" word. (If Ben reads that line without knowing my new meaning for C word he would be very happy.) Anyways, I meant soup! This can was on sale the other day so I thought I'd give it a whirl.
It was okay. I spiced it up with some hot sauce to make it better though. Not sure if I would get it again. On the plus it's a big bowl of eats for 220 cals.
On the side I had my addiction = Veggie Crisps. You guys don't see chips on the blog very often because I'm normally not a salty snacks person (besides the occasional popcorn binge). But I love these suckers for some reason! Yum!
More Anonymous Questions!!!
Question:Did you keep your maiden name?  If so, how come?
Monica: Yes, I kept my maiden name. I was considering changing it, but I don't really understand the reason. I like my name and don't see the need to change it.
There has been talk of hyphenating it to avoid confusion when we have kids, but I haven't made up my mind about that either.
Also, I think it's pretty obvious that I make up for my lack of skin pigment by constantly reminding you and myself that I am Mexican. I like having a Hispanic name. I am proud of it.
FYI – One of the first women to not change her name was Lucy Stone. Now women who keep their name are called Stoners. Here is a link to the Lucy Stone League, a group that carries on her message of equality for men and women.
Question: Who are your favorite bloggers?
Monica: I have a ton of blogs on my Google Reader, so it's really hard to choose, I'll go through phases of having to read certain blogs. Here are the first blogs I went to today…
Peas and Thank You – You know I appreciate a funny blog 🙂
Carrots and Cake – But seriously, who doesn't read this blog?
HEAB!!! This girl definitely wrote her own diet book and eats what her body needs. I love it.
and then I went down the list…
Question: What kind of running shoes do you wear?  I'm on a constant quest for trail running sneakers that provide enough ankle support while adjusting for overpronation.
Monica: I currently sport Adidas SuperNovas and am also a fan of the Asics Gel Nimbus. But these are my runners. Trail running shoes are a bit different because they are heavier, heartier and offer more support since the terrain is often sketchy.
The SuperNova line does offer a trail shoe, but I don't know if it would offer enough suport if you overpronate a lot.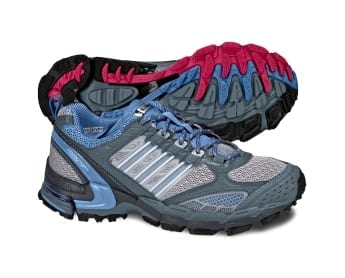 The SuperNovas and Gel Nimbus are both considered Neutral shoes meaning they don't offer much in the way of helping with pronation. But, I would assume that their trail shoe counterparts offer more stability and may be okay.
Here is the Runner's World Trail Shoe Guide for 2009. This probably has exactly what you need if you know your brand preferences too. I am pretty loyal to the two "A" name brands – Adidas and Ascis 🙂
For other readers:  If you don't know what kind of running shoes you need, check outwebsites like  Running Shoes Guru,  or go into a running shoe store and ask. Just make sure it's a running shoe store and not Lady Footlocker or some crap like that.
Do you have an anonymous question for me? Ask away here!
I'm so glad there are so many LOST fans out there! Next question: What LOST character are you most like???
Me: I dunno, this is one I've never thought about. I would say Richard Alpert because we both like to wear eye liner. Ha, just kidding.
Um, I think I am most like Sayid because I have a good heart, but can also kick ass (or at least pretend to in kick boxing).
Run SMART Goals
Fill out this form to get the SMART Running Goals worksheet to your inbox!