Yes, my So Meaty post from this morning was an April Fool's joke. Did I actually food anyone?? And now the internet is playing jokes on me since this post has 20 different fonts/sizes. Boo.
In January I announced that I would make 2010 my Healthiest Year by making a new health related change each month…
In January I did Meatless Mondays and then changed it to Mexican Meatless Mondays!
February I tried to stop eating after dinner.
In March I decided to keep working on my efforts to stop eating after dinner. Hey, it's a hard habit to break!
My April Challenge is:
Stop eating artificial sweeteners and added sugars
I have a really really bad Diet soda problem right now. Bad as in, last week I bought a 2 liter of Diet Coke and it was gone that same day. Ouch.


nataliedee.com
So, my April Challenge is to stop eating/drinking artificial sweeteners and also to avoid foods/drinks with added sugar. I am not eliminating all sugar from my diet, but want to make an effort to eat foods with less sugar.
Now that I can't have Diet Coke what will I drink? Water, Coffee or Tea with some seltzer thrown in for good measure 🙂
Celestial Seasonings sent me a package of tea just in time for my new challenge! So far the Mandarin Orange one is my favorite.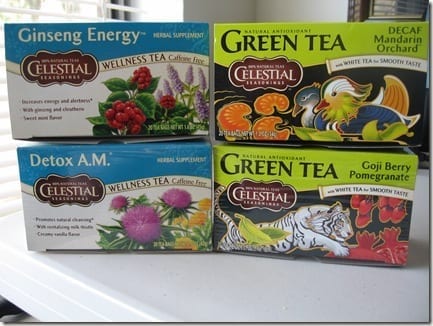 The company has offered to send a RER reader a great Natural Wellness kit too!
The Celestial Seasonings Natural Wellness Kit (worth $60) includes:
– Four wellness teas to ease  symptoms associated with the cold and flu including Sleepy time Extra, Echinacea Complete Care and Tummy Mint
– Two green teas to support a healthy immune system year round – Authentic Green Tea and Honey Lemon Ginseng Green Tea
– Mug, soothing lip balm, honey sticks and Celestial Seasonings Sleepy time Bear and   the book "Herbs for Health and Happiness" by Celestial Seasonings founder Mo Siegel and Nancy Burke
To Enter, Leave a Comment on this post.Anything you want to say is cool with me 🙂

The contest ends Thursday 1/1/2010 at midnight PST. I will pick a winner at tomorrow breakfast post.
Good Luck!!!
In other news, my protein shake this morning was delicious, but left me wanting more. So, I made a packet of multi-grain cereal and it hit the spot!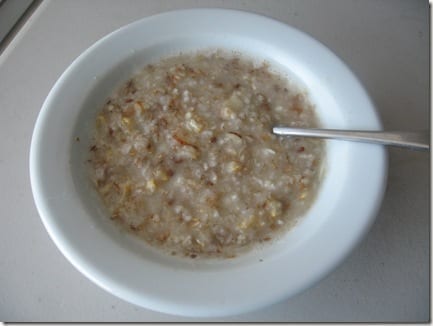 Mid-morning I ate an orange (no pic because my hands were sticky from said orange).
And lunch was mas huevos! What is my deal with eggs these last two days?
I made a massive salad with spinach, mushrooms, carrots, hummus, chickpeas and a hard-boiled egg with S&P. So good.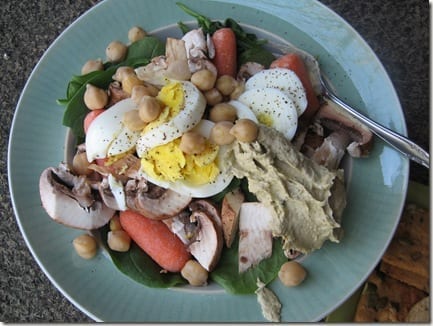 I had a mix of crackers and rice crisps on the side too 🙂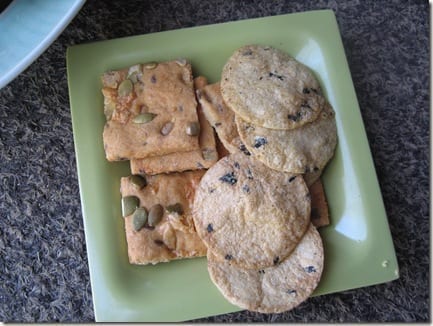 Happy Thursday!!!
And don't forget to comment to enter the contest…

Run SMART Goals
Fill out this form to get the SMART Running Goals worksheet to your inbox!