I've mentioned that I cannot get myself to appreciate oatmeal lately 🙁
But, I thought I'd give it one more try since I had the ripest banana on my counter. We all know bananas like this deserve to fulfill there destiny to be made into whipped oats…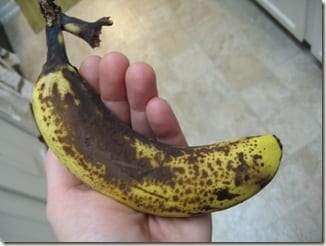 So I made oat bran. In addition to the ripe banana I added a packet of stevia and some almond milk. It was so sweet and creamy. It reminded me of the Cream of Wheat my mom used to make us when we were kids (I think we used a lot of sugar!).
Run: This morning I did 6 miles in about 55 minutes. I'm slowly getting faster 😉
I still need to pack and stop at the bank before I head to the airport! I better get moving…
I'll probably see you again in the air!
Run SMART Goals
Fill out this form to get the SMART Running Goals worksheet to your inbox!