Breakfast this morning was a major fail. I made a green smoothie with chocolate protein powder, chia, maca, ice, 1/2 frozen naner, xantham gum and water. For some reason it was the grossest consistency.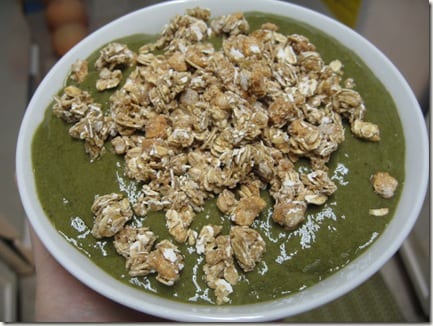 I tried to get a picture of it on a spoon, but it was difficult to capture the pond scum-like essence of this bowl. When I shook the bowl it jiggled like muddy  old jello. Gross, very gross.
I topped it with my new Special K granola. I've been wanting to try this since it came out and finally decided to go for it. I like it 🙂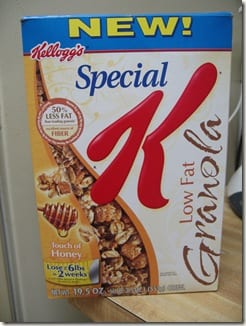 I think I may hit up KB this morning, but the gloomy weather makes me want to stay home and catch up on work. Hmmmm…
Sorry to anyone who emailed me last week. Since I was in Orlando I pretty much disconnected from email and am super behind. I will get back to you today 🙂
Run SMART Goals
Fill out this form to get the SMART Running Goals worksheet to your inbox!