Ben came home with a standing desk the other day. It was part of some equipment his office was throwing out and he figured he could find something to do with it.
I was so excited when I saw it I immediately set up my laptop and claimed it as my own!
I have always wanted a standing desk!!! I hate sitting all day and get way to antsy. Now I can stand, sit, sway back and forth….you get it.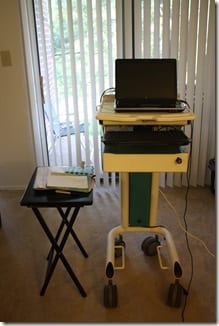 I was curious if standing versus sitting really makes that big of a difference in the world of calories. This article from Livestrong says you may burn 50 more calories a day from standing versus sitting. Bonus!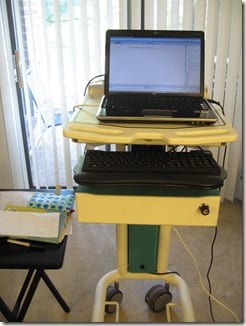 I have been spending way too much money on food lately, so it's time for me to budget and stick to it! One small cut I made was buying a loaf of EZ bread instead of the english muffins. They're not as good, but you get a lot more breakfasts for the same money!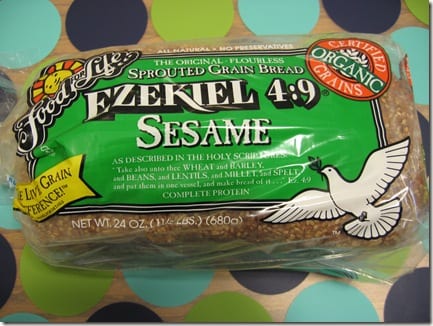 I really need to save all my pennies though because I dropped too much $ on these Weight Watchers treats yesterday. My mom is doing Weight Watchers and brought these to Disney World. They are super super processed, but I like them 🙂
Today is the last day to enter my Magic Bullet To Go Contest! There will be four winners – so go for it!!!
Questions:
1. Do you sit or stand most of the day? Does that affect how much you work out (do you work out less because you are standing?)
2. Do you have any cheap food swaps to help me save money and still eat well??
Run SMART Goals
Fill out this form to get the SMART Running Goals worksheet to your inbox!