Six miles used to be my favorite distance (it technically still is for mid-week runs) but I've been happily running nine miles the last few weekends.  I think nine miles is my favorite long distance weekend run.
Before I left I had a piece of toast with PB, banana and jelly. Oh, and a lot of water.
When I got back I couldn't decide between a smoothie or a yogurt bowl. I've been eating a lot of smoothies lately so I went with yogurt. I ate 5x the watermelon shown here 🙂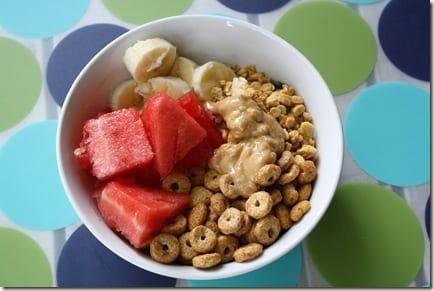 Of course I added PB too! (TJ's is still out of AB. Boo.)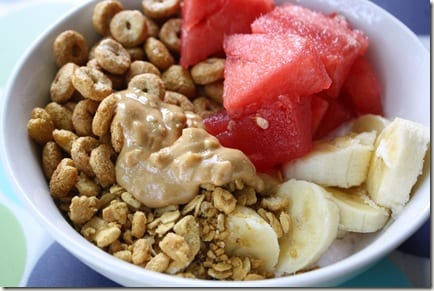 Usually long runs scare away my appetite, but today I got hungry again two hours later! I guess my body is getting used to this distance.
I ate more veggie chicken and rice over a salad. This is my new favorite thing, but I think it has a lot of sugar in the sauce which I'm trying to get away from 🙁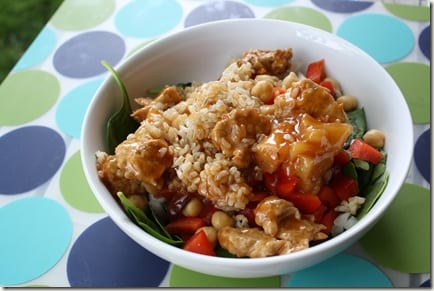 Update on Ben's injury: The bruising is finally going away and the cut is healing.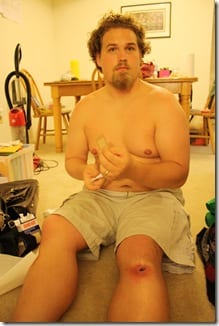 But it's still gross.
Chicks may dig scars, but they don't dig open wounds.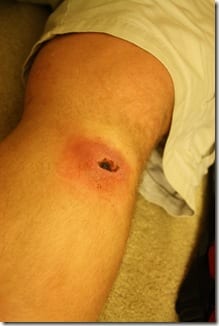 Okay, I've got to clean this place before I do anything else!
Wait, do I really have to clean if we're moving soon? Please say no.
Run SMART Goals
Fill out this form to get the SMART Running Goals worksheet to your inbox!