Today is July 1st! This means I only have 6 months to complete my 2010 resolutions! I was reviewing them this morning and am not doing well at all 🙁 Oh No!
But, the good news is that 6 months is plenty of time to finish them off. It's just going to take a lot of hard work.
Fitness Goals:
-Lose 20 pounds – (Intuitive Eating, Cut back on sweets, Eat whole foods)
Status: I've lost five pounds so far, but still have 15 to go. I've decided to join Weight Watchers and lose the rest with a more organized plan since it seems I am not moving in the right direction with this.
Run a 1:45 half marathon and a sub four hour full marathon (yikes!)
Status: Nope. I have not run one half marathon this year and my full marathon was a fail um, not quite there.
Plan: Long Beach Full and I'm thinking the Las Vegas Half to reach these goals!
– Do Yoga twice a week
Status: I became obsessed with KB and yoga went out the window. I'm totally fine with that, but need to find KB and/or yoga in SoCal now.
– Run five races
Status: 2 races down, 3 to go… TBA
– Recommit to being vegetarian
Status: I have stuck to this 90% and I'm at peace with that too 🙂
Personal Goals:
Enjoy more time with family and friends
Status: Well, I spent a lot of time with Ben…
Go to a new country
Status: Planned for September 🙂
Learn Spanish
Status: Fail, but I have a bunch of books and programs to help
Choose to be happy
Status: Working on it, but definitely happier than I've been in a long time!
Run – This morning I had to stall my run a bit because my stomach hurt from all the junk I ate yesterday. Boo. But, when I finally did get out I did a great 6 miles!
The stats:
Mile 1: 8:55
Mile 2: 8:49
Mile 3: 8:39
Mile 4: 8:31
Mile 5: 8:49
Mile 6:  8:46
Then, it was time for breakfast. One of the things I brought in my suitcase was my fave protien powder: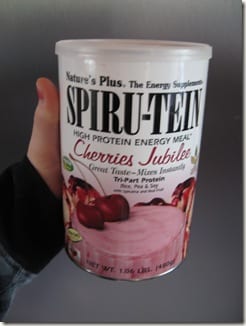 This morning I made a smoothie…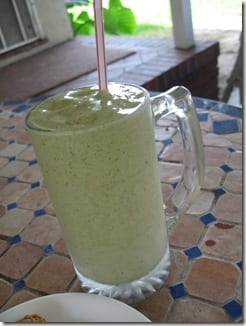 and some PB&J toast x2.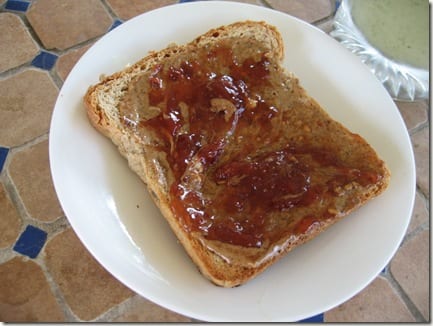 This is my favorite breakfast, and the only reason I eat anything else is because I "make" myself!
Question: How are your 2010 Goals/Resolutions going???
Run SMART Goals
Fill out this form to get the SMART Running Goals worksheet to your inbox!