Wow. How have I been walking this earth for twenty plus years (when did I start walking, Mom?) and just now figured that out?
I have been super stressed about neglecting RER, my email, my dogs 🙁 and so much more. I am frustrated at my 2+ hour commute. I almost had a breakdown during lunch today because I didn't feel like I had time to make it to the bank and eat in 30 minutes.
Over.Whelming.
But, Life Isn't Perfect.
I can't do it all right now, I just don't have the time. But, I can do my best. And I can choose not to stress about it because that doesn't help the situation.
🙁 For the next two weeks I only have a small window of time between dinner and bed to blog. I can't expect Pulitzer Prize winning stuff to come out of that (and neither should you or you'll be sadly disappointed).
🙂 But I can try to keep it real with my runs, eats and jokes. Okay, I can't promise jokes, but I can promise runs and eats. Bloggers can't be choosers.
🙁 For the next two weeks I don't have time to train for the triathlon.
🙂 But I can take a swim in my Mom's freezing pool and maybe find a yoga class to get rid of some of this stress
This morning I was supposed to do either a swim or a Spinning class, but I'm not close to my gym/there is no Spinning in the morning. I ended up just taking a walk, but that left me stressed about neglecting my training.
I need to plan the next two weeks of training according to my location until we move.
After my walk I copied Ben and made an egg sandwich for breakfast. I love putting spinach in my eggs and knocking out a veggie serving first thing.
With an Apple-Banana on the side. These came come my neighbor's tree!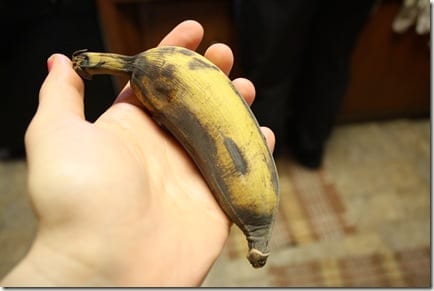 Lunch was aforementioned panic attack/run to the bank/ quickly eat lunch. I packed AB&J, yogurt and veggies.
Easy to eat on the go!
Well, except for this…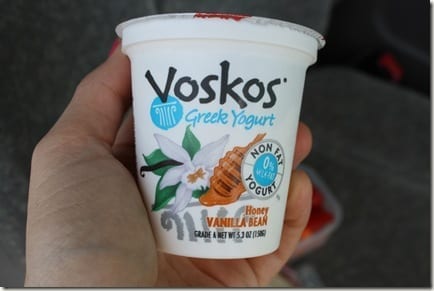 which I have decided is my 2nd favorite Greek yogurt after Chobani pineapple!!!
But, I needed deserved a diet Coke and ended up at the only place without a line – a Chinese place. 
But if you give a Monica a diet Coke, she's going to want some veggies to go with it…
and if she eats a container full of salty veggies she's going to need another diet coke…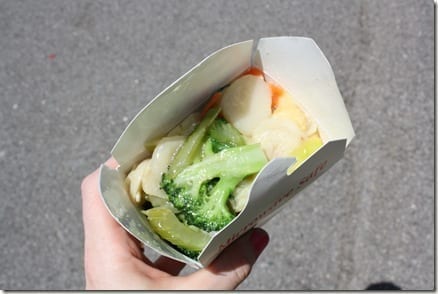 She how that works ;) 
Run SMART Goals
Fill out this form to get the SMART Running Goals worksheet to your inbox!