Today was a Rest Day from running so I decided some light strength training was in order. The problem is, my mom only has 5 pound weights and it feels like a joke. Oh well, I did a few moves and called it a day.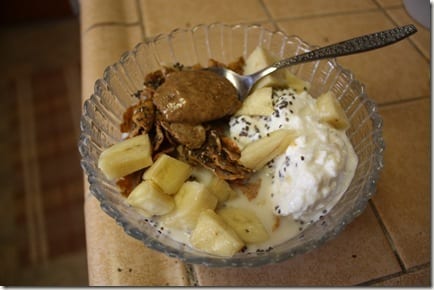 Then, I threw together a cereal bowl of randomness – Flakes, almond milk, pineapple cottage cheese, chia seeds, apple banana and almond butter. I know some people eat "weird" because of blogs, but I have always combined random foods I like into one bowl.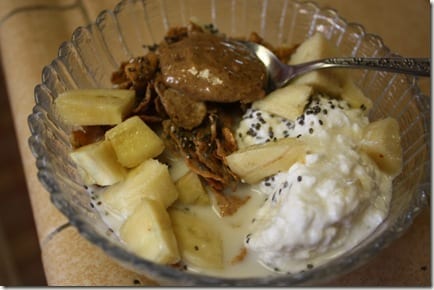 I ate chopped up veggie burgers in a mixed bowl of beans, couscous and broccoli before it was cool, believe me. Not that it's actually "cool", as my cousin called it "disgusting" when she saw what I was eating this weekend, but whatev.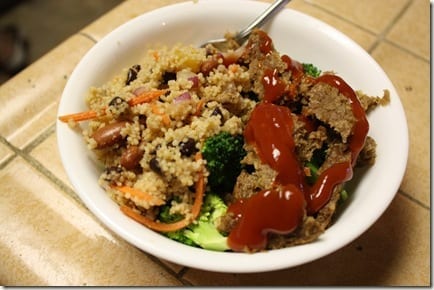 Anyways, back to Apple-Bananas. These came from my neighbor's tree, which means they're local and organic too 😉
Apple Bananas are described as:
Pale yellow and quite stocky, the average length is about four inches. The creamy semi-dry flesh resists turning brown when peeled making it a perfect choice for fresh fruit desserts. Prized for its unique flavor, this remarkable banana's deliciousness combines tasty hints of apple and strawberry.
Nutrition Info:
An excellent source of vitamin C, vitamin B-6 and potassium, the banana is low in fat, cholesterol-free, low in sodium and provides fiber. Some medications for controlling blood pressure deplete the body's storage of potassium. One banana each day restores the potassium balance. An average sized banana has about 95 calories. Five daily servings of fruits and vegetables are recommended to lower chances of cancer. A recent study found eating nine or ten daily servings of fruits and vegetables, combined with three servings of low-fat dairy products, effectively lowers blood pressure.
I swear they taste like apples! The texture is like an unripe banana, but they are sweet and delicious.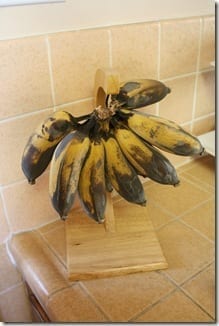 Last night I had dinner at my favorite restaurant! Two weeks in a row?! Score.
My favorite restaurant is the Whole Foods Salad and Hot Bar, "Where you can get a $20.00 dollar salad to eat out of a cardboard box! Oh yeah, and serve it your damn self!"
I don't care, I love it.
I also got a few samplings of dessert to share with Ben – Carrot Cake, Choc Chip Banana bread and Lemon Raspberry Cake. None of it changed my life.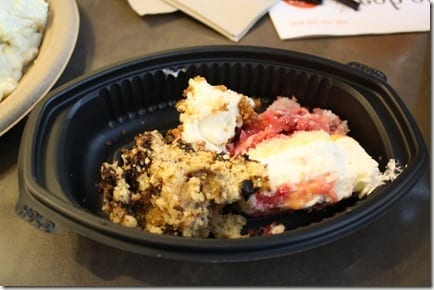 As I write this post I'm chomping on lunch. If I don't blog during lunch I have no other time, hence the missing dinner post last night. But, hang tight because in a week and a half I'll be able to work on the blog, comments and emails in a timely manner.
I'm sure I'm more excited than you guys, but I miss blogging when I have to do it on the fly.
I took pictures on our office patio because it's so nice out there 🙂
LC pizza and a salad.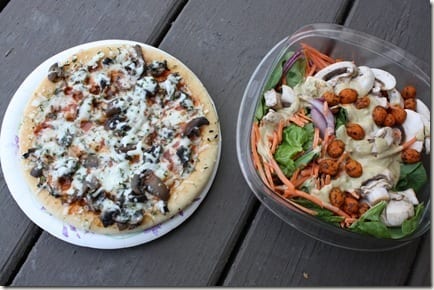 I love pizza and if the only way I can get my hands on some during lunch is from a frozen Lean Cuisine than so be it.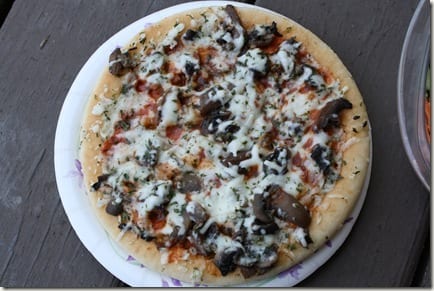 I picked up KooLoos last night at Whole Foods and really like them! Expect to see them on many salads to come.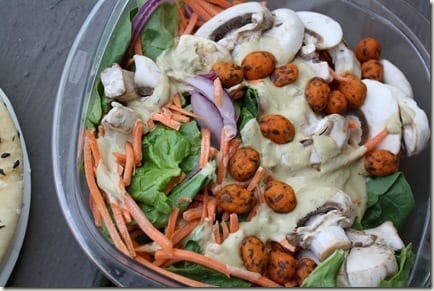 They were only $2.00 for a bag, which is good considering I got them at Whole Foods.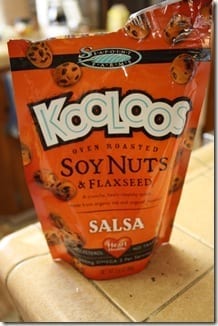 Stats -  1 serving: 130 calories, 4g Fat, 3g Fiber, 7g protien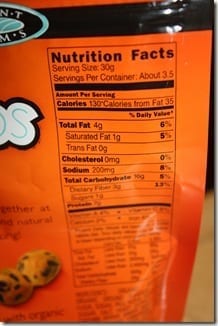 If you were a combination of two fruits what would you be?
Me: I would be Cherry Watermelons. Or Watermelon Cherries…
Run SMART Goals
Fill out this form to get the SMART Running Goals worksheet to your inbox!