This morning I was super excited to try something new on my long run. I finally decided to run with music! I know, I know this is crazy talk. I have been running for 5 years without music. I trained for 2 marathons without music. But, today I decided to give this whole tunes thing a whirl.
Last night Ben loaded up my phone with music and this morning I pressed "random" and was on my way.
This was probably the easiest 15 miles I've ever ran. I'd like to credit all that popcorn I ate last night (after all, salty carbs are my pre-run fuel of choice). But, I think the music had a big part of it too 🙂
Right when I hit 15 miles Pitbull came on and I didn't want to stop running. But, I knew I shouldn't keep running (my knee started to bother me around mile 14) so I pulled a Snooki and decided to dance right then and there.
My own post-15 miler dance party…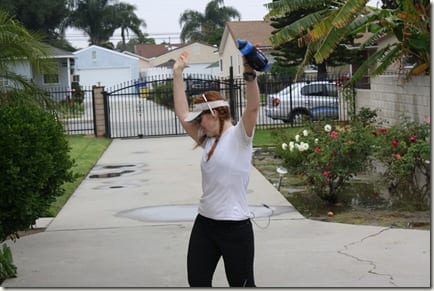 The Washing Machine :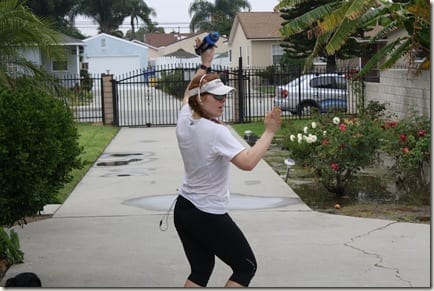 I dunno, who has better moves though. Me or Snooki…
Pre-run fuel: Whole wheat hot dog bun with almond butter and jelly and iced coffee
Post-run fuel: Smoothie in a Bowl!
In the mix: Ice, Protein Powder, Spinach, Strawberries, Chia seeds, Almond Milk
Toppings: Banana Cheerios, Bear Naked Granola, PB Puffins
This is a big bowl and it was piled HIGH!!!
And last week when I said it would be my last long run in Pico, I lied. I figured the music would help with boredom and it did. My average pace was 9:06.
I think it's time for me to shift from my hand held water bottle to my waist pack since it holds more liquid. I had to stop at someone's water hose to refill!
I've also decided I don't like to eat on my long runs and would prefer to find a sports drink with carbs and electrolytes instead. The search is on…
My 15 mile splits:
Mile 1: 8:51
Mile 2: 8:54
Mile 3: 8:47
Mile 4: 9:01
Mile 5: 9:10
Mile 6: 9:02
Mile 7: 9:13
Mile 8: 9:01
Mile 9: 9:01
Mile 10: 9:19
Mile 11: 9:24
Mile 12: 9:07
Mile 13: 9:11
Mile 14: 9:10
Mile 15: 9:12
Dance Party: Slow, but fun 🙂 I think I'm a running with music convert!
Yesterday I hit up Costco and bought a watermelon and some cherries. I know you're not surprised.
And we saw Dinner for Schmucks. It wasn't funny.
Now I've got to slap on some sunscreen and hit up the OC Fair for some fried butter. Wish me luck.
Run SMART Goals
Fill out this form to get the SMART Running Goals worksheet to your inbox!