We finally made it to the OC Fair today!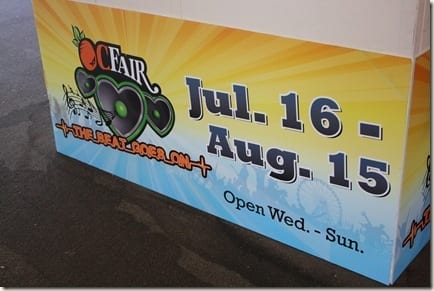 My brother Michael and his girlfriend Heather, accompanied Ben and I 🙂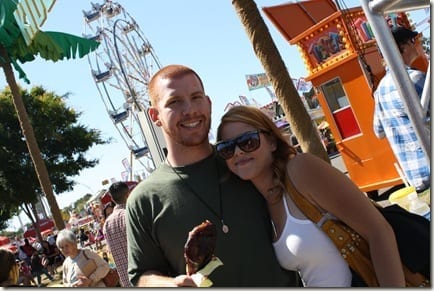 We all were hungry when we got there and went straight to the food. There are a ton of choices, none of which are healthy, but that's not the point of the fair, right?
Michael got a turkey leg. I didn't realize turkeys were so big. I suspect this might actually be an ostrich leg.
And Heather went the healthy route with a corn. We don't like her anymore. Just kidding.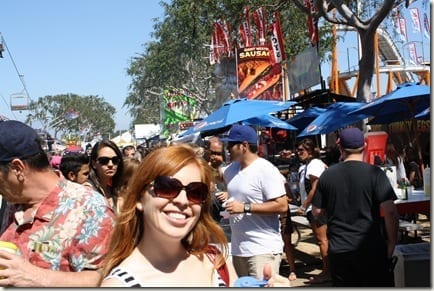 Ben and I shared a Cheese on a Stick from Hot Dog on a Stick.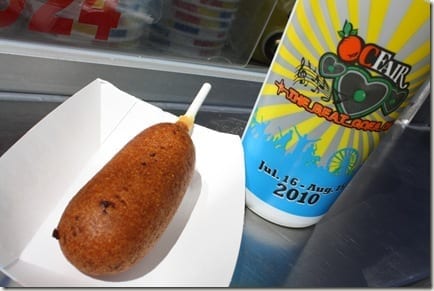 I used to want to work at Hot Dog on a Stick because I thought the uniforms were super cute!
Ben also got a massive Italian sausage of some sort. Actually, everything at the fair is pretty massive!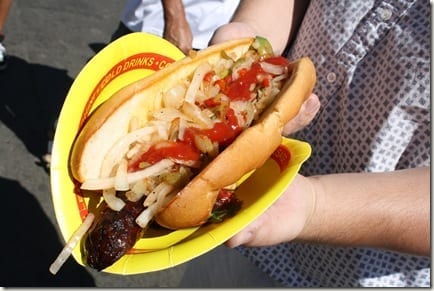 After our initial food fest we walked around looking at the expos and then hit up the rides. My brother and Heather wanted to go on an extra ride so Ben and I decided to explore a bit more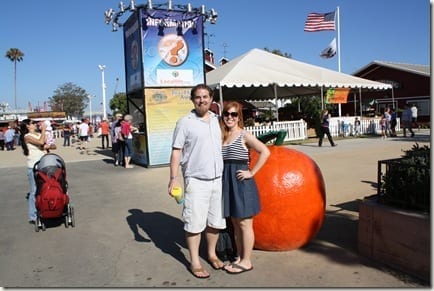 I really didn't eat much of the cheese stick and  I knew walking around the fair after I ran 14 miles this morning would require some kind of nutrition besides loads and loads of fried foods (which would be coming shortly!).
I found a booth that sold fish tacos and figured it would tide me over until I decided to rock the deep fried butter.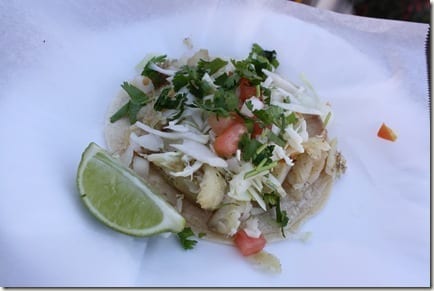 I also spotted a margarita booth and decided to go for it. I've been stressed about the move and new job and this was exactly what I needed 🙂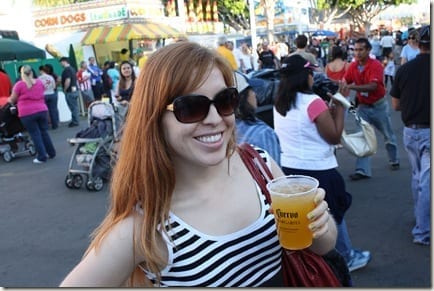 But, margaritas make things like "Australian Battered Potatoes" sound good and we stopped at this booth too.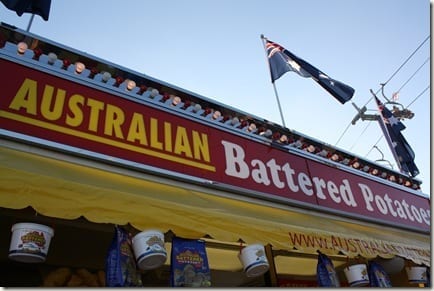 I kept calling them Beer Battered Fries and everyone insisted on correcting me. I think they needed beer for some reason.
Australian Battered Potatoes are potato slices battered, fried and topped with cheese and ranch dressing. Oh yes I did.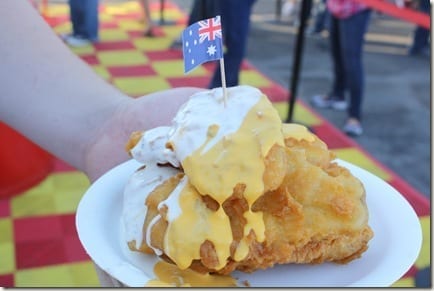 My attempt to get Ben to do an Australian accent failed, but did make for a good laugh.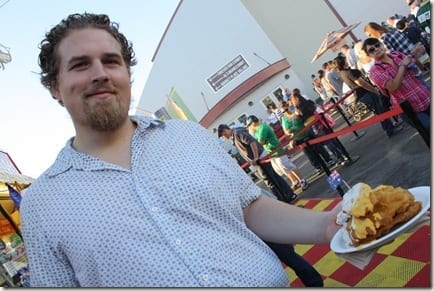 After we met up with my brother we decided to seek out the true reason we all came to the fair today = Deep Fried Butter.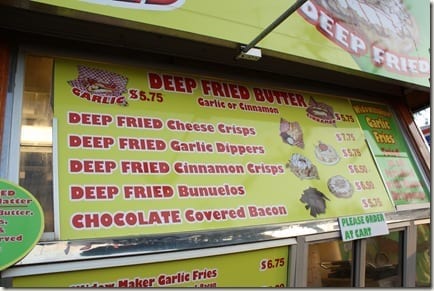 The Coronary Cafe is serving up food that should be illegal more so than any drug, but at least they're honest.
This sign says, "Warning: These products are not recommended by your cardiologist, the surgeon general or Michelle Obama. But all we care about is that our customers love them."
They offer a Coronary Combo that comes with Deep Fried Butter and Chocolate Covered Bacon. R.I.P fair goers, R.I.P.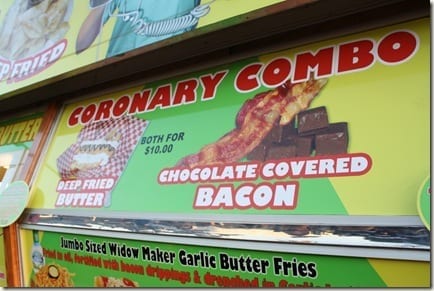 Ben ordered the chocolate covered bacon earlier in the day. It wasn't life changing.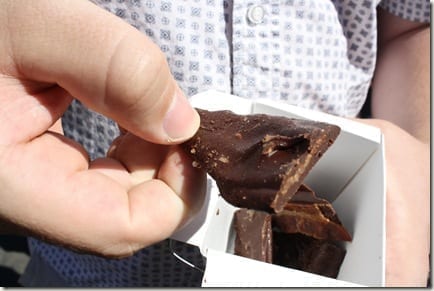 Ben and I decided to share an order of Deep Fried Butter in Cinnamon (you can also order it in garlic). We had very high expectations since we've been talking about it for so long and I have to say it did not disappoint (as I feel often happens with anything I build up too much).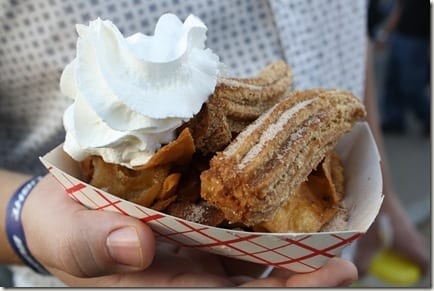 Deep Fried Butter is basically a churro filled with melted butter. See the bitten one below – it has a hole in the middle that has butter in it. This makes for a very moist and decadent churro – the best you'll ever have.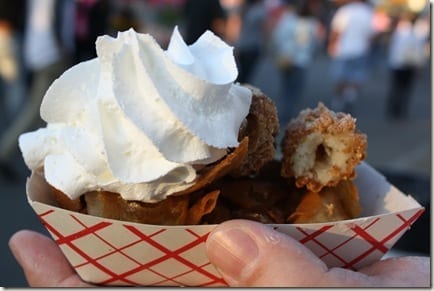 Heather got a Bunuello – it is a tradition Mexican dessert. I know there are a lot of different versions, but the way I know it is a deep fried tortilla covered with sugar and cinnamon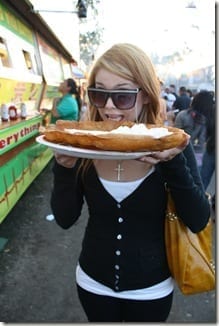 It was HUGE (TWSS)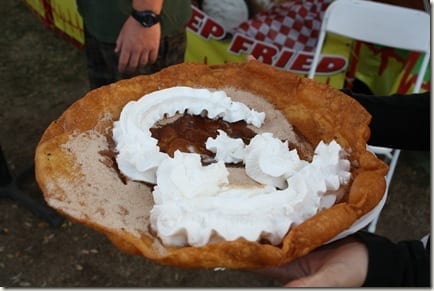 And so that ends my day of living life dangerously via reckless food choices. But, like Ben says, "You're going to be dead before you know it." Read: Live life to the fullest!
It's just that now we might be dead a little sooner than we know it. Oh well. It was fun knowing you guys, but I don't regret that butter one bit.
Run SMART Goals
Fill out this form to get the SMART Running Goals worksheet to your inbox!