I usually am not hungry the day of my long run. The day after I am a bottomless pit, but the actual day of the run I usually eat just because I feel "empty".
My RD and my research has shown that this is pretty common as running can diminish hunger signals. That is normally the case with me on long run days, but today I am for real.
Shortly after breakfast I snacked on chips and salsa until Ben was back from errands for lunch. Since I didn't make a SIAB for breakfast I wanted one for lunch.
But, instead of a Smoothie In A Bowl I made a Smoothie in a Cantaloupe!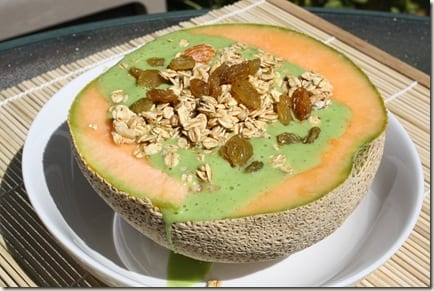 In the Mix: vanilla greek yogurt, ice, spinach, frozen banana, almond milk and xanthan gum. Topped with granola.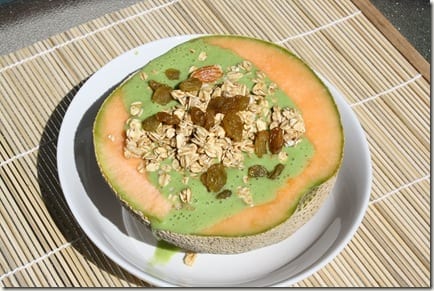 Truth be told I cannot remember what my afternoon snack was, but I'm sure I had something since I was HUNGRY all day. Weirdest thing.
Dinner came early, like early bird special early– peanut noodles over broccoli.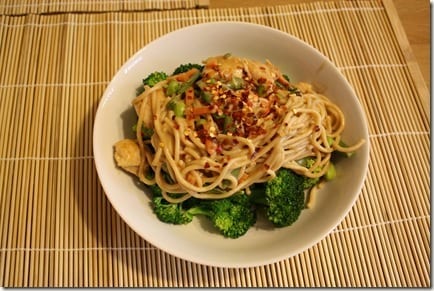 But, an early dinner means there is plenty of time and room for dessert! We of course hit up Yogurtland aka the Happiest Place on Earth 2.0.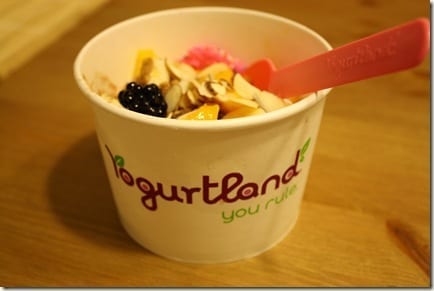 I get a little of my favorite yogurt flavors and then go to town with the toppings. Ben went topping-less and I am judging him for that right now. Who does that?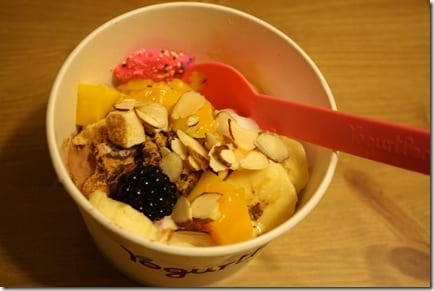 Now we are cuddling up to watch a movie, so I must go.
Question: Are you usually hunger the day of a run or the day after?
Until today it was ALWAYS the day after. Random right?
Run SMART Goals
Fill out this form to get the SMART Running Goals worksheet to your inbox!