Hello, and welcome to another round of Mexican Meatless Monday! I am your host, Monica "the Mexican" Olivas.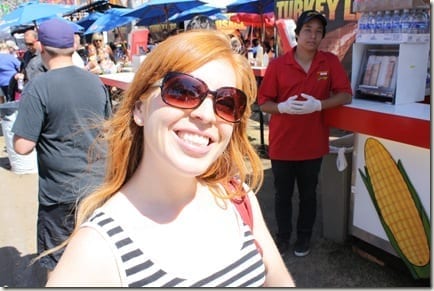 Today we will be learning how to cook beans.
Growing up, we always ate pinto beans. They were either in the fridge or on the stove at all times. We had them as a side dish or as the main part of our meal, like in bean burritos, regularly for dinner.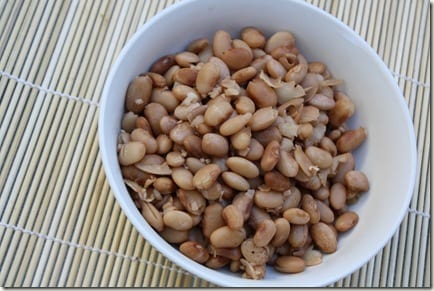 I can clearly remember the sound of my grandma's iron pot jiggling on the stove top. She has one of those big, thick iron pots with a vent in the lid. Then vent would click around for hours as our beans were on a rolling boil getting soft.
Hi Grams!
Sure, you can buy beans in a can. But you can get them for super cheap in the bulk bins at your local market and cook them up adding only what you choose.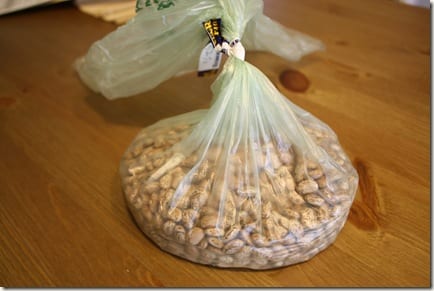 1. Step One is to check the beans for rocks or debris. I have never found a rock in dry beans, but my grandma has told me horror stories about people breaking their teeth while chomping into bean burritos.
Pour the beans on your table and push them into the pan little by little, checking for rocks in the process.
2. After you're sure your beans are rock-free fill the pot with water. Add a big dollop of garlic (or a clove to be removed later) and salt. (See me in the microwave reflection?)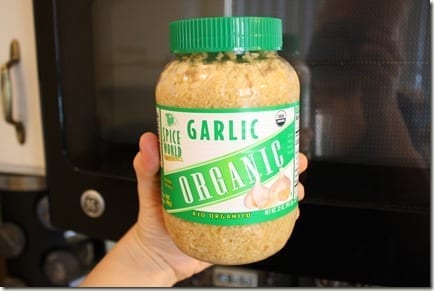 3. Bring to a rolling boil. Then, reduce to a simmer and cover. Don't put the cover directly on the pot if it doesn't have a vent. Or use a lid one size bigger. This allows steam to vent and avoids an overflow. 
4. Simmer for about 1.5 hours. You can check the beans after one hour and see how soft they are. This will let you know how much longer you need to cook them.
*This cooking time can be reduced if you soak the beans in water overnight. Soak overnight and cook for 1 hour.
Check the pot periodically to make sure you don't cook off all the water. If you do start getting too low on water you can just add more. You don't want to bottom of the pan or your beans to burn! (Sadly, I know from experience.)
5. Once they are tender enough – Drain the beans, season to taste and serve them whole…
OR
For "Re-fried Beans"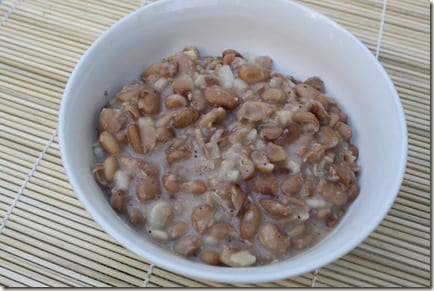 6. Drain the beans and add salt, pepper and a wedge or two of laughing cow cheese.
7.  Then, smash the mix with a potato masher. You can also use a hand mixer to get them fluffy and super smooth. I didn't this time, but I love smooth and creamy beans.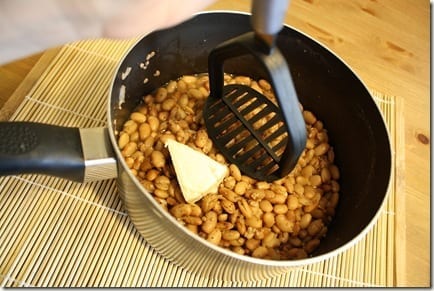 My family never actually "fried" our beans. We always would smash them with a little bit of the bean water and add cheese and salt. These are better than re-friend and healthier.
Enjoy!
Question: What's a staple food you always had at your house growing up?
Run SMART Goals
Fill out this form to get the SMART Running Goals worksheet to your inbox!