A couple of weeks ago I bonked hard on my long run. My legs felt dead, my stomach was upset, I felt dizzy and nauseous. It was rough. I had never hit the wall that bad before that.
After that run I contacted two RDs  that I know and LOVE – Jenna from Eat Right Around Chicago and Evelyn Tribole, author of Intuitive Eating.
One key thing that Jenna suggested, which I didn't do before, is to start refueling 45 minutes into my long runs. I usually wait until halfway through – which could be at mile 10 – almost 2 hours in!
She suggested consuming 45g of carbs per hour. This can come in the form of gels, drinks, chews, pretzels… it doesn't matter. And also drinking 16-24oz of fluid per hour.
I also found this article on Active that clearly breaks down how to Fuel for Peak Marathon Performance. The title says "marathon", but this applies to half marathons as well.
The article breaks down fueling into three categories:
1. Pre-run fuel: Eat about 250 calories an hour before your long run. Also, drink about 16 to 24 oz. of fluid one to two hours before.
2. Start refueling about an hour into the run. This should be mostly high-glycemic carbs like gels, chews, pretzels.
3. Drink up!
To avoid severe cases of dehydration, runners should aim to replace 0.5-1 liter of fluid each hour during runs, implementing an electrolyte-rich beverage (e.g. sports drink) after 60 minutes of running.

A sports drink should contain the following approximate concentration of electrolytes per 8-12 fluid ounce serving:

Sodium: 150-250 mg
Chloride: 45-75 mg
Potassium: 50-80 mg
Magnesium: 20-30 mg
Calcium: 10-15 mg
You never want to try something new on race day, so it's very important to figure out what your body likes and dislikes during training. I'm glad I hit the wall in training somewhere that Ben could come pick me up, versus race day and end up  in the First Aid tent.
I love Sports Beans, but I think I don't eat enough of them on my long runs. The whole package has 24 grams of carbs. Based on Jenna's advice, I need to eat more than one of these on a run lasting two hours.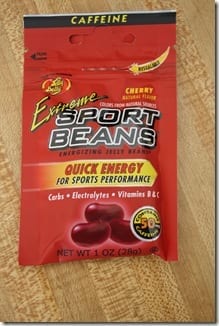 I also bought a few new things to try – Honey Stinger in Chocolate (hell yeah I did) and an electrolyte drink. I'll let ya know what I think.
I think up until this point I've been afraid to eat too much on a run. I mean, I originally started exercising to lose weight so it's hard to change from that mentality to one of an athlete. But, if you are pushing your body athletically you should be fueling it like an athlete.
Bonking was really scary and crappy 🙁 I don't want to go there again, so I am changing my ways and making sure to fuel and re-fuel according to athletic standards NOT weight loss standards.
Run: This morning I did an easy 5K for Friday and some light stretching. I am really going to make an effort to stretch more these next 30 days.
I am usually not satisfied with yogurt bowls for breakfast because I prefer cereal with milk, but it was calling my name this morning.
In the mix: greek yogurt, cottage cheese with pineapple, banana, cereals, raisins and almond slivers. I added a small scoop of PB after the picture.
And an iced coffee with almond milk.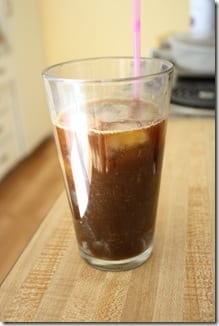 Happy Friday!!!
Question:  How do you fuel during long runs or workouts? Do you think you fuel enough?
I have been contacted by a lot of readers who aim to lose weight and are scared to eat before or during a run because it might interfere with their weight loss, but I really think this is the wrong mentality to have.
Don't ask a lot of your body without being willing to give a lot back in return. We all need proper fuel, rest and love 🙂
Run SMART Goals
Fill out this form to get the SMART Running Goals worksheet to your inbox!