After my failed attempts with other protein powders a reader informed me that a local market – Mother's Market and Kitchen has my fave brand! I looked it up and it turns out it's super close to my house.
Warning: This place is a dangerous place for a food blogger who loves vegetarian restaurants.
I have been to another Mother's location in Huntington Beach a long time ago. They have a small restaurant attached to the grocery store with an amazing health foods menu. This location has that too.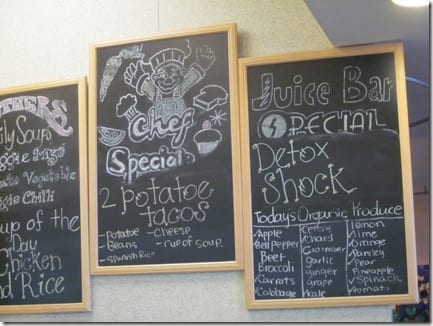 Oh, and they have a juice bar. Yep, this is super dangerous for my wallet and potentially my marriage. I bet Ben wishes he got a pre-nup that stated something about me not being able to spend 50% of our money on pulverized beets.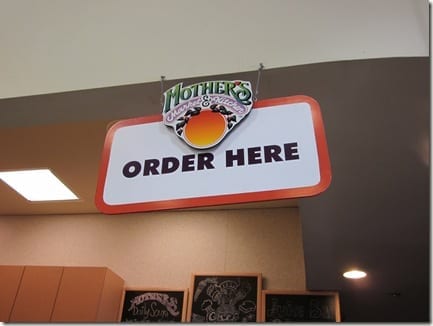 I  talked myself out of ordering something for dinner, but did walk away with a juice and a shot of wheatgrass.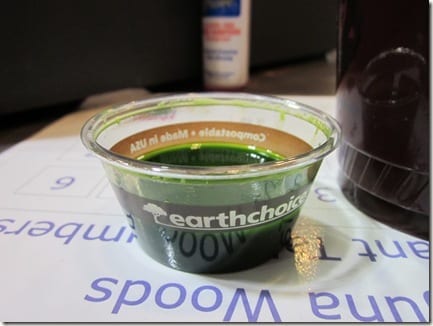 Caught red-handed!
I got a blend of carrot, beet, parsley, ginger, cucumber and kale. They were not messing around with that ginger! My throat burned with every sip.
But it burns so good…
Something happened over the last few weeks where I have suddenly just wanted to be healthier. I know I'm a fairly healthy eater already, but I have a ton of new found inspiration and motivation to be better.
I want to be a better eater.
I want to be a better runner.
I want to be a better blogger.
I want to be a better wife.
(See Ben, this isn't just going to kill our bank account and result in never seeing your wife since she's always blogging or running.)
I just want to be better!

And I'm really motivated to make it happen. I have already started cutting back on my vices (like diet soda). And thanks to my new point and shoot, I hope to document all of my eats for the next 30 days so I can see where there is a need for improvement (right now a lot missed the camera and the blog).
I think it was a combination of a super crappy run, then a super amazing one that made me realize how I treat my body really affects how I feel. Also, how I train affects how I perform. It just came together for me at the right time and this is coming from a good place 🙂
I'm secretly setting some big goals for myself and I know that I need to be at my best to accomplish them! (Don't worry, I'll reveal soon enough.)
Before I went to the market I made a big salad for lunch. In the mix: spinach, tomatoes, onions, pickles, carrots and chickpeas in a hummustard sauce.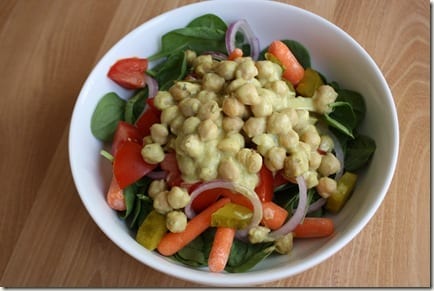 I mixed this two babies in with the chickpeas,
stirred it up, nuked it and poured it over the salad veggies.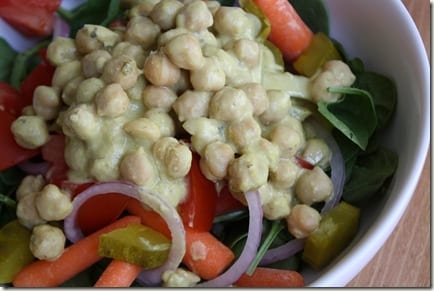 I also cut a honeydew melon that mysteriously disappeared as I was chopping. It seemed like a big melon at first, but only a few pieces ended up in the tupperware. Weird huh.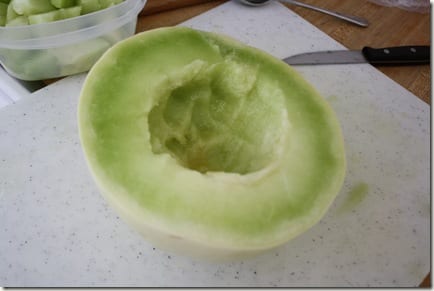 When I got back from shopping I had the biggest craving for nut butter. If I don't start my day with a good serving of healthy fats my body lets me know something is missing.
Question: What do you want to be better at?
Do you have any suggestion on what you'd like to see on the blog to make it better?
Seriously, that ginger is still burning my throat…
Run SMART Goals
Fill out this form to get the SMART Running Goals worksheet to your inbox!