On the way home tonight I was suddenly inspired to make Pumpkin Brownies. Unfortunately, I didn't have cocoa so I had to make some changes to my inspiration.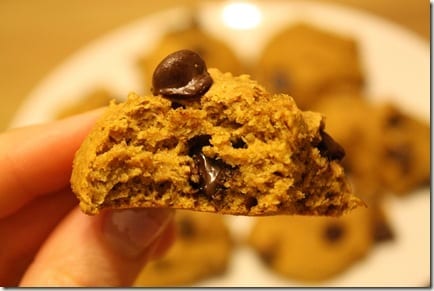 I rummaged through my cupboards and decided I had the goods to make
Pumpkin Chocolate Chip Cookies Cakies
Ingredients:
1 c. flour
1/4 tsp. salt
1/2 tsp. baking soda
1/2 tsp. pumpkin pie spice
1/2tsp. cinnamon (I like a lot)
1/2 c. pumpkin
1/2 c. egg sub or 2 eggs
1/4 tsp. vanilla
1/3c. brown sugar
1/3c. chocolate chips (plus and extra handful for eating)
Directions:
Heat oven to 350 degrees.
Mix the dry ingredients (except choc chips). In a separate bowl mix the wet ingredients. Combine. Add chocolate chips.
Drop spoonfuls onto a sprayed cookie sheet.
Bake for 15 minutes or until firm.
Warning: These "cookies" come out more cake-y than cookie-y. This recipe would probably do better as a muffin or bread. I love cookies, so I always put things in cookie form 🙂
Served with milk 🙂 Happy Tuesday to me.
Before my cookie baking I was  scrounging around at work trying to find snacks. I had this new bar and baby carrots, but they didn't do much for my belly. The bar tastes good, but was a bit too airy to fill me up.
When I found this bag of popcorn you'd have thought I found a $20.00. It was like my lucky day!!!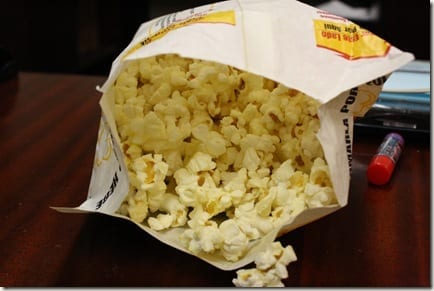 The weather has been crazy here the last week. First it was 100 degrees out of no where, then it was super cold and rainy today. Earthquake weather. Definitely earthquake weather. Speaking of, I don't have a kit 🙁
I took advantage of the gloomy weather and made one of my favorite, but often forgotten dinners – grilled cheese and tomato soup.
Seriously, I love this meal. LOVE.
Almost as much as I love Ben taking my picture after I got home and put on comfy clothes and look sleepy.
At least I had pre-revenge when I took this picture of him during dinner…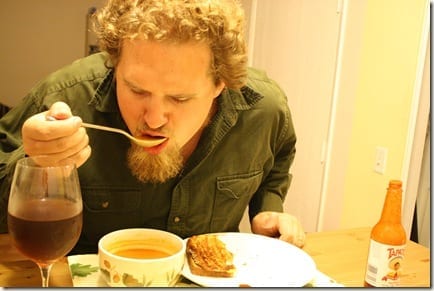 Question: What's your favorite "easy" dinner?
P.S.   If you haven't given all your votes away for the Foodbuzz Challenge 3, I'd love to have it 🙂
Run SMART Goals
Fill out this form to get the SMART Running Goals worksheet to your inbox!