Hello! Today was my first post-marathon run. I was really nervous about it because it wasn't until the run after my last marathon that my knee started to hurt. I am going to come back to running very slowly in order to avoid getting injured again.
2.82 miles slow and steady 🙂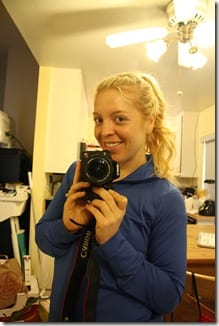 I have been quietly practicing intuitive eating and realize my body enjoys protein to keep me full. Since I didn't feel like eggs for breakfast I made a protein shake.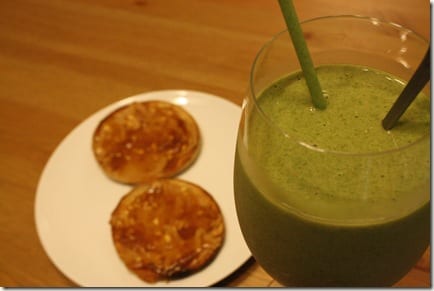 I'm expecting my CSA delivery today so I didn't pick up spinach at the store yesterday.
But, what do you do if you want a Green Monster? Frozen spinach works fine!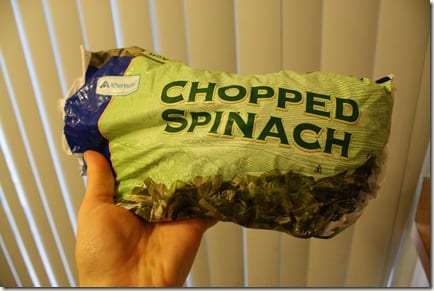 On the side I had PB&PB toast – that's Pumpkin Butter and Peanut Butter Toast for those of you who are acronym challenged 🙂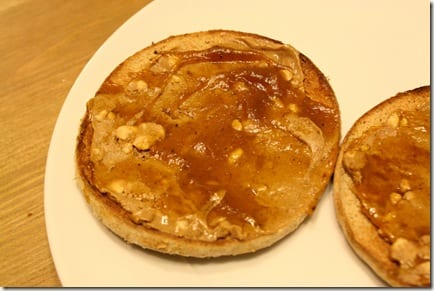 Remember when I dropped a can on my big toe and kept showing pictures of it on the blog? If you want to remember you can click here.
Well, I have an odd fascination with my toe nails turning blue because I feel the need to update you on the status of the newest addition to my blue toe family. The second toe from the left is a goner.
Not-so-fun-fact: When I lost a toe nail after my first marathon I may or may not have put it on my friend's desk at work. Aren't you glad you're not my friend?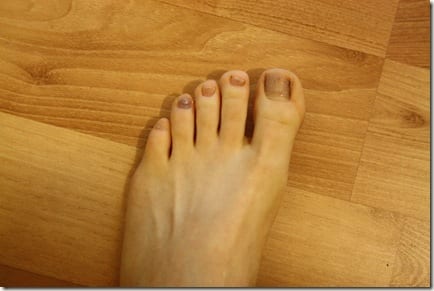 I feel like I owe you something for subjecting you to my feet pictures, so here's a beauty tip:
After shaving in the shower and rinsing off,  spray body oil on your legs while they're still wet. Rub it in, then get out of the shower and pat yourself dry as  you normally would. The moisture will be locked in and your legs will be the smoothest ever! *Be very careful as the oil will make your shower floor super slippery. I have no-slip pads on mine.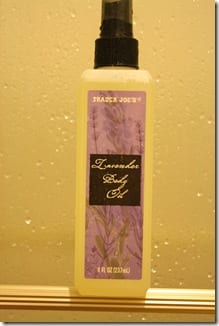 The winner of Subway's Commit to Fit Contest, a $25.00 Subway gift card is…
Janae Jacobs. Janae, please email me your address 🙂
Happy Thursday! Have a great day 🙂
Run SMART Goals
Fill out this form to get the SMART Running Goals worksheet to your inbox!