Hello! Last night Ben surprised me by remembering we had a date planned and I didn't get to post again yesterday.
He offered to take me to my favorite restaurant, Whole Foods Hot Bar, but since we wanted to see a movie too we opted for something that made more sense location wise: The Veggie Grill.
The Veggie Grill is a vegetarian chain in SoCal.
The only thing you really need to know is that they have sweet potato fries. The rest are just details.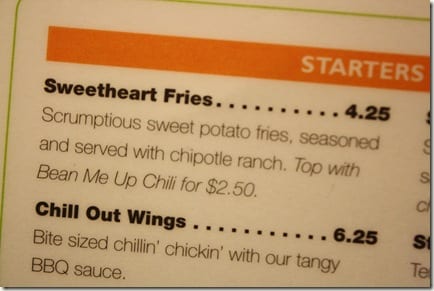 I got the "Grill'n Chick'n". It came on a whole wheat bun with guac and amazing chipotle ranch. I don't miss chicken sandwiches, but I do enjoy eating a hearty fake meat filled sandwich 🙂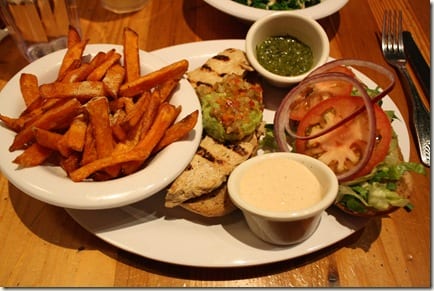 With a side of Miso Kale. I never cook kale expect for making Kale Chips. I am missing out.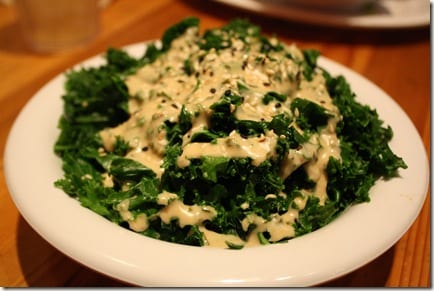 After dinner we went to see "Waiting for Superman". It is a documentary about the American public school system. It shows how many public schools, especially in lower income areas, are failing kids and also highlights some great charter schools that are trying to beat the odds.
As someone who is a minority, and is from an area not too far from one of the "failing" schools mentioned in the film, I think it's a great opportunity for people to see the movie and start a conversation about our kids and school system. 
My mom is a teacher and I know she works hard and puts a ton of work and heart into those kids. It's a complicated issue and I don't know how to fix it. But we need to.
After the movie we stopped by Yogurtland. It's in the same complex as the Veggie Grill and  the Indie theater. Another reason Irvine is amazing.
And I'll show you lunch because it was too good not to.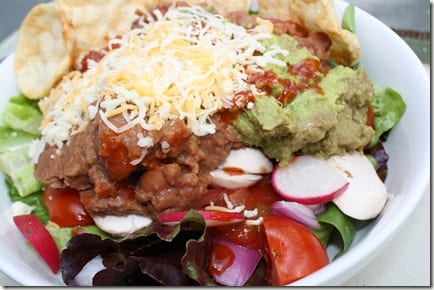 This morning I went on a run in my Long Beach Marathon tech shirt. I really like that it's not white for once. 
I stole some of Ben's cinnamon roll with pumpkin cream cheese because it was the last one and is amazing! I'm getting more of these!!
When I came back from my run I had a massive yogurt bowl with the disposable spoon we got at Cha for Tea yesterday.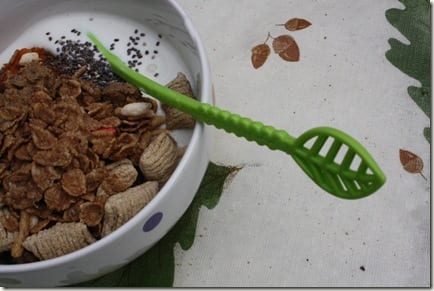 I wonder how many times I can use it before the plastic starts breaking down and gives me cancer?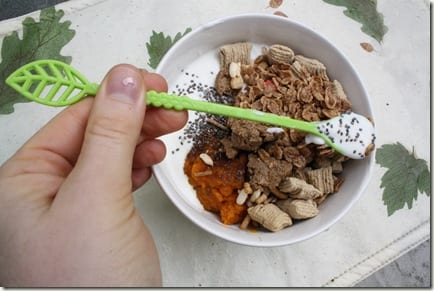 Ben's Comment of the Day:
Me: (seeing Ben eating Dark Choc PB Cups) "You can't eat those before lunch!"
Ben: "This IS lunch!"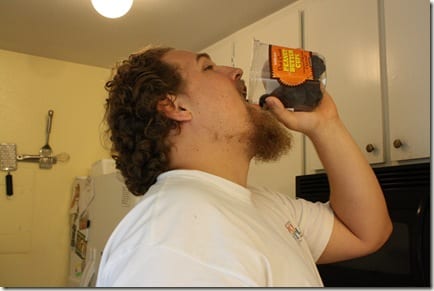 This morning I set off on 7.5 miles. I felt so good and happy to be running again. This was my first "real run" since Sunday. While I was running I thought about how amazing I did at the marathon last week. I am very very proud of myself.
Ben tells me I am a genetic anomaly and I think it's true, but in a good way 🙂
No one runs in my family.

I am not built like a runner.

My bones aren't weightless.

My legs aren't gazelle-like.

As a child, no one ever said,

"Now that one…she's going

to be a runner."

I am not a marathon runner.

But, I know that no one

is a marathon runner until

they actually run one.

– Nike Ad
I don't look like a runner. I know I get a lot of shit on this blog for referencing any type of goal to lose weight, but I have 30 pounds on most of the girls I'm running with – And I stick with them. (The numbers don't lie and please don't leave a comment on here telling me anything different. Seriously.) I don't know why I love this as much as I do. I don't know how I manage to stick with the "skinny" girls. I don't know how I ran my first marathon in 4:15 at 157 pounds. I don't know a lot things*…
Maybe it's because I'm a firework?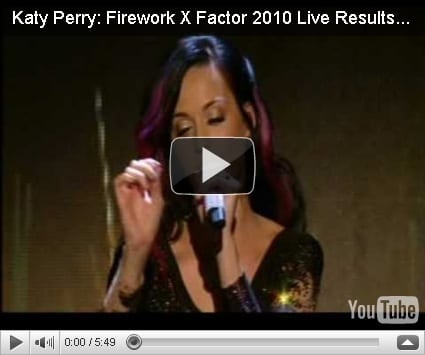 Question: Why are you a firework?
Leave a comment here OR write a blog post about why you're a firework and link to it in the comments. Let's start a blog movement this week – everyone post about why you're a Firework! Own it and post it!!
*Wait. I do know something. I know that if I can do it, you can do it.
Updates to Add: All fireworks are different. You can be a firework no matter how you look 🙂
Run SMART Goals
Fill out this form to get the SMART Running Goals worksheet to your inbox!