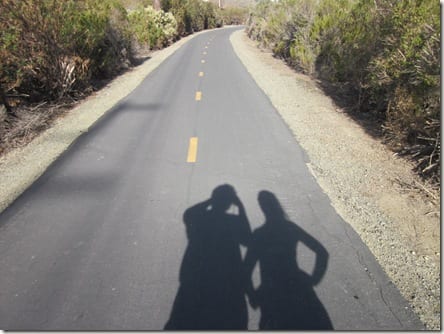 Today was very weird. It was the first Saturday in over six months that I was home, but didn't go on a run. I had been training for Long Beach since we moved back to California and every Saturday morning I'd get up and out before Ben was even awake.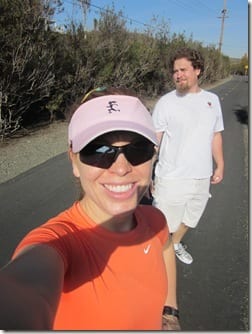 But since I attempted a long-ish run yesterday and am doing 9 miles with Bobbi tomorrow I knew today called for some abs and a relaxing walk.
I took Ben on a local path that I love, but try to "save" for when I have company.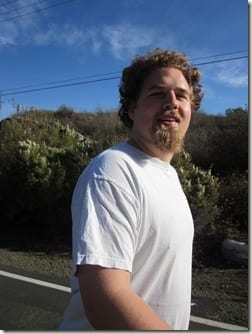 It's an absolutely gorgeous day! But I have to stay inside for the rest of it and study. Boo. I think I'm going to try and get out for another short walk before it gets dark though. It's too pretty to avoid it.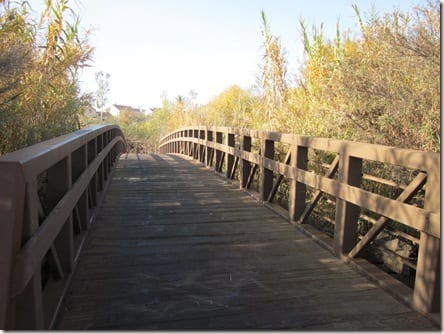 When we got back from our walk there was a lady selling tamales near our condo. Yes, I am at home
Anyways, Ben bought a few chicken tamales and a sweet one. I've had sweet tamales before, but this was a strawberry sweet tamale! I never had this kind.
She was also selling champurrado.
Tamales are an anytime food – breakfast, lunch, dinner, midnight snack, it all works. But if you eat them for breakfast you're supposed to put a fried egg on top. It's just a fact.
I made a scramble with veggies and soy chorizo. Tortilla on the bottom for scooping up bites. And I have to admit that I ate an entire 20 pound container of grapes from Costco this week.
Now I must be productive. I cannot wait until this semester is over so I can clean my house and make some updates to RER!
Have a good day.
Run SMART Goals
Fill out this form to get the SMART Running Goals worksheet to your inbox!