Sorry I was MIA today! I was on a mission to Orlando.
But, first I did a chilly run to breakfast. I ran to the restaurant where Ben's dad has his weekly artist breakfast and they wanted to see us since we're not around often. I'm not positive how far it was since my Garmin died at the beginning of the run.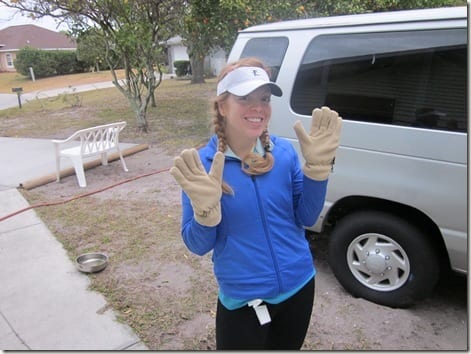 I got Eggs Benedict and ditched the ham, sauce on the side. I also stole a piece of toast from Ben so I could get my jelly quota for the day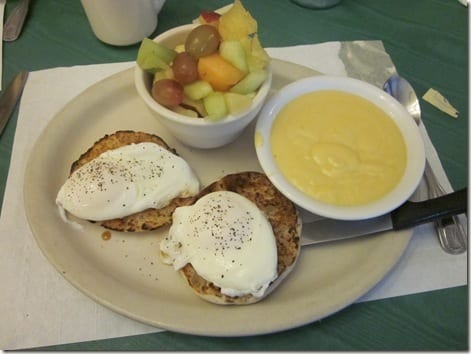 Then, we rushed home to head to Orlando. It's about 2 1/2 hours north-east of here.
We hit some pretty bad traffic and got lost after we decided to get off the freeway to avoid the traffic (bad decision). We ended up being very late and this is my formal apology to Meghann for my tardiness. Sorry little bear.
Luckily, I brought snacks for the journey because I was getting HUNGRY!.
Yes, did you catch that? We headed to Orlando to meet Meghann and Derek for some quality hanging out time
The first order of business was lunch at the Turkish restaurant – Bosphorous. Outside seating maximized enjoyment of the beautiful day and made people and dog watching fun.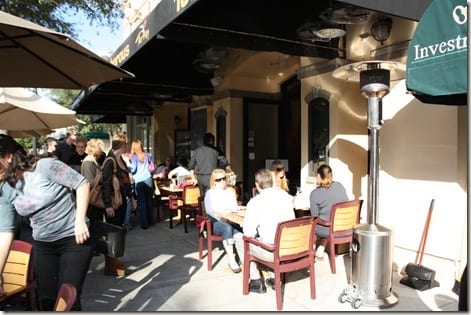 We started with the lavash bread. It's a huge, doughy puff of love, that's what it is.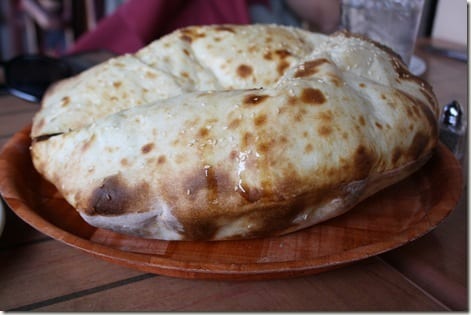 With hummus and babagannoush for dipping. This had to be one of the best appetizers ever! Doughy bread and hummus are two of my favorite things ever. Ever.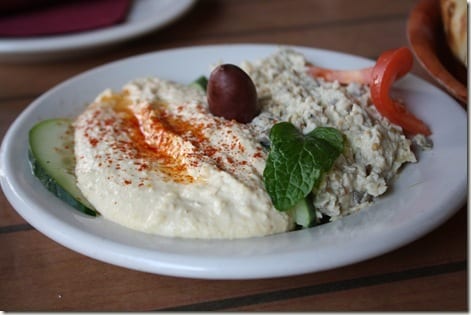 For my entrée I ordered the white bean salad. I was expecting a green salad with some beans on top. Nope. This was an entire plate of beans with a few onions and tomatoes thrown in for fun.
If you're a long time reader, I'm sure you're aware of my deep (and potentially inappropriate) LOVE for beans. Thank you Mr. Chef who's-generous-with-the-white beans, Thank You.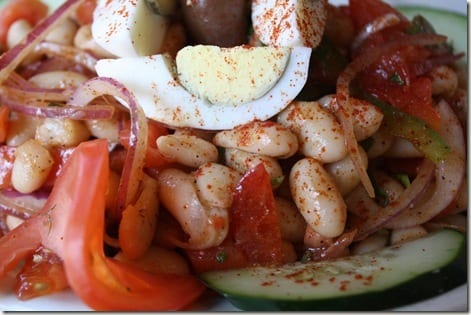 Ben and I had a great time visiting with our Orlando friends. Every time we visit Florida he wants to move here and making friends just gets him more set on the idea.
After lunch we walked up Park Ave.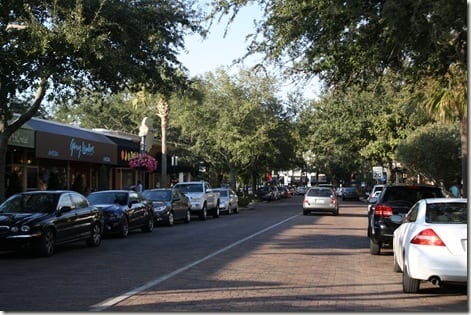 Part of our plans were thrown for a loop because we were so late. But, we were still able to dig up some fun
And by fun I mean, wine.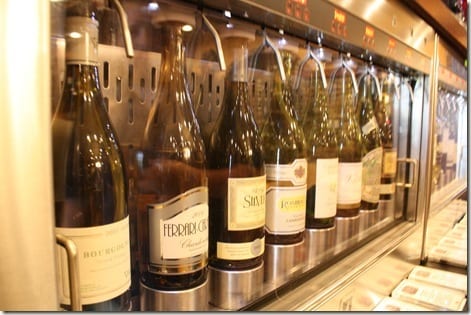 We somehow found ourselves at a wine bar
This is one of those places where you put a set amount of money on your card and go around choosing which ones to taste. Then, you insert the card, press a button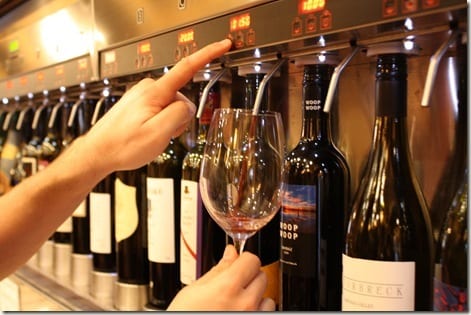 and Wa-La! Wine goes in your glass! They should make wine vending machines at the airport everywhere. It would make life less productive more pleasant.
I keep hoping I'll "grow out of" white wine, but I haven't yet. Oh well.
Ben didn't put much money on our card, so I didn't even get a buzz. That fact that I'm disappointed about that really proves that I need a drink.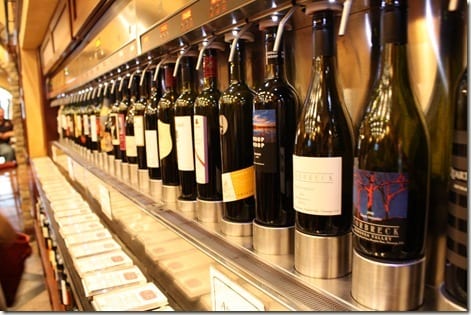 After our wine tasting fun we easily climbed squeezed into Meghann's roomy teeny Echo (which made me miss my little Echo) and went to search out frozen yogurt.
Score! There was a Menchi's just a few miles away! I'm considering changing my life goal of "Run in every state" to "Eat frozen yogurt in every state". True story.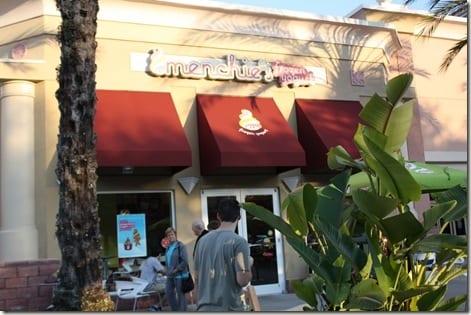 I loved trying the new-to-me flavors like gingerbread and apple pie.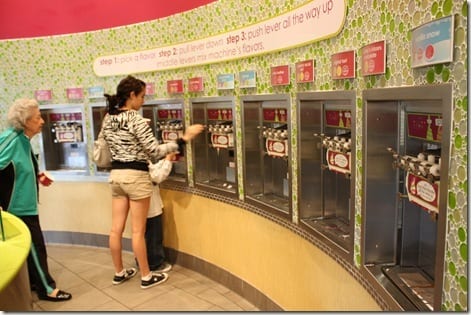 I come for the yogurt, but stay for the toppings.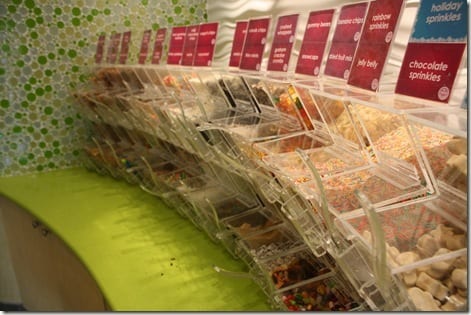 I mostly got holiday flavors of fro-yo and indulgent toppings like Oreo cookies and cheesecake bites. Just wanted to make it clear since the peach and (2) blackberries dominate this picture.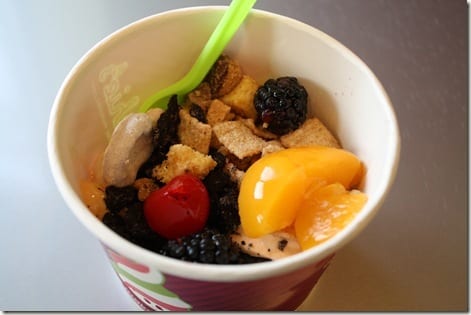 Kelly came to join us for the festivities and we sat outside enjoying the weather.
Now I'm blogging while Ben drives us back home. I love blogging while in transit, it just seems so efficient
Question: Anyone have cool plans for New Year's Eve?
I don't.
Run SMART Goals
Fill out this form to get the SMART Running Goals worksheet to your inbox!