This morning I woke up early for a long run. We had exciting plans and I wanted to make sure I was done at an early enough time! I pre-fueled for my run with iced coffee and a bagel and some Mighty Maple PB.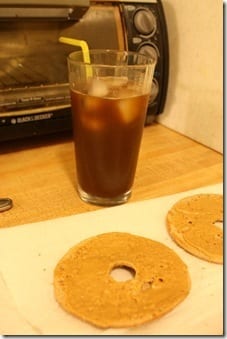 I tried this new-to-me Gu Brew for my handheld water bottle. It is not good. But, I was thirsty and drank it.
15 miles ran in 2:10:52 – I started out really really fast and when I turned around to come home the wind was blowing on my face and it was slightly up hill. Brutal.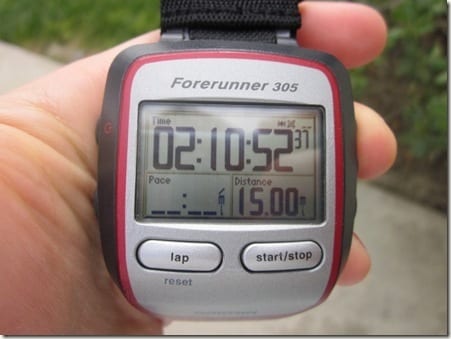 When I got home I took the quickest shower ever and grabbed some grapes for the road.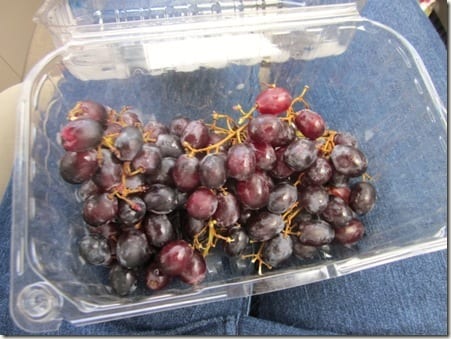 Ben and I are obsessed with Diners, Drive-ins and Dives (triple D) and have decided to hit up all the featured restaurants that are drive-able to use. Luckily, that's a lot since we're right in between San Diego and L.A.!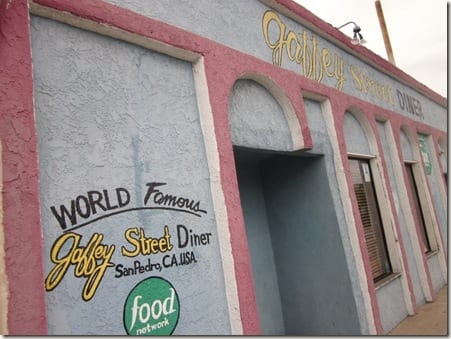 We went to The Gaffey Street Diner in San Pedro today.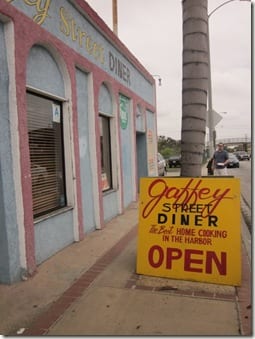 I read the reviews and watched the Triple D video clip from that episode last night so I was very excited!
The décor is just like you'd expect from a "hole-in-the-wall" diner – clean, sparse and utilitarian.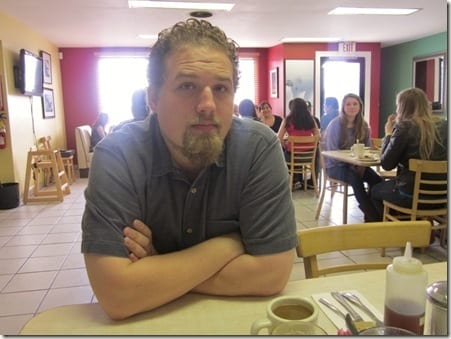 They make fresh squeezed OJ every day and Ben got a glass of that along with coffee. I got iced coffee and water.
They don't make special iced coffee, but put their hot coffee over ice. It was actually some of the best iced coffee I've had around here (which isn't really saying much, but I appreciate it). Ben thought the coffee was really good too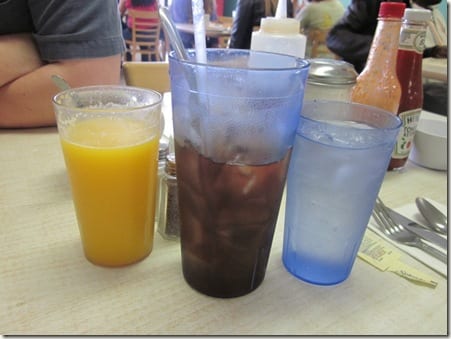 I ordered the vegetarian omelet with avocado instead of cheese. It comes with a choice of sides, but heard the home fries were some of the best breakfast potatoes you can get, so I didn't even consider a "healthy option". Sometimes your soul's health is the most important thing, right?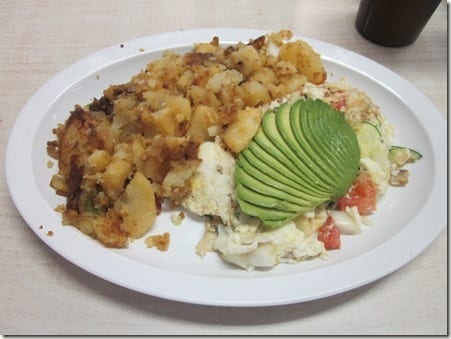 The avocado was fanned out so pretty and it was perfectly ripe!
Breakfast comes with a choice of toast or a biscuit. I went biscuit. Go Big or Go Home! This thing was so big though I barely made a dent in it. You know I'm saving it for later!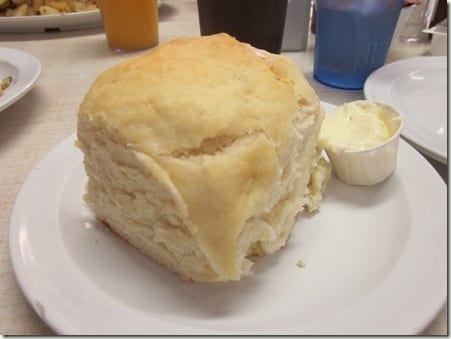 I even got the gravy on the side! At first I told them to hold it, but figured I should try it since I've never had biscuits and gravy before.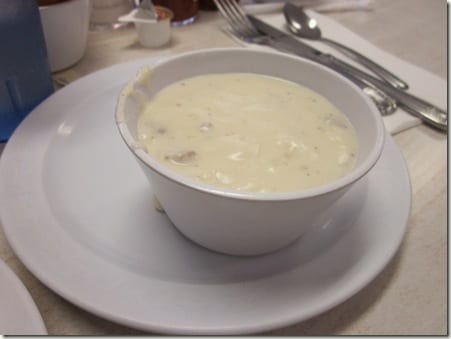 When in Rome, do as the Romans do. When eating at a Triple D diner, eat as Guy Fieri would
This meal is no joke and I loved it.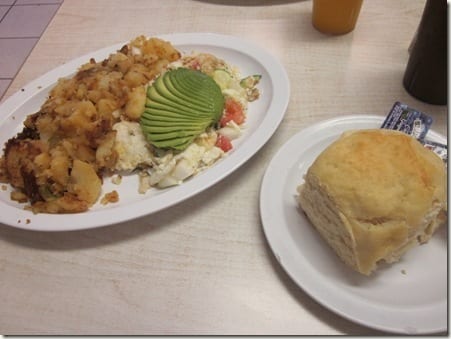 I went into this meal very hungry. I mean, I had just run 15 miles and only ate grapes after! So even though hunger can make food taste better, I really think this breakfast rocked! Love love love.
Ben and I both give Gaffey Street Diner four forks up!
Post-breakfast we decided to explore San Pedro. I've been here a few times, but Ben never had. It's a port town and not particularly fancy, but it has personality.
There is a HUGE port with tons of freight ships on the water, so it's not a beautiful view, but it's interesting to see. This is also one of the locations where cruise ships leave so it's an exciting buzz!
If you keep going straight after leaving the diner (away from the freeway) you come upon the Friendship Bell on the right hand side.
It was donated by Korea for the bicentennial in 1976!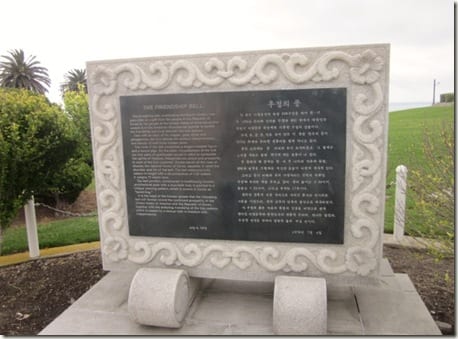 From the hill near the Friendship Bell you can see the ocean. It was a very overcast day, but wasn't too cold once we were walking around.
We spotted a path down to the ocean and walked down…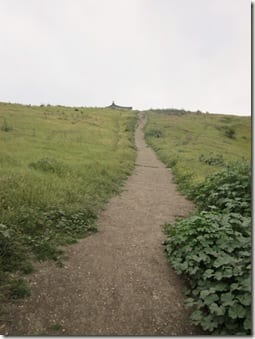 The Pacific Ocean in California is very cold. But it's the most gorgeous thing. The places where the cliffs meet the ocean are amazing.
We walked around a park on the cliffs and found a pretty light house.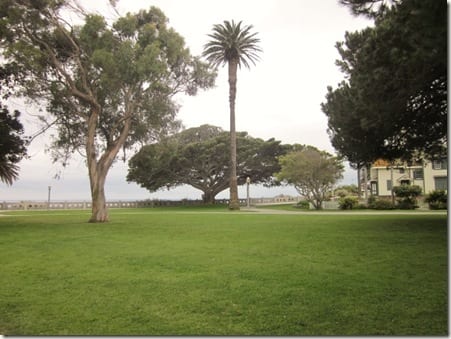 There a ton of benches around the perimeter of the park where you can have a picnic. Well, you could have a picnic if you didn't just stuff yourself silly at the Gaffey Street Diner
Well, you could always just have dessert from the paleta man!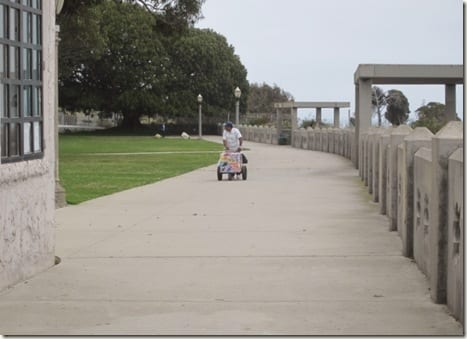 Whatever you do, just don't pick this picnic table…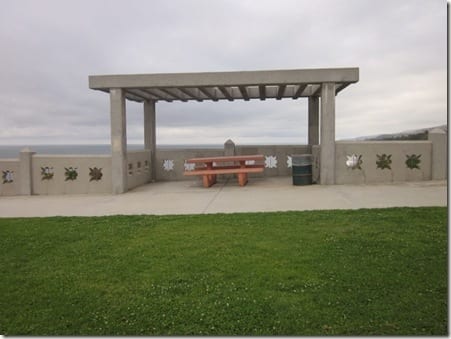 It is super slanted! Hard-boiled eggs would be a bad choice for lunch at this table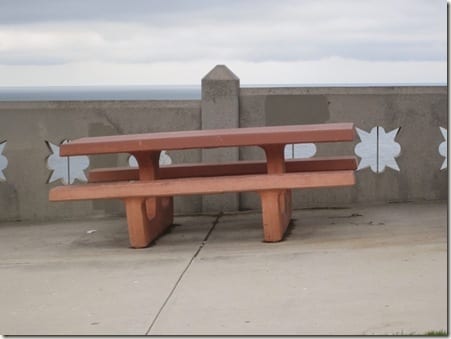 Ben and I just got back home and are planning on a quiet night of dinner (TBD) and a movie. See ya later!
If you want to see the Gaffey Street Diner clip…
Run SMART Goals
Fill out this form to get the SMART Running Goals worksheet to your inbox!