This afternoon Ben and I headed to my mom's for Easter Feaster. This is me and my little mom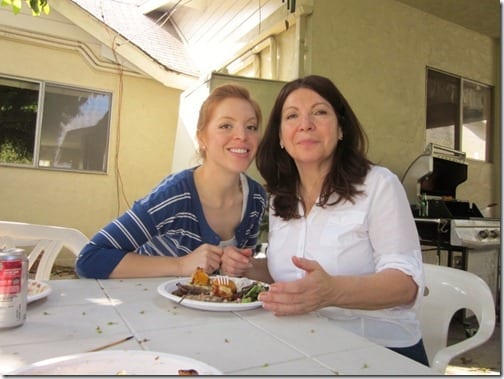 I was in charge of the beans. Well, my mom cooked them, but I "re-fried" them.
Our Easter Feaster was shish-kabobs, rice, beans, tortillas, macaroni salad and salad with strawberries, almonds and feta.
I made the salad and think it was pretty good
And I totally ate 68 servings of macaroni salad. It had been too long.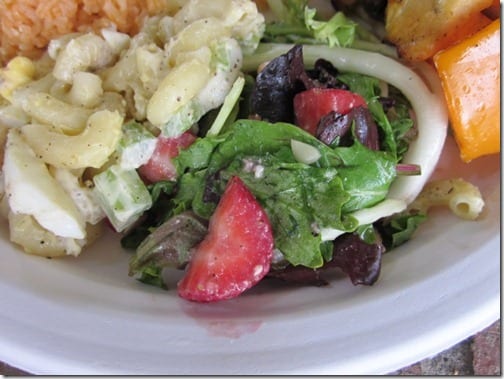 Ben and Frank "manned" the grill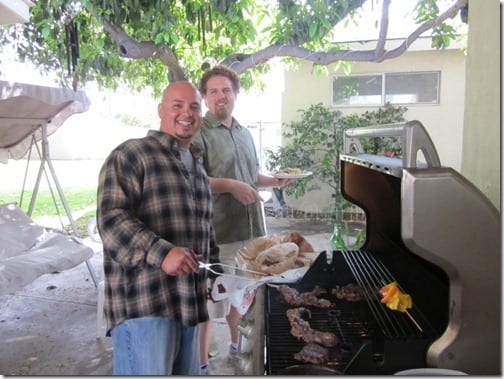 My little brother, Matt. He's 10 and yes we have the same Mexican mom and dad, God just gave us different colors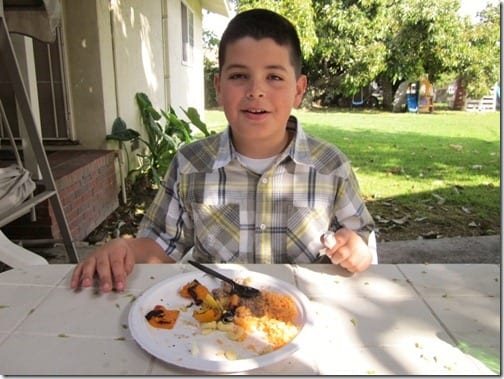 Ben and I both overdid it on the Reese's chocolate bunnies today, but he doesn't know how to hide it like I do. Chill out man, they're on to us…
Happy Easter!
When you eat outside, sometimes you run into beggars…
I'll give 'em a pet, but not my food. My food is mine.
My Bunny Cake was dessert!
Even though I made the cake on Friday it was still good on the inside! I thought it would dry out, but it didn't.
My family also did a weigh-in that I'll talk about tomorrow…
Lent is over! I gave up sweets and cussing for Lent. Now I can say "F*** this is so good…" whilst stuffing my face with ice cream. Does that sound like a good time to anyone else?
I did fail a few times over the last 40 days, but definitely ate a lot less sweets than normal. Unfortunately, the denial of sweets for so long means moderation is not gonna happen today. I'm going to enjoy too much ice cream tonight and get back on the wagon tomorrow.
If you need me, I'll be diving face first into mint n' chip. See ya later
Run SMART Goals
Fill out this form to get the SMART Running Goals worksheet to your inbox!