Ben and I headed to Los Angeles after work for a fun dinner double date. We went to ChoSun Galbee Restaurant. It's a Korean BBQ place.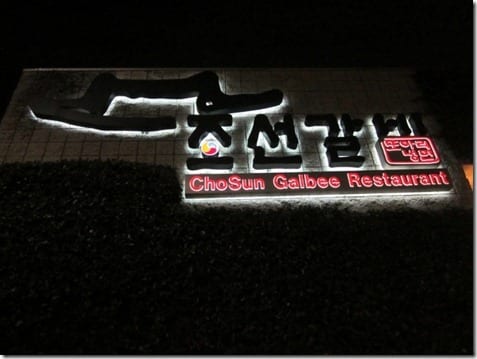 I have never been to a restaurant like this before and wasn't sure what to expect – or how to even order!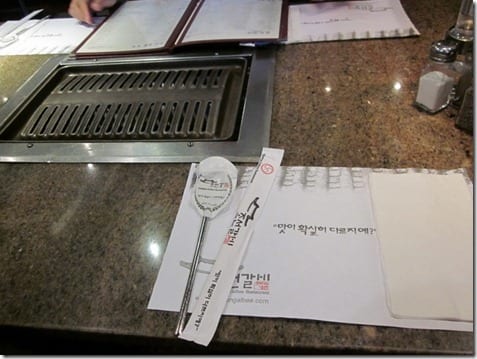 We met up with Ben's college friend Phil and his girlfriend Erin. They live in Boston and are in town for a wedding!
(Side note:Both Phil and Ben are in the wedding. Ben always gets to be in weddings and I never do because my friends don't get married. Feel free to invite me to be in your nuptials. I'll try not to get all drunk on your bachelorette party and get us kicked off the plane to Vegas.)
Anyways, I was too distracted by this odd spoon to worry about ordering.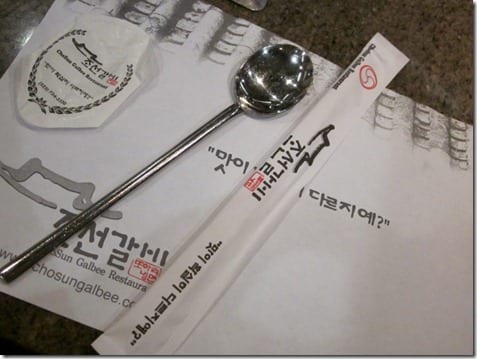 I still don't know what it's meant for…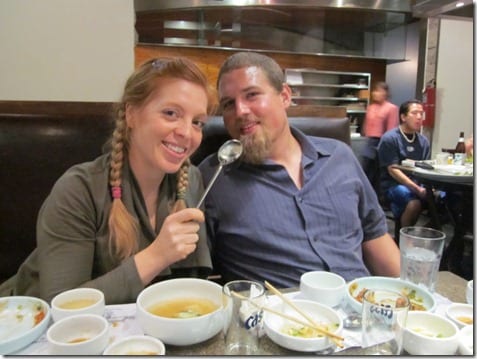 We ordered a few different kinds of protein. Then, the waitress brought out a bunch of side dishes to enjoy while our food cooked.
There was everything from fermented tofu to some egg patty thing to sprouted mung beans?
Phil had to explain everything to me…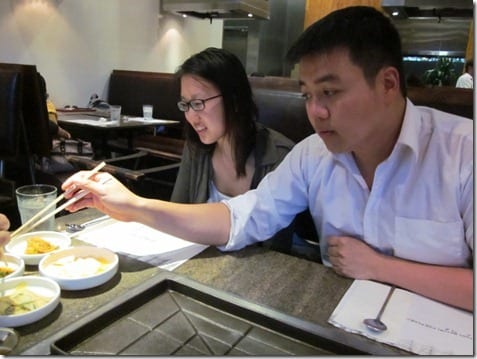 I dominated the table's salad. Sorry guys.
Meat. They ordered a lot of meat.
You can check out their menu here. As a BBQ place it's predictably meat heavy, that's how they roll.
I do have to admit the smell of cooking meat is pleasant.
I ate some of everything. Okay okay, A LOT of everything.
As a rule, I do not eat meat besides poultry but I do have an exception to that rule when I am out of the country and trying to experience new cultures. I decided to count this as a new culture experience.
This was cold buckwheat noodles in a beef broth. I expected not to like it, but it was good.
Our table was completely covered in food and dishes. My dining companions assured me this was normal at a place like this – little did they know this is how my table looks during breakfast, lunch and dinner everyday!
At the end of the meal they brought us a sweet rice drink. I called it "Korean horchata".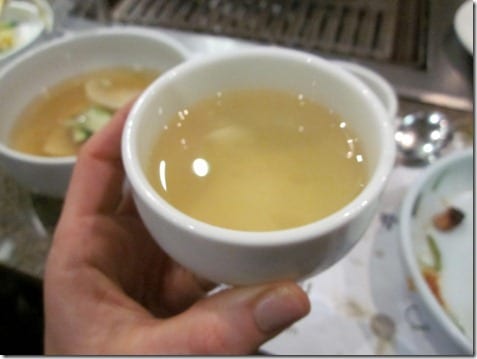 The bathroom had mouthwash for your mouth washing pleasure. Thought that was random…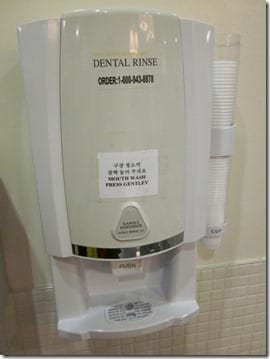 But, I'm pretty random anyways so I appreciated it.
Overall, I loved it! I have a deep appreciation for the part where the waitresses bring you more and more side dishes as you want. And the company was great too. The only downside is it's pretty expensive. But, this was a special occasion and a new experience so I give it 3 out of 4 stars
Run SMART Goals
Fill out this form to get the SMART Running Goals worksheet to your inbox!