This afternoon I was productive with emails and cleaning (okay, I just washed the dishes but that was enough for today).
I felt hungry every 3 hours though. I think my body is getting used to eating more often now. A bit after lunch I cut up a watermelon. 
Don't worry, I had already eaten 4 cups of the stuff before this photo session. That's the only way I could wait!
A bit later I realized I needed something with protein so I made a protein shake topped with cereal.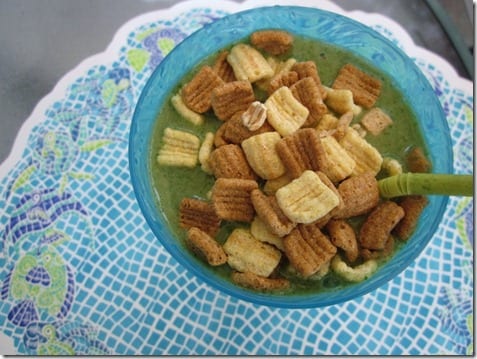 Since this is my Friday Favorites post and all… I need to say that this is my favorite snack EVER. Well, at least it's my favorite snack of the year.
Dinn-ah! Burnt english muffin pizzas. Because you know I like burnt stuff and you know I love pizza.
Here are my Friday Favorites of the week:
1. Stride Gum. After very lengthy research (read: over a pack a day) I have come to the conclusion that this gum lasts longer than any other. It's science.
2. Researching my next vacation. So Kayak has been my BFF all week.
3. Janetha from Meals and Moves. I often get asked what are my favorite blogs and hate to name names because I'm fickle. But, Meals & Moves is one of my top 5 and I credit Janetha with showing me the power of protein!
4. TALKING TOO LOUD! I feel especially shout-y the last few days. Random.
5. And this is my favorite piece of swag from Blogher! And it came with a full sized 'plant' if you know what I mean
I have a long run scheduled for tomorrow and am kinda looking forward to it. Finally! Last marathon training session I looked forward to all my runs, but this session I've been dreading them. I'm going to focus on staying positive tomorrow and pushing through.
Run SMART Goals
Fill out this form to get the SMART Running Goals worksheet to your inbox!