I ran 19 miles this morning! And my body is traumatized. Running almost 3 hours solo is mentally tough and physically exhausting so I'm proud of myself because it wasn't easy to push through but I did it!!!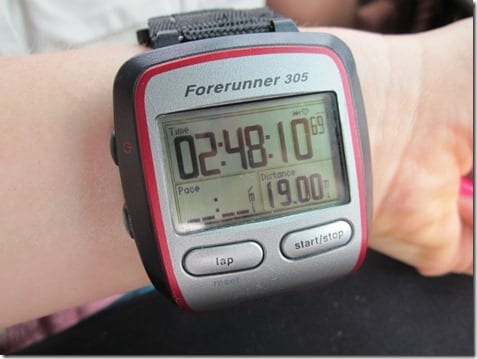 19 Miles – 2:48:20 – Average Pace: 8:51
Mile 1 – 8:42 *Note: the first 7 miles are slightly down hill hence the faster start.
Mile 2 – 8:30
Mile 3 – 8:39
Mile 4 – 8:37
Mile 5 – 8:42
Mile 6 – 8:42
Mile 7 – 8:46 *Gu taken savored like it was a chocolate bar
Mile 8 – 8:49
Mile 9 – 8:52 *Decided this will be my last marathon. At least for a very long time.
Mile 10 – 8:55
Mile 11 – 9:00
Mile 12 – 9:05 *Came up with an idea for raising money for victims of drug violence in Mexico
Mile 13 – 8:56
Mile 14 – 8:54 *Another Gu somewhere around here, who knows?
Mile 15 – 9:06
Mile 16 – 9:06
Mile 17 – 9:01 *Break here to call Ben and ask him to pick me up
Mile 18 – 8:59
Mile 19 – 8:49 *If this was the race I'd only have 7 miles to go. FML.
How many calories do you burn running 19 Miles?!?
My bodybugg said I burned 1798 calories from running 19 miles. Nice!
That number is pretty consistent with what I tell clients and readers – "You burn about 100 calories per mile."
Speed doesn't matter either, if you're running or walking – 3 miles will  burn about 300 calories.
Please don't tell me you're body is used to running and doesn't burn as much anymore. I've been running 7 years. This is my fourth marathon training session. Your body is no more used to it than mine (plus, I'm built to make babies not run so my body holds on to every calorie and ounce of fat it can).
When I called Ben at Mile 17 to pick me up I told him to meet me at Whole Foods in 20 minutes (because I had 2 miles to go). As I was running I knew nothing at home sounded good, so I wanted a treat!
First, I got a detox juice with wheatgrass on the side. They can put it in the drink if you want, but I like to get it over with.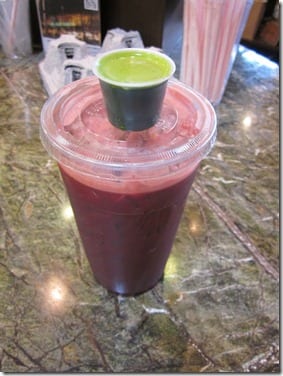 This drink makes me feel like a million bucks! Yes, even after I traumatized my body with 19 miles
I also went crazy at the hot foods bar! Luckily, they still had breakfast out and were just switching to lunch so I got the best of both! That lower left over is piece of different breads from the dessert bar too! Best decision I ever made was putting a hunk of chocolate chip banana bread in this thing!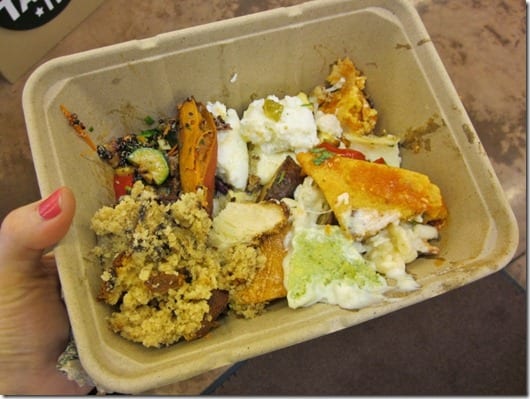 I ate my food on the way home and got into the shower as soon as I got back. Unfortunately, I couldn't make myself take an ice bath. Boo.
I need a nap…
Run SMART Goals
Fill out this form to get the SMART Running Goals worksheet to your inbox!