How's it going?! I picked up this pumpkin yogurt at Target today and pumped it up for a snack with cereal and an extra scoop of pumpkin. It's good (for regular yogurt).
After work I hit up Road Runner Sports for my much needed shoes. But, after all my back and forth with finally buying them – they didn't have my size. Luckily, the store was able to order the old version for a lot less! As long as I get them asap I'm happy!
Dinner was another big salad with roasted broccoli and half of Ben's taquito. I sometimes call them "taka-titos" because my little brother Matt used to say it like that and I thought it was cute. Not so cute when I say it, but it is what it is.
And Pizza! I was craving pizza all day. Just like every other day.
Ben polished off the Pumpkin Apple Crisp tonight and immediately requested more. He even chopped up the apples again to get me started! This time I made the batch bigger in a larger pan lined with graham crackers as a crust.  Took it to another level.
I poured the apples on top of the graham crust, then topped it with the batter and an oat sprinkle.
I'm pretty sure this is what Heaven smells like…
Unfortunately, Ben also polished off the ice cream last night (he obviously doesn't value his life as I may cut him in his sleep). So, I had to eat this normal style.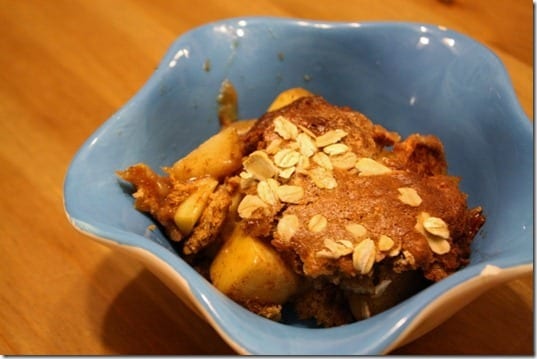 I'm going back for seconds thirds
This is the most awesome video I've seen in forever! A girl in a 600m race falls and still gets up to keep going… Watch it!
Side note: Always feel free to share any inspirational videos or links in the comments or email them to me. I love it
Run SMART Goals
Fill out this form to get the SMART Running Goals worksheet to your inbox!