I don't think you can blame me for being a little biased toward red heads. My brother and I were the only red heads for miles and miles growing up. We looked like freaks. So, we I grew up and discovered I wasn't an alien I was delighted! I was extra delighted to find fellow red heads that love running, like Morgan from Caution Red Head Running.
Unfortunately, Morgan is out of commission right now due to an injury. But that's part of the trials and tribulations of being a runner so I really wanted her to guest post anyways!
1. Where is your favorite place to run?
Back when I first moved to Michigan I lived near this secret little path that ran through the woods behind a subdivision and it was so beautiful!!!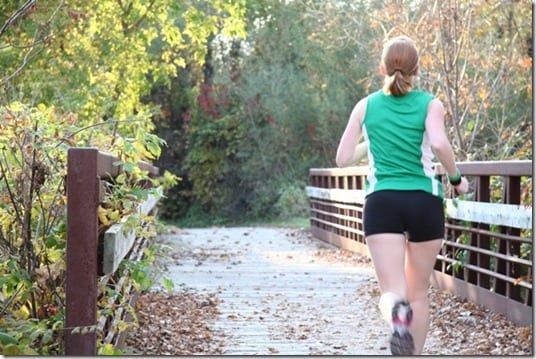 2. What is your favorite thing to eat after you run?
There is this great little bagel place in the next town over from where we live that Spike and I love to go get breakfast bagel sandwich's at after long run's on the weekends. I always get a lox bagel with cream cheese! Mmmmm!!!

3. What is your favorite piece of running gear?
Besides my garmin, Hermes, obviously, it'd def be my signature "race rocker."
4. Name the #1 race you dream of running…
There are so many amazing races out there, I want to do them all!!!
5. Which race that you've ran is your favorite?
Huge toss up between my first and second marathons. My first (Chicago 2009) was so memorable for obvious reasons, but the second (Gasparilla 2010) was more local and ran with my amazing running group with all my friends there to spectate my big sub-4 finish. Swoon!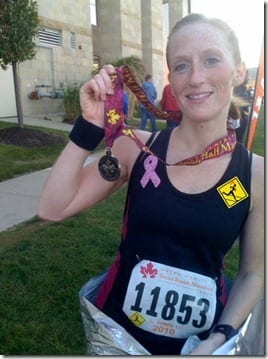 6. What is your favorite song to run to?
It's been so long since I've ran that I honestly can't remember what my go-to song used to be. That's sad.
Question #5: Which race that you've ran is your favorite?
Run SMART Goals
Fill out this form to get the SMART Running Goals worksheet to your inbox!