This morning Dole reps organized an easy yoga class in the Four Season's art gallery for the bloggers. I've been saying I want to get back to yoga once a week for months! I'm hoping this will start my momentum back up to keep going!
Even though yoga in an art studio is foreign to me, the quiet setting was very peaceful and appropriate.
Then, we had breakfast, my favorite part of the day! Even though my stomach still feels a little weird I'm hungry like always. 
After breakfast we had a brief session on weight loss and stress management. It was great to be able to discuss ideas with fellow bloggers and Dole reps. We also touched on a few quirky gadgets for weight loss and if/how they actually work. (We're checking out a muscle stimulator here.)
Before I had to check out I wanted to check out the hotel's gym. I had heard great things about it from a co-worker who stayed here recently. They have complementary fitness classes, gatorade and all the machines are nice and new!
I bribed Tina to come with me with a piece of chocolate covered toffee. It's good fuel for the treadmill…
We showed each other our signature gym moves. My move involves big balls…
Hers is a special jumping jack designed to keep your hands warm.
Sadly, I had to check out and drive back home. Westlake Village is about 80 miles from my house, but my mom's is right in the middle of that journey so I stopped there.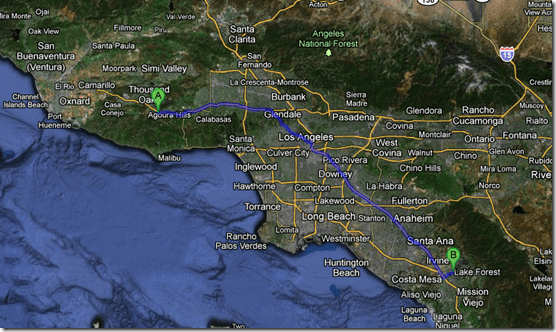 It's rainy and cold here out of no where too! I guess the weather is sad I'm leaving the lap of luxury?
Once at my mom's I heated last nights leftovers and patted myself on the back for taking them home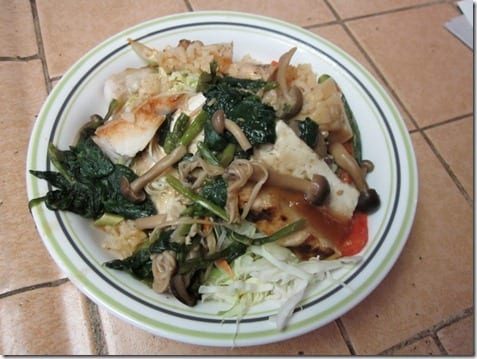 Bailey and Roxy joined me for lunch, it didn't make for the most intelligent meal time conversation but I love them.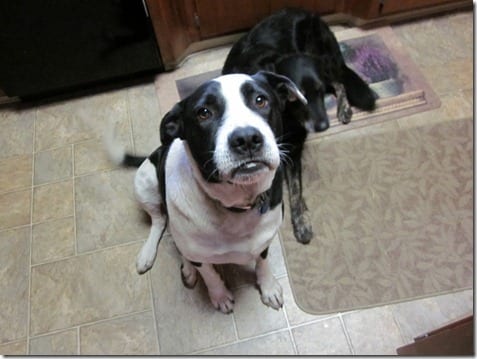 I made a quick stop before I got here for a drink to go with lunch. Manager's Specials are crazy today and I picked up these Van's Waffle Sticks.
Unfortunately, they aren't very good. They're not sweet and still need syrup. I thought the whole point of chocolate waffles was to enjoy the sweet waffle sans the sticky stuff?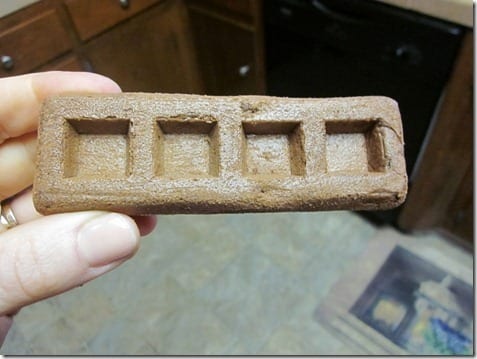 It needed some toppings!
Pile on the Miles 2011
I am AMAZED at how many people signed up and put in miles this week! I cannot believe over 600 people joined! Thank you all so much for participating.
The prize for this week is a week supply of Stoneyfield yogurt!
We have three winners this week:
Emily Swanson    fitnessfreakforChrist.wordpress.com
Aditi Naik    http://www.aspaceaditi.blogspot.com
Autumn Heinz
POTM Questions:
1. Do the miles that we run on Fridays after 8 am count? Since the spreadsheet has to be updated by 8am, they wouldn't count for that day. But the next day starts on Saturday.
So, would the miles that I run this morning not count anywhere?
A. Any mileage that occurs after the Friday 8am deadline counts for the following week.
2. Can I count the miles I walk through out the day? I wear a pedometer and accumulate it as I go?
A: Yes! This is all about encouraging us to move so go for it!
3. The spreadsheet was locked?!
A. I am "un-sharing" the spreadsheet around 8am PST to draw the names. As soon as I'm done I will share it with everyone again. Today I was a little late on doing this because of travel.
Next week 3 people will win a $10.00 Subway gift card!
Remember to walk or run 5 miles by Nov 11th and update the spreadsheet by 8am PST! You can check out the rest of the prizes and information on the Pile on the Miles post.
Question: If you could have lunch with any blogger who would it be?
I would be Pioneer Women so I could eat her food….
Run SMART Goals
Fill out this form to get the SMART Running Goals worksheet to your inbox!