Happy Thanksgiving! I hope you had a good one
Around 12:30p Ben and I headed to my mom's with food in hand. I made three dishes – sweet potato casserole, corn bread casserole and green bean casserole.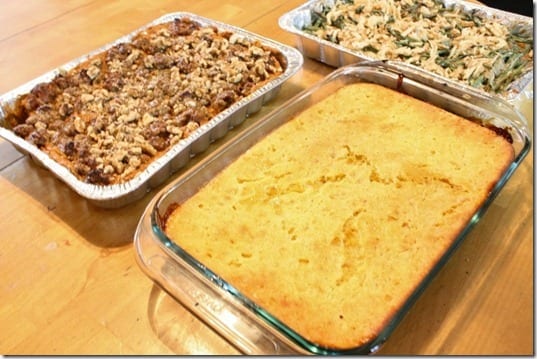 Sweet potatoes are my favorite! Why do we only eat this casserole once a year?!
Brown sugar and walnuts/pecan toppings > Marshmallows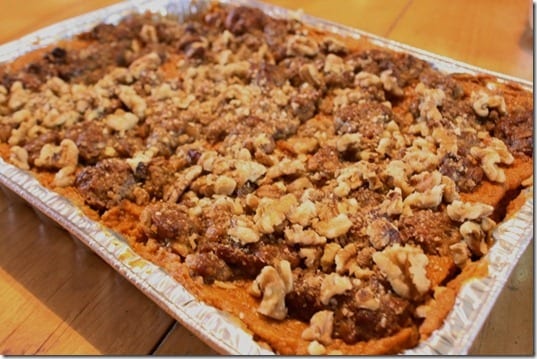 But, it looks like someone couldn't wait until dinner?! Busted. For once it wasn't me.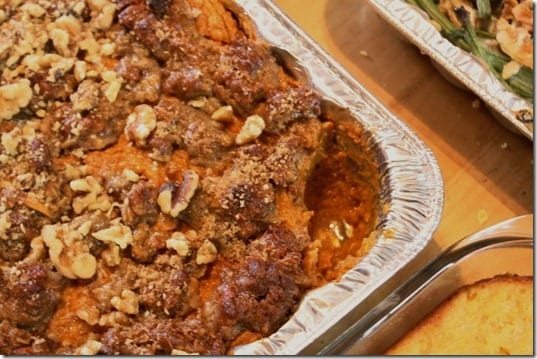 The whole spread included: sweet potatoes, stuffing, turkey, corn bread, calabasitas, green beans, mashed potatoes, gravy and cranberry sauce.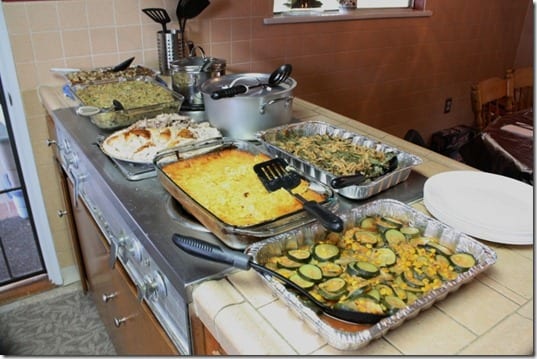 The stuffing is my grandma's signature sausage stuffing recipe – the guys in my family are obsessed with it and fought over who gets the leftovers during dinner. Luckily, we made a massive amount.
My brother's girlfriend brought calabasitas, a Mexican zucchini dish that I love! I called those leftovers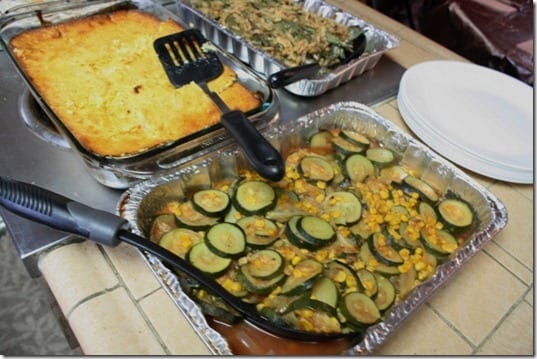 I sipped on a white sparkling wine I helped my mom cook. I cut the turkey (because I watch way too much Food Network and have proclaimed myself an expert).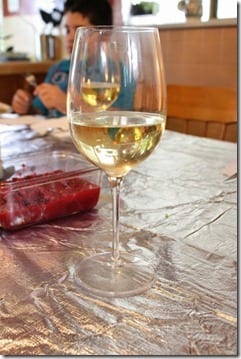 My plate had everything. A lot of everything
We had a small group this year, just immediate family. Normally there are 30 of us, but this year my mom's siblings are doing intimate dinners too. It was nice.
I went back for seconds.
Dessert was pumpkin pie, brownies I made Reduced Guilt brownies last night and added extra guilt via chocolate chips in the batter
Heather made a pineapple upside-down cake that was delicious!
We went on a walk between the main course and dessert so I had plenty of room (in case you were concerned for the strength of the elastic on my waistband).
Happy Thanksgiving!
Run SMART Goals
Fill out this form to get the SMART Running Goals worksheet to your inbox!