Alternative title: Tamale Thursday since we pronounce "tamale" with the "th" sound
I went to my Nana's to make tamales today! It used to be a family tradition to make them on Christmas eve, but we moved it up a few days this year for convenience. My Nana did all the hard work beforehand – making the chili, prepping the meat, masa and oujas (corn husks).
She cooks the meat and makes the chili from scratch the day before we plan on putting them together.
We help put them together. This means spreading the masa on the corn husks…
Filling them with meat
And folding them
(flip the bottom up)
TaDa! Tamales!
Santa hat optional
We also made green chili and cheese – these ones are amazing!
We carefully lay them in a huge pan filled with a steam basket (or upside down pan) and water. Then, steam to cook.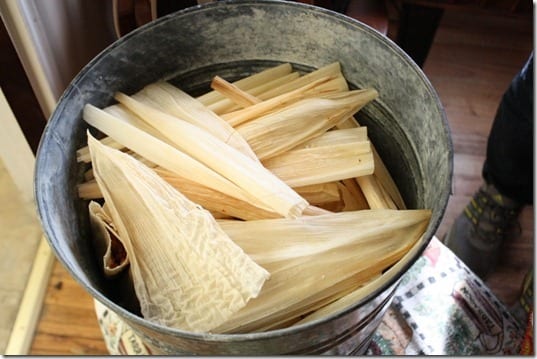 They take hours and hours because the pans are sooo big! I think we make about 10 dozen? Or maybe it's that I eat 10 dozen… I can't remember.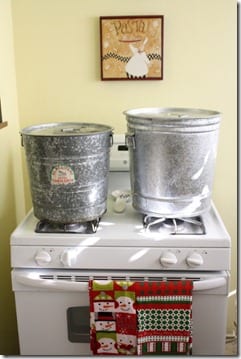 After we were done putting the tamales together I had a taco with the leftover meat and cheese filling
I also nibbled on some of the goodies my Nana has – including these Eggnog Covered Almonds from Trader Joes. She also had cookies! Too.Much.Good.Stuff.
When we were done building tamales I went to my mom's to wrap presents and walk the dogs.
Christmas Fact: Candy makes the best wrapping fuel.
My mom has a box of See's Candy and it had my favorite piece – dark chocolate nougat with almonds <3 You should never turn down your favorite candy from See's. I live by that rule.
A few hours later the tamales were done! Dinner is served
Sure, we don't have that fancy azz Bobby Flay tamale presentation, but these taste 5 star all the way. Added bonus: You can eat them with a cheap beer while watching Christmas movies on your couch.
Since I'll be spending Christmas in Florida I need to get my fill of this Mexican Tamale making / eating tradition now! Will do.
Question: What do you eat on Christmas Eve or Christmas morning?
My fam eats tamales. On Christmas morning we eat tamales topped with a fried egg. The key is to eat as many tamales as possible in two days so that you don't have to make them again for a year.
Run SMART Goals
Fill out this form to get the SMART Running Goals worksheet to your inbox!