Happy New Year! Last night Ben and I hung out with his brother and his GF for a little beverage and fire pit action.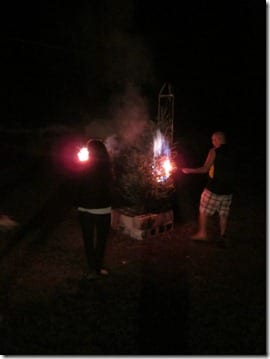 Ben and I were covered in ashes from a big Christmas tree eruption.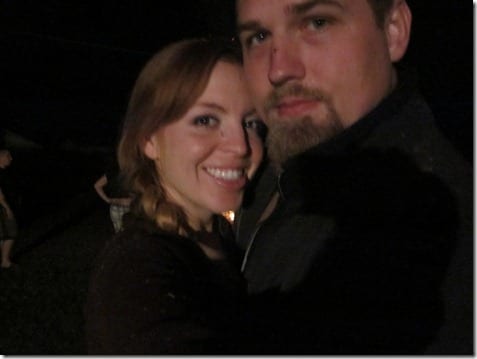 I was the Dunkin Donuts Designated Driver so I didn't really drink outside of a champagne toast and a sip of this pumpkin beer when we arrived. I don't think I've ever tried pumpkin beer before! I'm very sheltered. Plus, I don't like beer…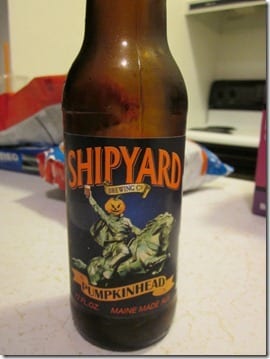 The only reason I was able to stay up past midnight was because my body is still on California time.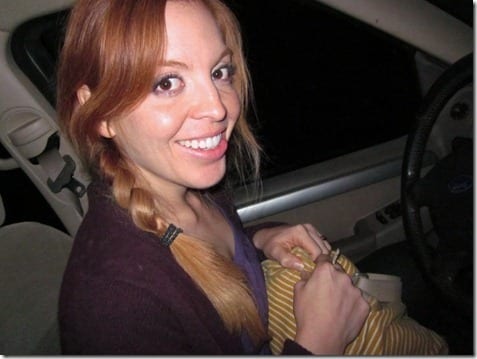 It's 2012!!!
I LOVE making New Year's Resolutions! I'm not really a competitive person – something I think is kinda rare for a runner. Example – I was recently asked what my half marathon PR is and I had no clue (luckily I have a lil' blog that can keep track of these things)! Truthfully, it makes me uncomfortable when people ask about numbers and stuff because I don't want to feel like I'm being compared!
But, I need goals because I love to compete with myself. I want to be better for me and new goals motivate me. So, I finally put together my goals for 2012.
First, let's review 2011 Goals. I had a big list at the start of the year…
Run a sub-four hour marathon. DONE
Make RER better. Nope, sorry peeps.
Save Money. Nope. Times were tough this year as training is a luxury item and times are tough for others.
Run in 6 Different states. Nope. I did three though!
No diet soda. Nope. I'm an addict. Send me to rehab.
Relationship Resolution: One date night a week. Eh.
But somewhere along the way I decided to focus on 3 main goals. I wrote them on my fridge and let the other ones slide.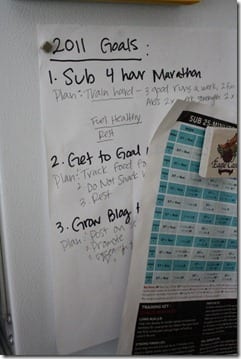 Those goals were:
1. Run a sub 4 hour marathon. I did it!
2. Get to goal weight. I didn't do it. But, I did eat a lot healthier and more balanced. I made a short attempt at BFL and realized it was too anal for me. But, I did start eating more protein and that helped prevent a lot of snacking and overeating.
3. Grow blog. Yep! I'm very proud of how much RER has grown in the last year. It's crazy! Or I'm crazy. Probably both.
Now I'm ready to tackle 2012 and new set of goals.
2012 Goals:
1. Run Faster.
PR in the Half Marathon.
Run a 5k and  10k by March. Then, PR in those by the end of the year.
2. Tone my ass and abs. Get in the best shape I can.
Strength train 3 times a week. Yoga once a week. Identify my trouble spots and focus on those.
3. Don't eat shit.
(Eat Clean 80% of the time.) Cut back on processed food and sugar. No junk food unless it's a cheat day. Eat what I love, skip what I don't love.
4. Save Money.
Get my finances in order and save money to be financially ready for a house or baby or move to Costa Rica. One of those.
5. Improve professionally.
Get another PT certification. Learn about photography and social media and video editing. Get on an organized, do-able schedule.
6. BE FEARLESS.
I don't know if I've ever admitted this, but I'm a big scaredy cat! Ben jokingly calls me Safety Suzy. I want to live this year as if I cannot get hurt or fail or die. And if I do – it's okay.
I'll be dead before I know it anyways…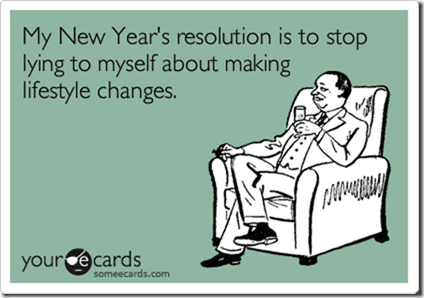 Did you make a New Year's Resolutions? What is it?
Run SMART Goals
Fill out this form to get the SMART Running Goals worksheet to your inbox!