I'm still figuring out the best post-boot camp plan for running. I don't eat before camp (it's too early),  by the time it's over I'm starting to get hungry but I want to get in a run before eating. Yesterday I immediately ran after camp, today I went home for food first.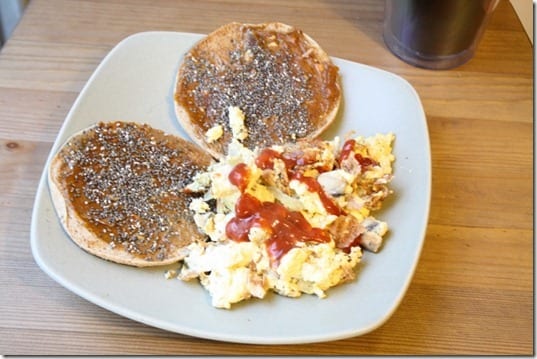 Egg scramble with onions, mushrooms and cheese w/ PB&PB on the side.
Then, I set out for a tempo run, but my legs are still tired from this weekend. I really should have done an ice bath because my recovery is lagging
I ended up doing 5.5 miles slow and walking a cool down .5.
Since my local health food store isn't carrying my fave protein powder I decided to try a new flavor in an individual packet before I have to commit. Yeah, it's not good. It's overly sweet and tastes artificial. I'm so glad I didn't buy the entire container.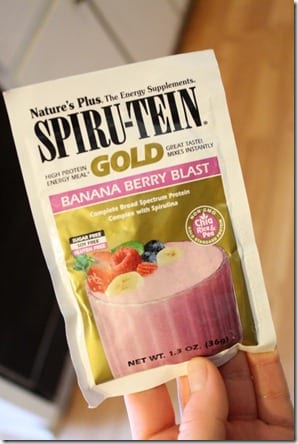 I still ate it, even though my first thought was that someone was trying to poison me. I guess I'd be an easy person to kill via food.
My PB PrOatbran was featured on Fitness Magazine's website today!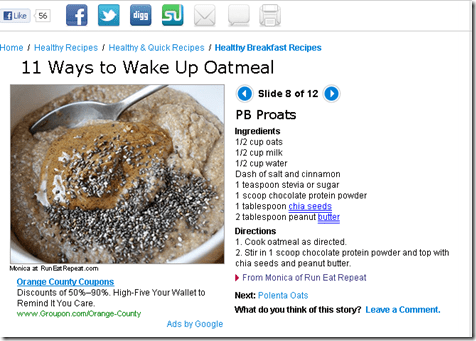 I don't know if it's all the New Year's Resolutions or blogs with "2012 Goals" posts, but I am in a major comparison funk this week. I've been comparing my goals, my eating habits and my exercise to others. I know it's dumb and we are all different. I should do my own thing – and I do. But, this week I don't feel as healthy or fancy or fast or fit as others. I'm trying to fight the funk!
Question: How do you stop yourself from comparing to others (bloggers, friends, family, TV)?
If it's a blog or TV show I try to avoid it for a while. I realize it's about me, not them and I need to get out of my funk first.
Run SMART Goals
Fill out this form to get the SMART Running Goals worksheet to your inbox!