Yesterday I got a knock on my door from my friend, the Fed Ex guy (aka Ed), holding a huge box. I was pretty excited thinking my life sized Matt Damon doll had finally arrived. Turns out it was even better – a ton of loot from New Balance!
NB is sponsoring our Reach the Beach Relay team and sent us gear to train in! Our team name is "Off Balance" my idea, "NewBs with Boobs" was vetoed. Oh well.
I guess it's the Catholic school girl in me (who had to wear oxford shoes for 12 years), but I LOVE colorful running shoes. It's sick how excited I am about these. I keep saying I'm in my "yellow phase" of life because everything I buy is yellow. So when I saw yellow sneaks I lost it.
Added bonus: No one will be able to tell when I pee my pants.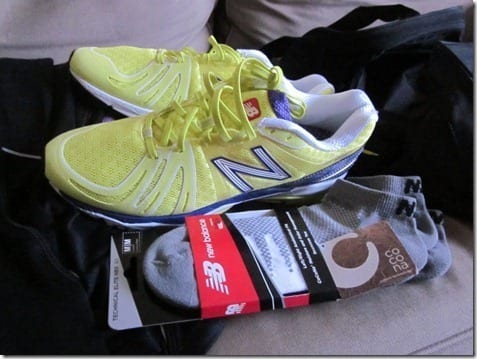 New Balance is sharing the love and offering RER readers 15% off and Free Shipping (I hate paying shipping!) at the New Balance store with the code
NBRTB1244G747
This code is valid at Shop New Balance.com until March 10.
Okay back to today…
I hit up the Farmer's Market for some apples, onions and samples.
Surprisingly the Pink Ladies were the tastiest so I got a load of those (I'm normally a Honey Crisp or Fuji girl).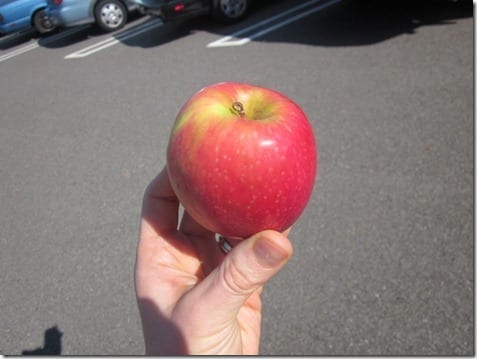 Then I took a 4 mile walk while chatting with my best friend over the phone.
I had a two hour meeting at work over lunch time. It was supposed to be a pot luck meeting, but it's Friday during Lent so I don't eat meat. Plus, last time it was just a bunch of chips and cookies and pizza.
So, I packed my own. Notice my normal bucket 'o salad has been missing? I left my favorite bowl at my mom's last weekend.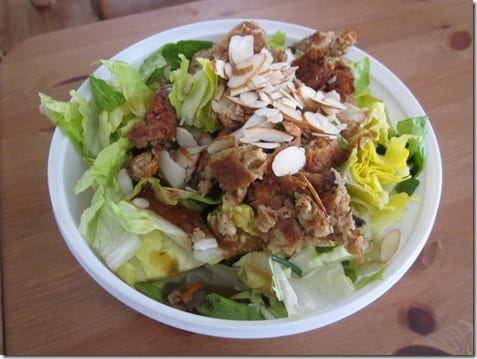 We sit on the floor in the Group Fitness room during the meeting. It's pretty relaxed and really nice to have some down time with my co-workers. Since everyone's schedule is made one-on-one with their clients sometimes I don't see my friends for weeks!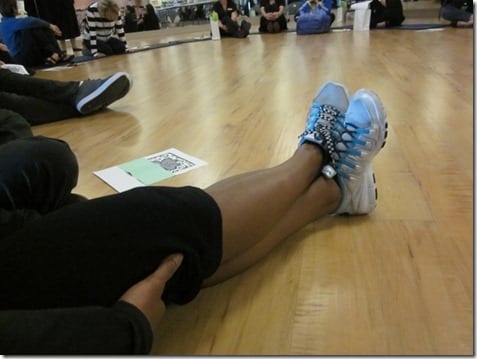 After the meeting I hit up the mall. I'm going to another fancy schmancy event next weekend and need a dress. But in the dressing room I knocked my finger and it started bleeding like crazy instantly! Like, dripping and everything.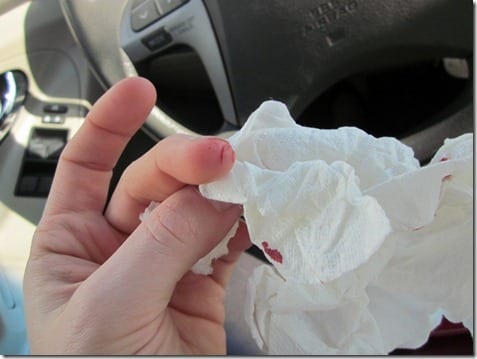 Luckily, I had a tissue and stopped it. But it had already dripped on the floor so I had to find another tissue and wipe it up. When I finally walked out of the room the sales girl was standing outside my stall with a weird look on her face. She must have seen me wiping the floor from the bottom of the stall and thought WTF is this girl doing?!
I called a friend on the way home and she said, "That would only happen to you."
The weird thing is, I get that "it would only happen to you" line A LOT. Ha! It's not a good thing, but I just have to roll with it.
Afternoon snack – Fruit is my co-pilot (and a protein bar).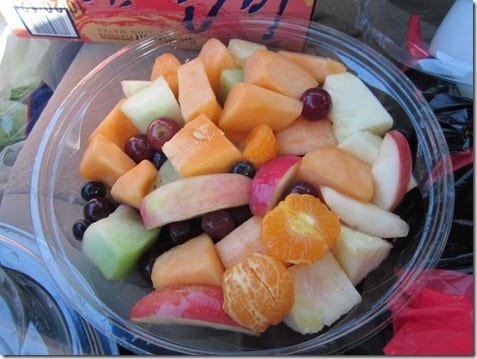 Question: What are you doing this weekend?
Bonus: Do weird or embarrassing things happen to you a lot? What?
I can't even tell you guys most of the stuff, it's always super embarrassing…
Run SMART Goals
Fill out this form to get the SMART Running Goals worksheet to your inbox!