Hello and Happy Wednesday!
I watched the movie Hungry for Change last night and LOVED it. I've been on the brink of wanting to change, but not being motivated or inspired to actually do anything about it. The movie struck a cord with me (even though it didn't really share anything new).
I know diet soda is bad for me (especially in the quantities I drink it!). Well, the lengthy lecture in the movie on the dangers of diet soda finally got to me and I'm going to start breaking the habit.
The movie didn't tell me anything I didn't already know, but it did inspire me to start reading labels again (something I mentioned I've been doing less of since last year). It also discussed the perils of SUGAR. I think we all know that sugar and HFCS is in everything! This wasn't news, but it might be nice to spread the word movie to your family and friends.
The movie is available to watch until March 31 for FREE online here: Hungry For Change 
Ultimately, it stresses many of the ideas I'm sure you already know – eat whole foods, don't eat so much sugar, treat your body well. I LOVED that it also said DIETS DON'T WORK and it's about a lifestyle change to be healthier.
Larabar Giveaway!
Speaking of foods where you actually recognize the ingredients – Larabars are one of the few bars that offer whole foods all smashed up together.
You can win 2 Cherry Pie and 2 PB Cookie Larabars by leaving a comment on this post.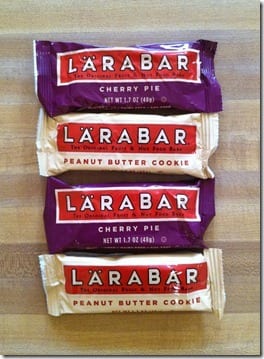 Contest closes 3/29/12 at noon PST. Open to residents of the US and Canada.
For discussion: This morning on my run I saw a kid eating Chip's Ahoy on the way to school and another eating a Poptart. What did you eat for breakfast as a kid? Does that affect what you eat now at all??
Run SMART Goals
Fill out this form to get the SMART Running Goals worksheet to your inbox!