Hello and Happy Friday!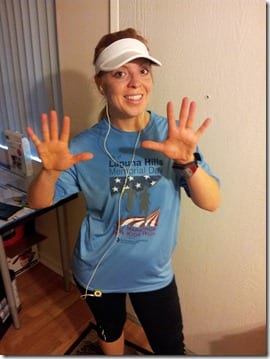 I ran 10 miles this morning. The first 5 were slow (as I was going up hill and away) the last 5 felt GREAT (because I just rolled back down the hill). I wish I could have done more and am kind of frustrated that running keeps getting aside for other things (even if those things are fun). This was supposed to be my year of fun run before we have babies. I'm hoping this weekend will inspire me to get back on track!
(This is the hill I ran. Yes, it sings.)
I wanted to do more miles but I also wanted to get home in time to see Ben before he left for work. We are one of those creepy couples that doesn't like to be apart. Or we're just creepy. Either way.
While I was gone he made French Toast for breakfast and took a picture of it. See? He uses that Easter plate all the time.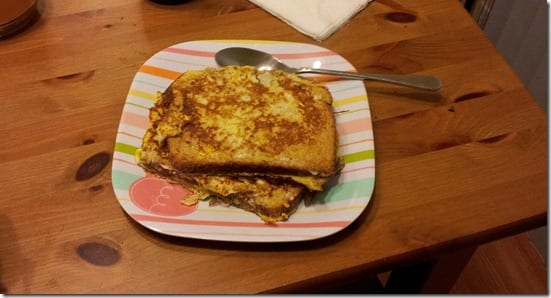 (Updated to add: I just realized he's using a spoon – I'm going to have to ask him about that.)
I've been craving some soy chorizo and mixed that in with my eggs. The hot coffee is a trick – I take a few sips and then pour it over ice when it gets too cold.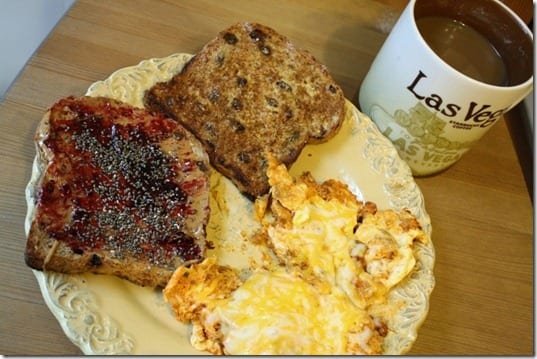 Per the pharmacist's suggestion I've been taking B-Right to help with my thyroid issues (the problem is not fixed yet, but we're working on it). I just realized it says "Low Odor" – good thing she didn't give me the high odor version!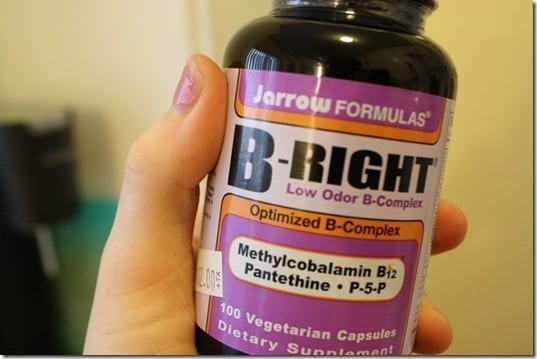 Now I'm headed to the airport and off to Texas! At 8pm Central / 6pm Pacific tonight there will be a Twitter chat with Chris Lieto one of the competitors using the tag #myafter – Join in if you want
I'll be home Sunday night and blogging / Facebook –ing / Tweeting the events over the weekend.
What are you weekend plans?
Run SMART Goals
Fill out this form to get the SMART Running Goals worksheet to your inbox!