My 8am client cancelled this morning, but I decided to brave the drizzle and get to the gym for my own workout. It was super empty so I had all the weights to myself and did that Fab Abs set I'm loving and some chest work.
Before I went I had iced coffee and an egg beaters patty. When I got back I wanted everything something warm. I made a packet of cinnamon spice oats and added some yogurt, chia seeds and almond butter.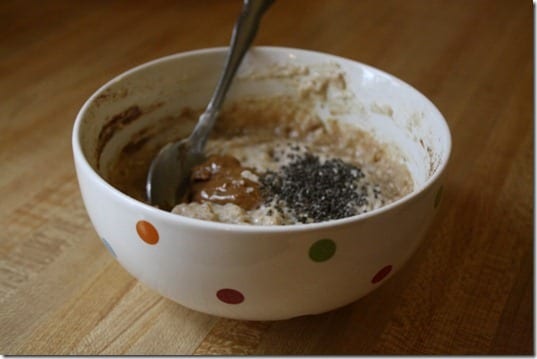 Lunch was the best salad ever. After I was done I was craving a soda and still felt snacky. So, I made a quick Sonic run and popped some corn.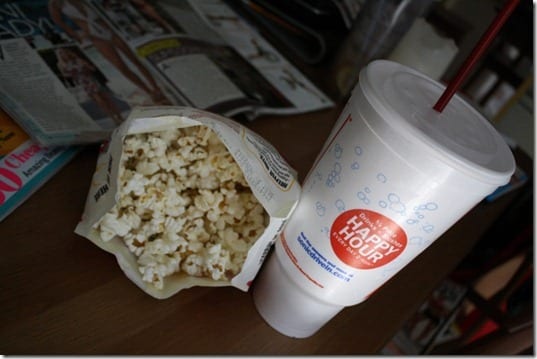 I don't have to be back at work until 5pm so I am cleaning up and trying to get ready for another weekend out of town. We signed up for the Big Sur 10 miler in January. At the time we didn't know we would be visiting NorCal just weeks before. I love traveling, but Ben and I have a lot of house projects that we need to be desperately bored to do.
I have Reach the Beach in May, but outside of that I'm hoping to stay home on weekends. And I have a CRAZY June travel schedule so I need that break.
In my cleaning I found this Fitness mag with Jamie Eason and ripped out a few new moves!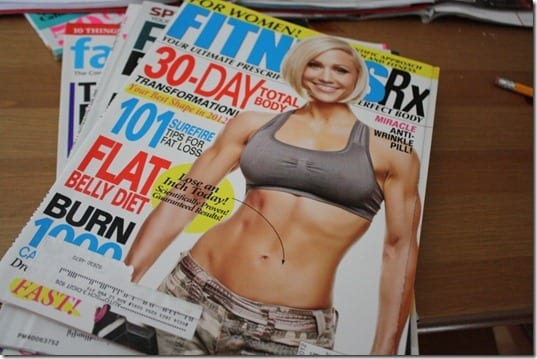 Speaking of traveling… I love eating Subway when I'm on the go. I've never ordered Subway to cater a party, but I get excited when a party or meeting offers their sandwiches!
My friend Pam ordered sandwiches for our Christmas Cookie Exchange
But, now I'm craving a 6 foot long sub!
I have this vivid memory of my family ordering a 6 foot sub for my first holy communion and praying that I could eat it all myself.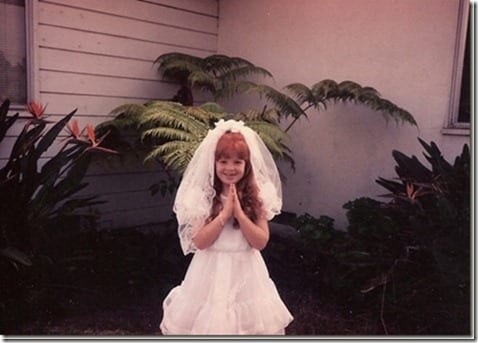 Okay, not really. But, I was super excited and thought it was MASSIVE.
Well, Subway is offering one RER reader a $50 gift certificate to cater a get together. Don't worry, you don't have to invite me (but if you do I promise to not eat all the subs only 90% of them).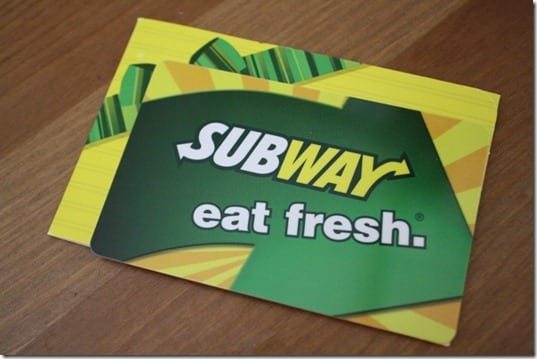 To Enter: Leave a comment with your favorite Subway Sandwich.
Open to residents of the US only. Closes tomorrow Friday at noon PST.
P.S. Remember when I met Jared? I wonder if I can lure him to my next get together with a Six Foot Subway Jaryaki?
Check out the complete Subway Catering Menu here.
Run SMART Goals
Fill out this form to get the SMART Running Goals worksheet to your inbox!