After the sessions yesterday I relaxed in the room until Amie (www.thehealthyhapple.com) tweeted me luring me to her room. She had a party going on and had a ton of wine, cheese and COOKIES.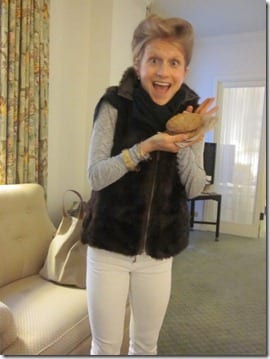 She knows I'm searching the world for the best chocolate chip cookie and gave me one to try. She knows how to sell it!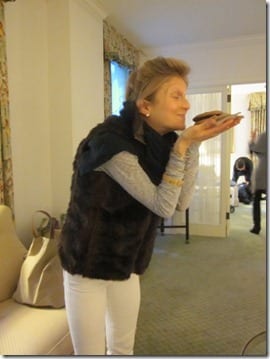 She was headed out the door and sent me on my way with a HUGE chocolate chip cookie and a glass cup of red wine.
Dinner of champions?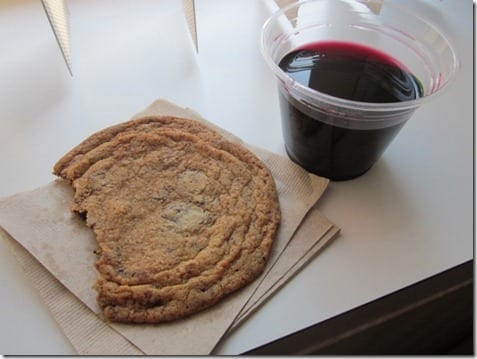 *I ate half the cookie and only took a sip of the wine since Tina walked in right then and we rushed out the door to the parties.
One of the unique things about Blogher conferences are all the company sponsored parties. Tina and I were invited to 2 parties that overlapped so we decided to hit up both.
It's cold in Seattle and we were walked to the first event that was .3 miles away <- not far, but cold in a dress. So, Tina and I wore our walking shoes and sweatshirts to the event: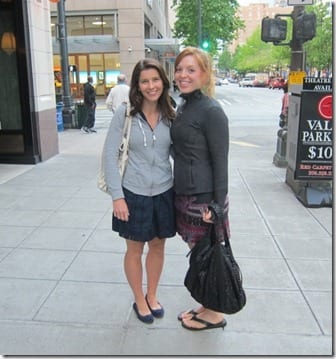 Then, made a quick switch at the door to be a little more presentable. (Although, I'm sure the shoe change at the front door wasn't exactly classy. Oh well.)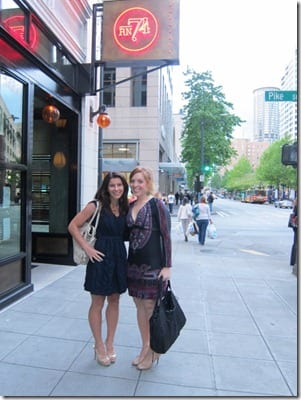 The first party was the Silkology party at RN 74. It was sponsored by Silk – the soy milk peeps.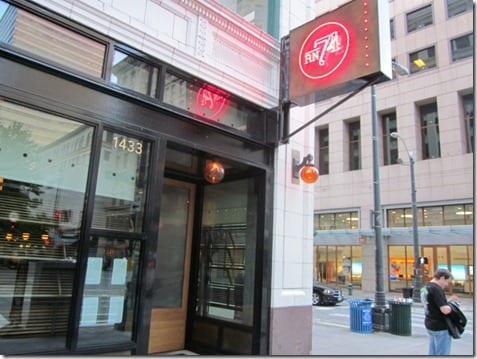 Upon arrival we got a VIP pass and were able to enjoy all the appetizers and drinks…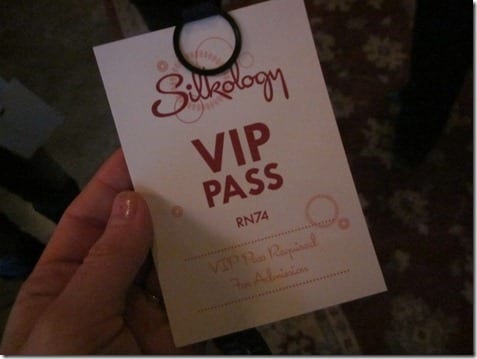 Including my personal favorite – falafel (which was kinda dry)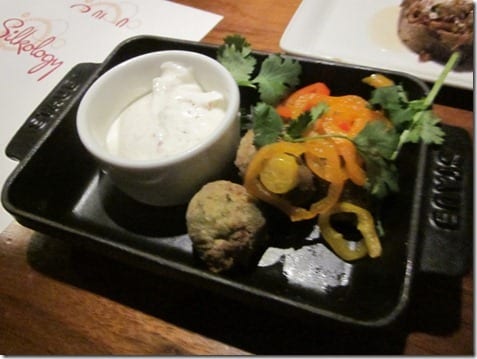 Tempura mushrooms (amazing sauce!)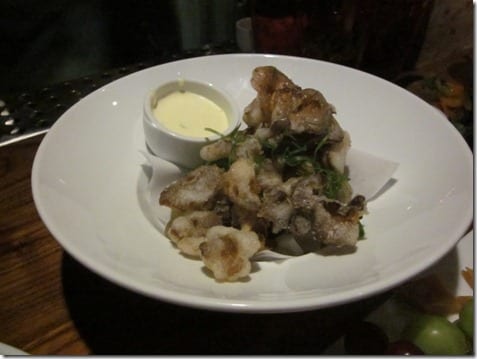 and a whole spread of other delicacies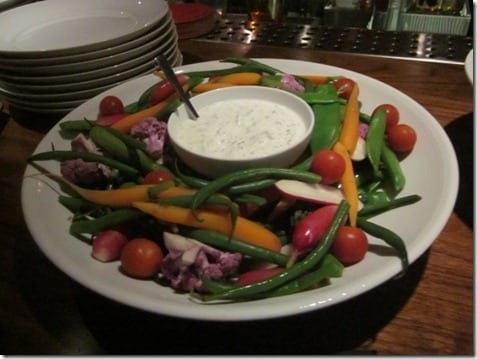 I tried a purple cauliflower!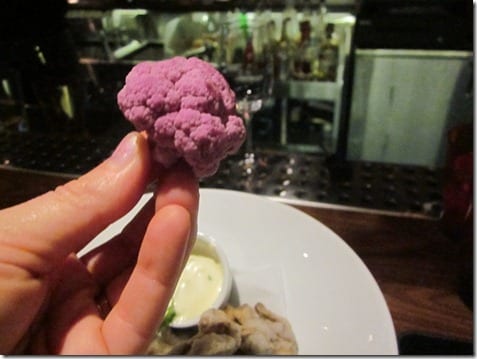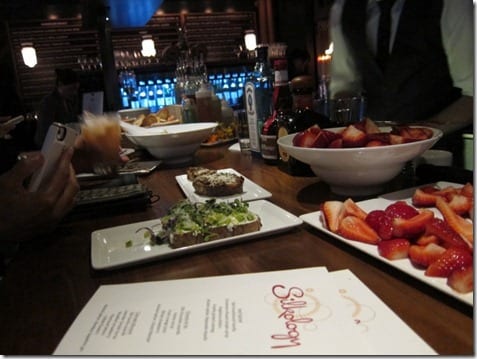 But the real point of the party was to try Silk's new recipes. They have a few ideas for alcoholic beverages and thought these two borrachas would be perfect to review them…
We were given instructions to try any/all of the silk signature cocktails, so we stuck by the bar to enjoy the sights, sounds and tastes
We tried the Iced Spiced first…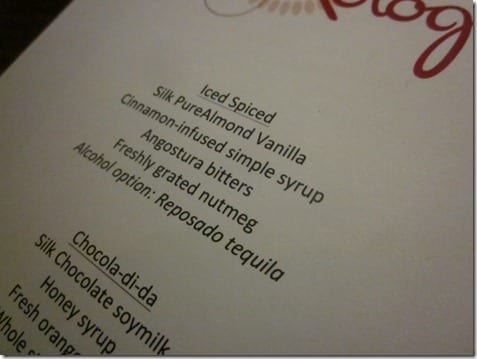 It reminded me of eggnog – probably because of the nutmeg garnish. It had tequila instead of rum or it would probably have been a dead ringer for nog!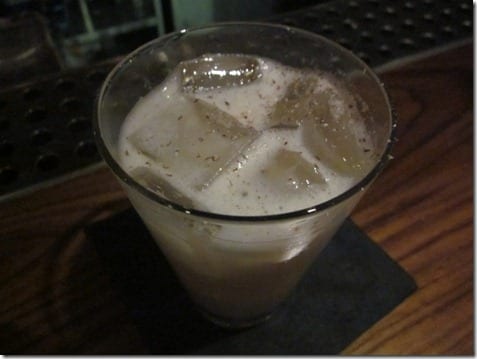 Given that it's summer (in SoCal) it felt weird to drink egg nog last night, so that threw me off. It was good, but I wasn't in the mood.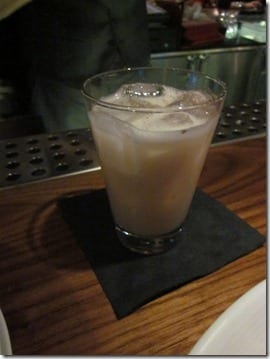 Then, I tried the Colorado flower one – great presentation and great taste!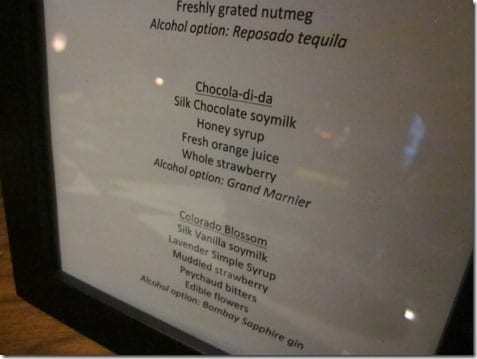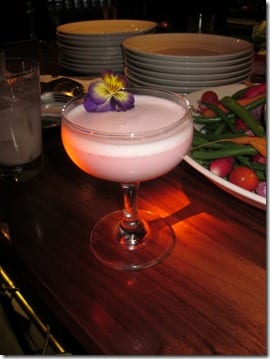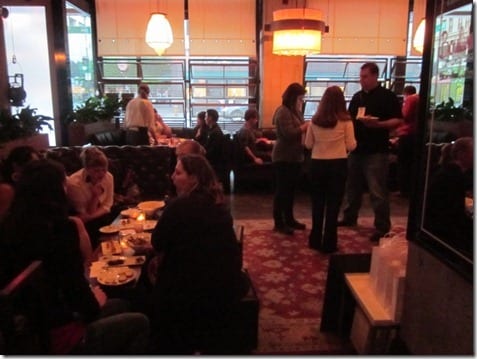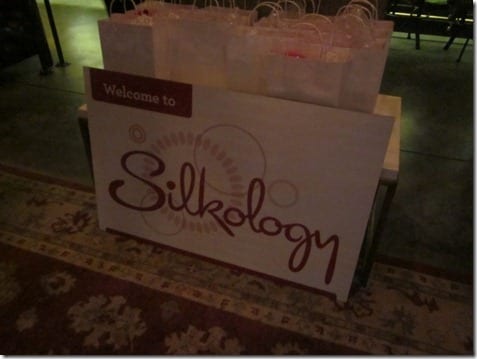 After a few cocktails we headed over to Purple Café for the Stonyfield party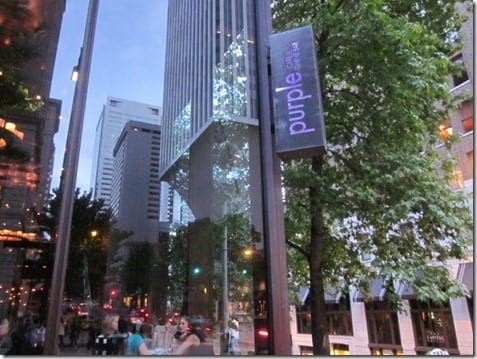 This place has a great tower of wine in the middle. I love the romatic-al feel  of this place! It's not ideal for food blogging picture taking though…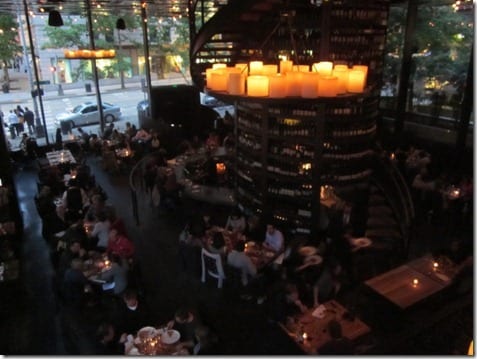 Even though I ate three pounds of purple cauliflower and tempura mushrooms I had to have two crab cakes because I LOVE THEM. Crab cakes, my old running path and Kristin/Matt are the only things I miss about Maryland.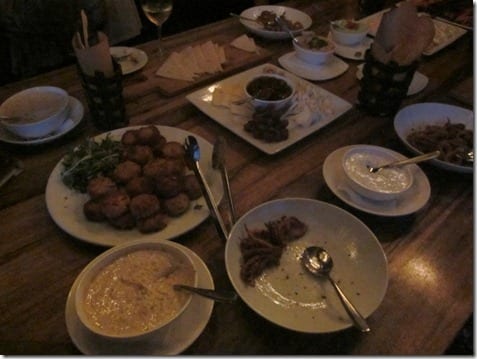 I ordered a glass of white white that I nursed most of the night.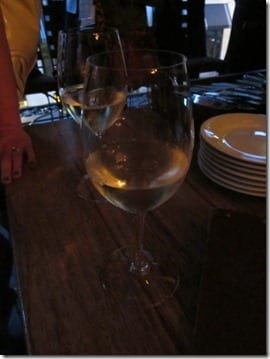 I basically fell asleep standing up at this point and woke to a Shades of Grey dream…
The guy across the street from the bar was walking around his place shirtless. He totally knew we were watching him. We're pervs. Okay, just me.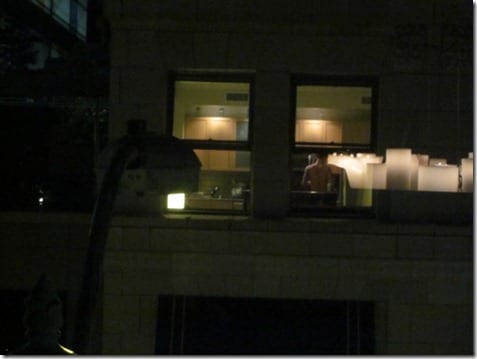 Then, I passed out and woke up 7 glorious hours later in my new Silkology shirt.
I somehow managed to talk Tina out of going to Crossfit this morning and run with me again. (<— that is not easy to do!)
We ran about 5.5 miles in the cool drizzly weather. It rained a little on our parade, but not too bad.
Want to run in downtown Seattle?
I'm horrible with directions, but here's an easy tip.
We ran down towards the water and there is a path that goes on for a few miles. At the front desk of some hotels you can get a map, but it's easy as long as you stay on this path.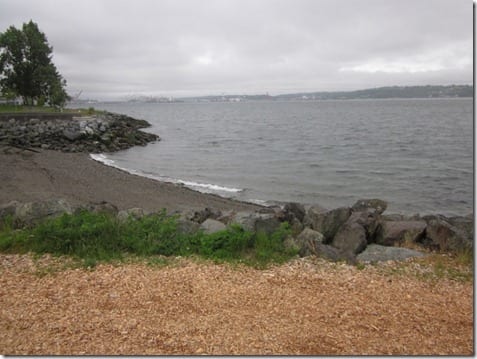 When you see the naked guy, keep going, 
Unless you're a happy hooker. Then you might want to stick around…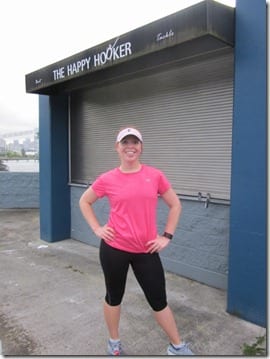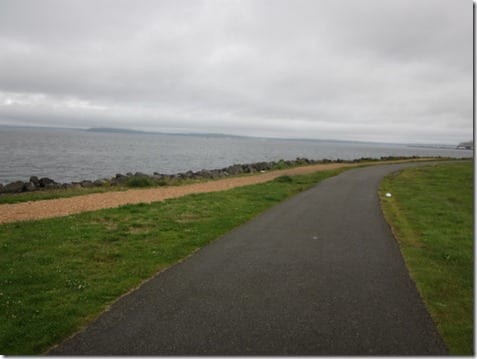 We stopped our run early to find some iced coffee. Hey, when you're in coffee town USA you have to enjoy it!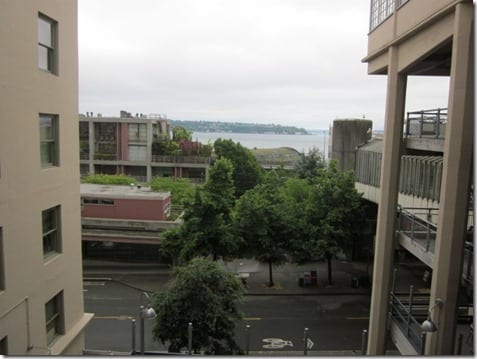 This place – Specialty Café is near our hotel and lured us in with delicious smells.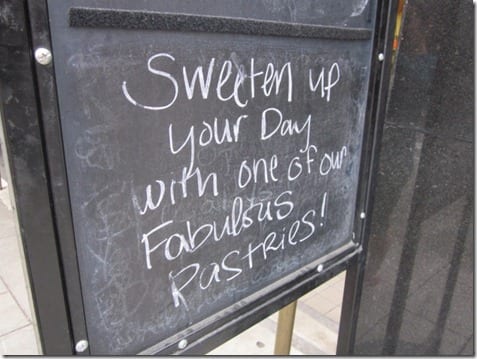 All my willpower for the next 4.2 years is now gone as I used it up to resist buying this cinnamon roll.
They actually didn't have iced coffee so I got a Mexican/Americano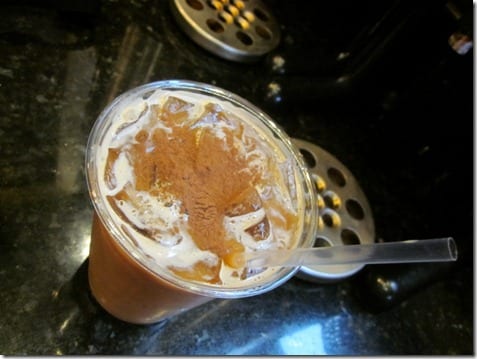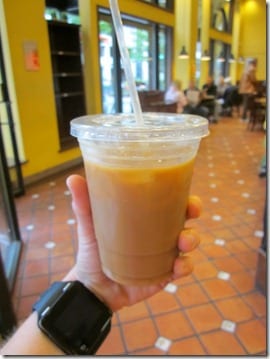 After a hot shower to warm up, we headed to breakfast. It was another amazing spread!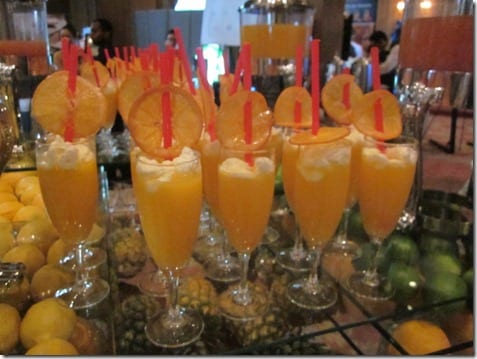 I had to grab one of these because I've never tried cashew butter and that' my favorite nut!
Eh, wasn't my thing so much.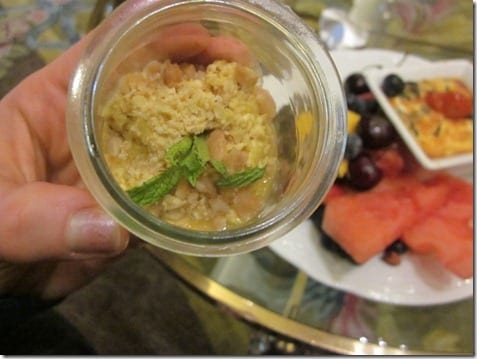 I piled my plate high with tons of watermelon. I was actually pretty late to breakfast, so I figured most people had already eaten.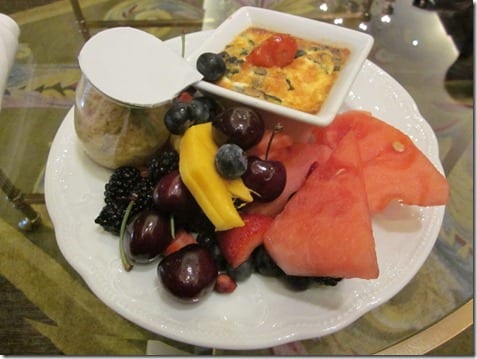 Watermelon + cherries / Monica = 0 for you.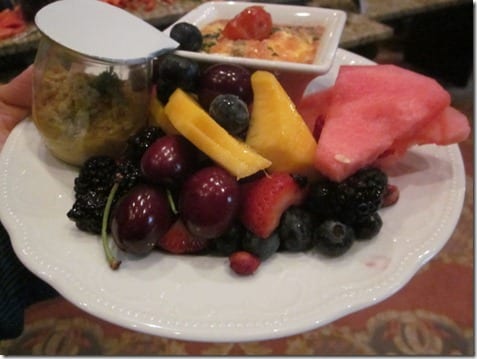 I also paid a visit to the Chobani booth for another hit.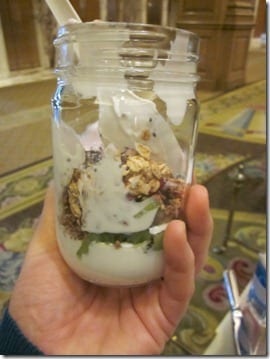 Now I'm living blogging for a session – details to come!
Run SMART Goals
Fill out this form to get the SMART Running Goals worksheet to your inbox!