Hello from my fabulous trailer in Central Park!!!!
Kidding.
I did spend the day shooting some webisodes in Central Park, but I didn't have a trailer. No, it was more like it started raining and I had to stuff my purse in a trash bag and stand under an umbrella waiting it out. That's more my style anyways.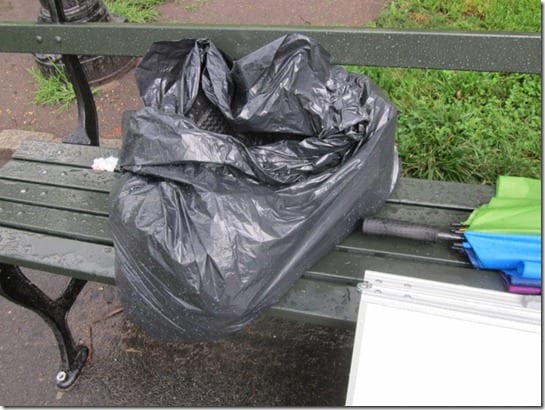 After my run this morning I got ready and headed over to the Hearst Towers to meet up with the camera crew. That place is beautiful, but kinda intimidating.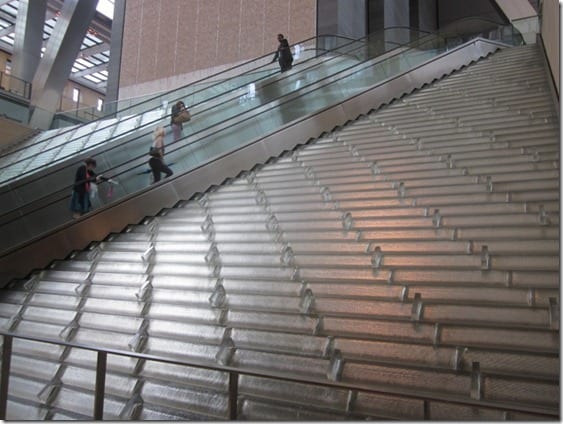 View from their offices. I couldn't get over it, so pretty.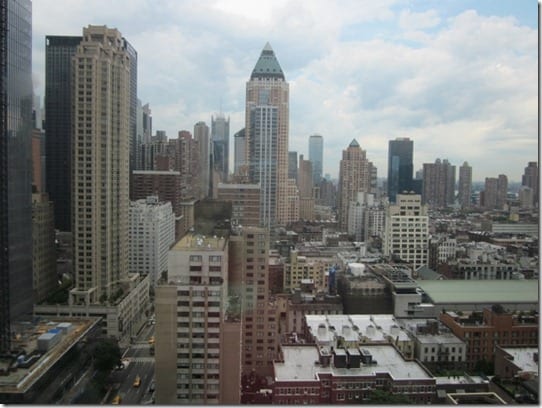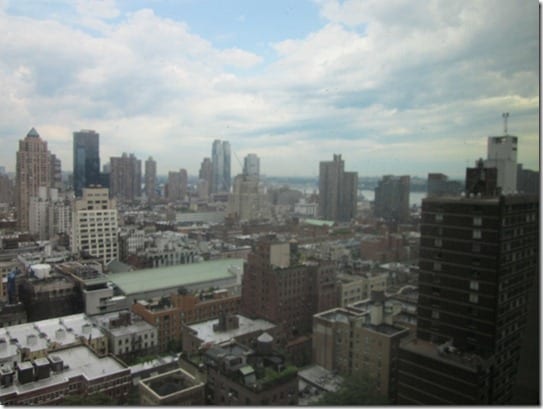 We hung out there for a bit and rearranged some of the shooting schedule because of the rain. My first shoot was pushed back so they told me to relax and get lunch. I was super hungry by this point and wanted a great sandwich. I passed a few Subways and Starbucks, but I was determined to find a real deli.
Finally, I found a place and got the #22 – a turkey sandwich with hard boiled egg, veggies and Russian dressing. It was HUGE and I thought I would only eat half. Well, I apparently I was hungrier than I thought and completely polished this off no problem.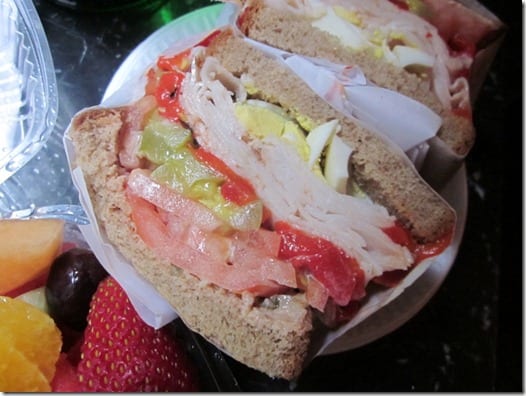 And the fruit (which I also thought I was going to save for a snack).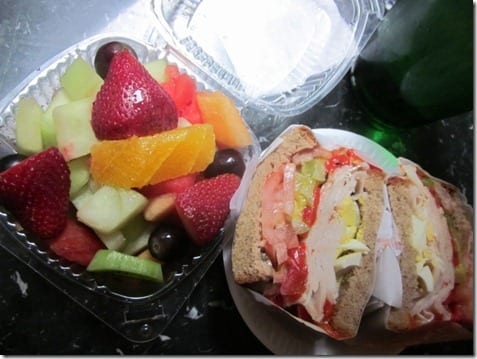 Then, I headed to Central Park.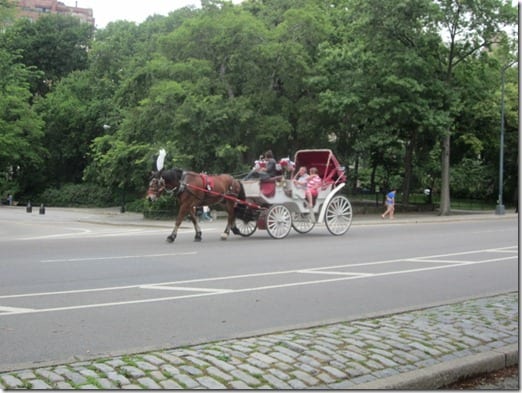 The other members of the cast had shot some of their stuff in the morning. I watched some of it and tried not to get too nervous!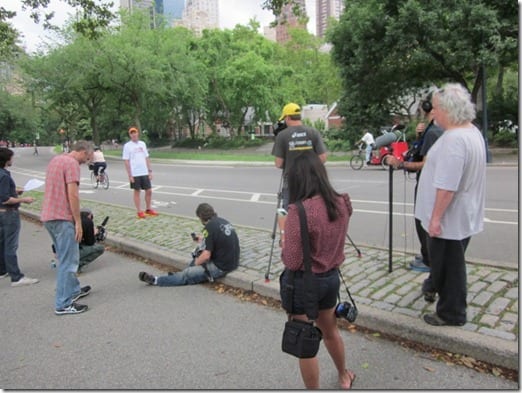 We got pizza for the group and everyone dug in, but I had just eaten AND my part was up next so I passed.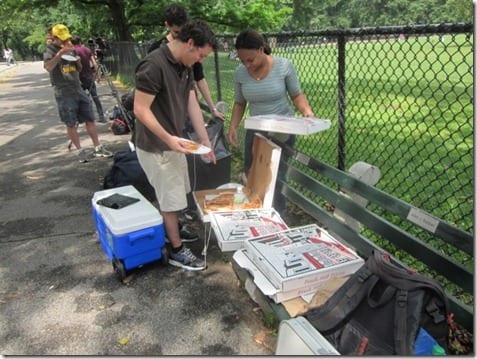 Buuuuut, pizza is my FAVORITE food and I decided I had to have pizza for dinner!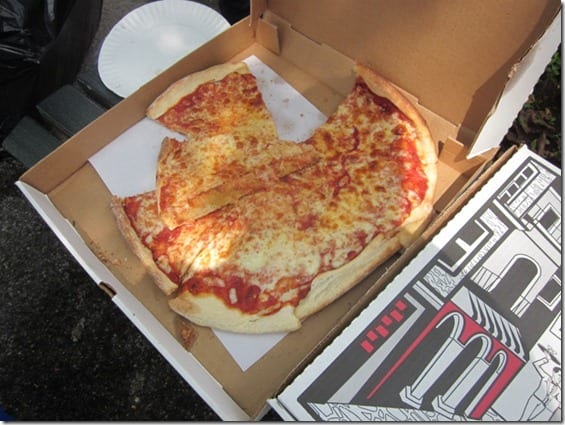 Finally it was my turn! My first webisode was about Running and Eating at the same time so I had to run behind a pedi-cab while saying my schpill. I looked like such a spectacle to people passing by. Oh well, it was fun.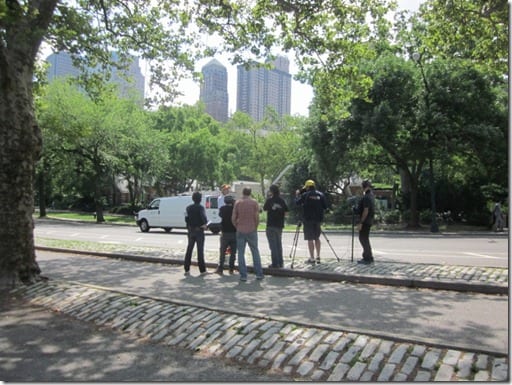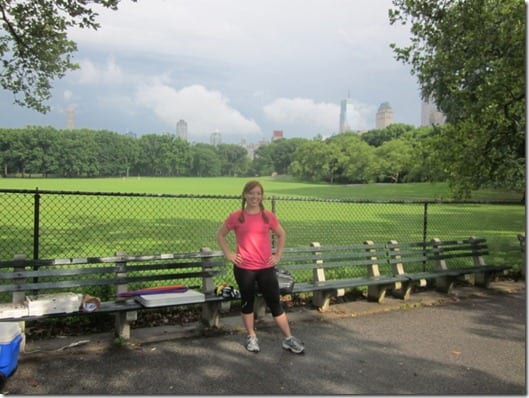 Then, I did the second part of that segment and talked about fueling options. Hopefully it will be helpful to new marathoners!
Right as that part ended it started to POUR. We all huddled under umbrellas and waited for it to pass. Finally it did and the show continued.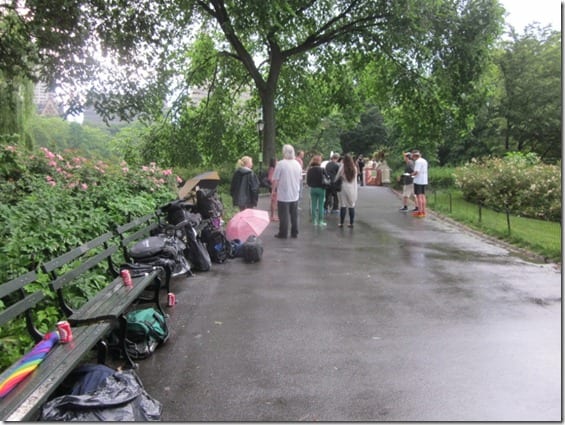 We moved to a different location and I filmed the another segment with fun marathon facts.
It was super interesting things like…
Over 17,000 pounds of throw away gear are donated to local charities.
There are over 8,000 volunteers
60,000 Power Bar Gels will be handed out at mile 18!
and my personal favorite…
The average 140 lb. woman will burn over 2,700 calories during the marathon, which is equal to 10 pieces of NYC pizza!!!
Noted. So when you see me eating a whole pizza on Nov. 4th, don't judge. I earned it.
My phone died so I had no idea what time it was, but we wrapped when the sun went down. The crew pointed me in the direction of my hotel and I kept an eye out for DINNER. Unfortunately, I didn't pass any pizza places
By the time I got near my hotel it was dark and my stomach was growling. Turns out it was after 9pm!
I ended up stopping into Whole Foods super fast for the hot bar and a granola bar.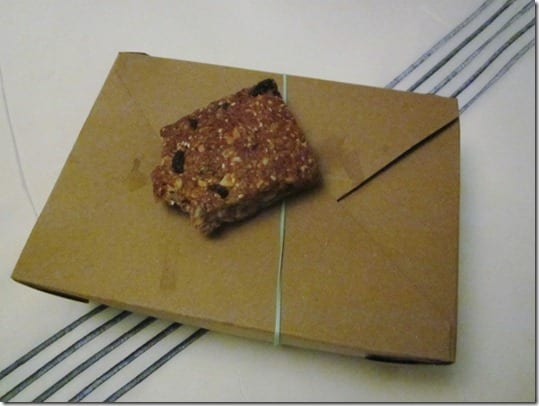 I know I know, it is a darn shame that I'm in NY and I eat WF, something I could have all the time.
But I'm so so tired and was cranky and my eyes are blood shot something fierce. I just wanted to put my feet up and take off all this make-up.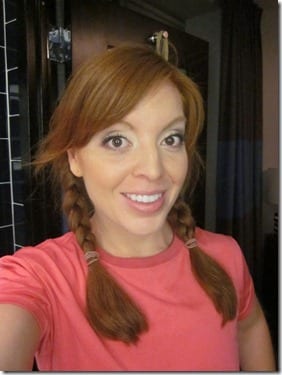 I needed food and to relax in my hotel more than I wanted to hunt down pizza. And now I'm eating and watching RHONY. And I wouldn't have it any other way.
I noticed this on a park bench in Central Park. How perfect is this?!
"Races are run with legs, Marathons are run with the heart."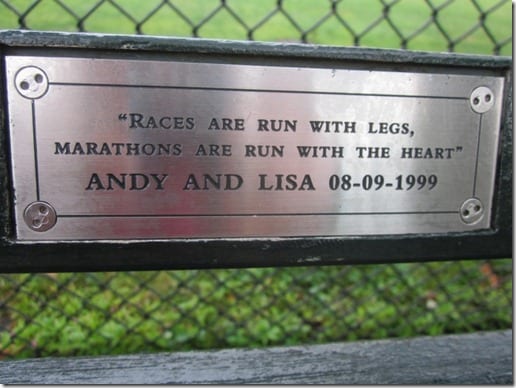 Even though the pizza mission was a fail, I will get a good New York City bagel tomorrow!!!
See ya later
Run SMART Goals
Fill out this form to get the SMART Running Goals worksheet to your inbox!