When I last left you yesterday I had just ran 6 miles through Central Park and enjoyed a NY bagel. From there the day went non-stop until 1am!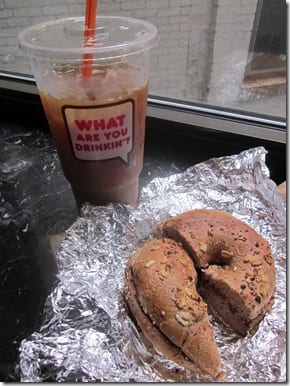 For those of you that missed it, I was recently chosen to be part of the ING Class of 2012. I am one of 4 runners doing the ING New York City Marathon and acting as a representative for the organization. We all have very different running backgrounds / experience levels and will be sharing our views and tips on training online over the next few months.
The other runners are Steve from SoCal Running
Dave who's blog is not up, but you can follow him on twitter at Clydesdalerunrr
and Jen Turner at Mad Cool Fitness (this site will be up next week!)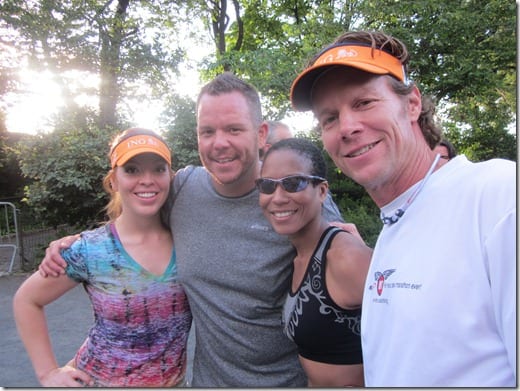 Nutshell: I was in New York Monday and Tuesday filming some webisodes. They will be available soon and I'll keep ya posted.
Okay back to yesterday morning…
I had to report to the Hearst building to be in the background of the yoga scenes Steve was filming.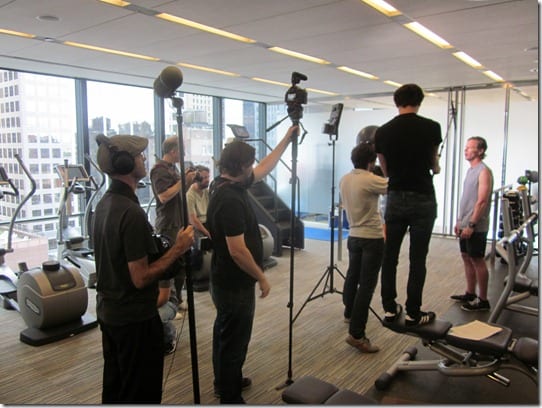 The Hearst Tower gym is nice and quiet. It's not very big, but the views are HUGE!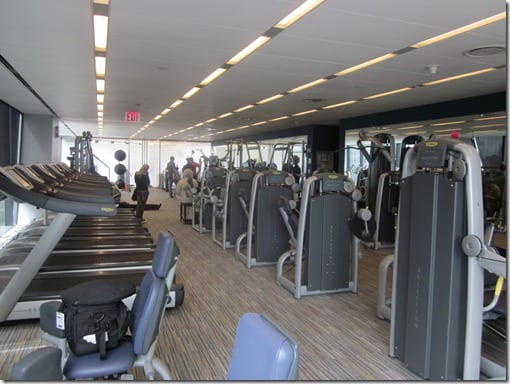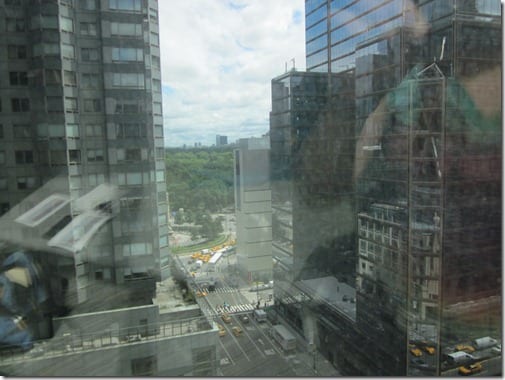 I kinda love that the gym had examples of healthy foods out. Focus on what you can eat, not what you shouldn't.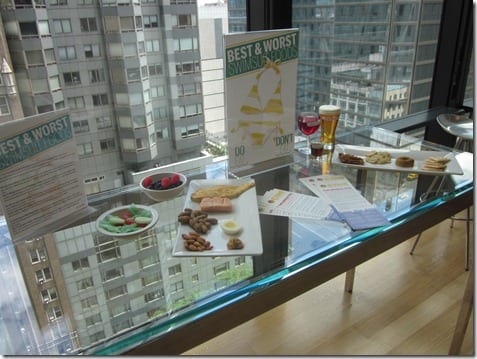 We shot the yoga scenes in the group fitness room. Everything with production takes a long time because the camera crew needs to set up the shot, background and sound.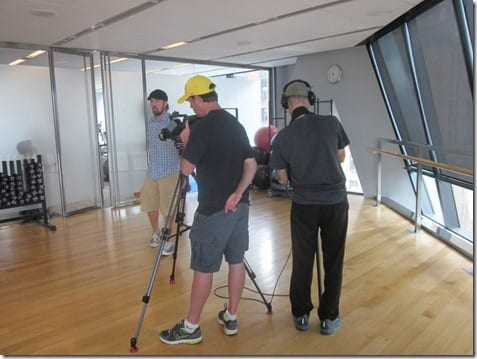 When I was done it was about lunch time and I grabbed another iced coffee to fuel me up for the rest of the day. I also grabbed another WF salad since I wasn't sure if I would be eating at the next location.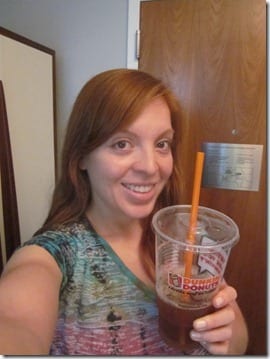 I did a quick wardrobe change and put on way too much makeup for the next segment.
Five of my segments focus on food. I am doing a series called "Marathon Meals" where I talk about recipes to enjoy while training. We filmed this part in the Redbook Test Kitchen.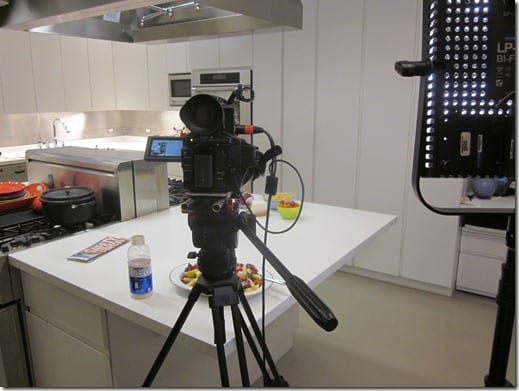 The recipes are from Redbook and the segments have me interviewing Babs Chernitz, food editor for the magazine. It was kinda intimidating at first, but you just have to roll with it!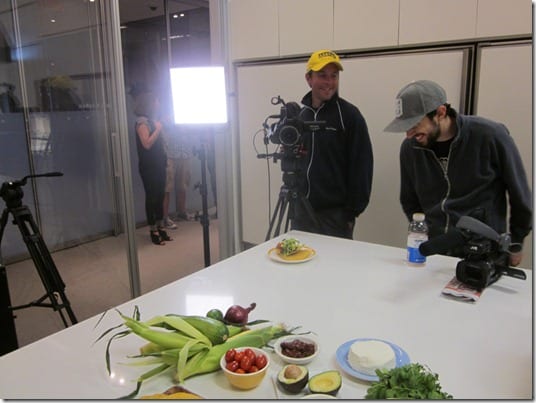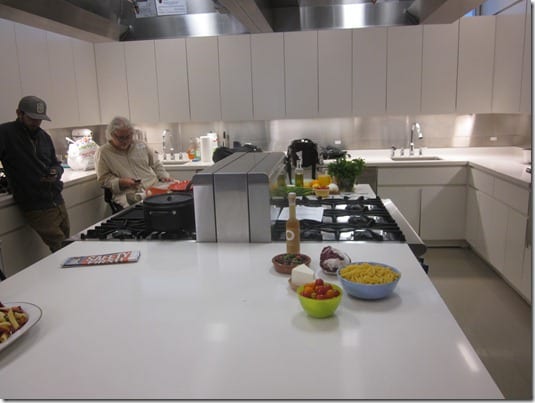 Plus, the hardest part about it was taking a bite of food and then talking on camera without spitting it all out on the table and/or the editor of a major magazine!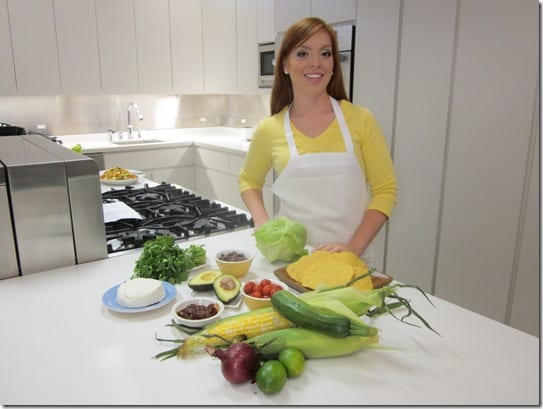 I'll be sharing the recipes as the segments come out, but here are some pictures.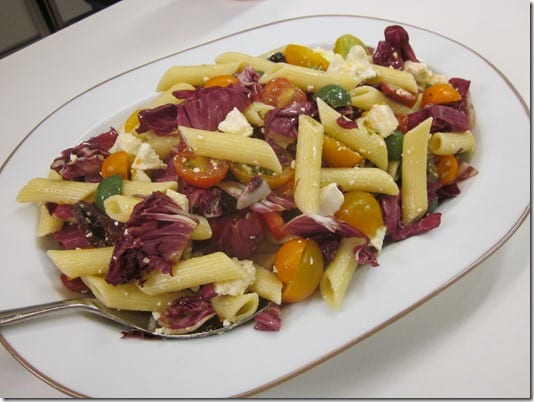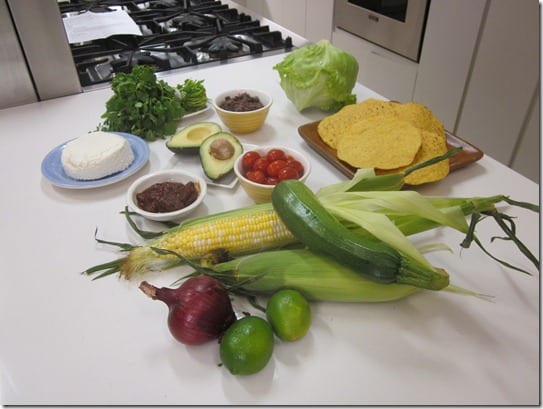 I'm kinda obsessed with the quinoa dish we did. Delicious.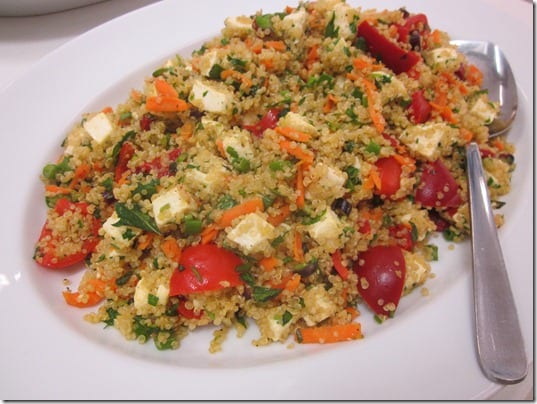 After those segments were wrapped I had to wait around while the guys went to film a scene in Central Park. Even though I took a few bites of the recipes we made I was HUNGRY. Finally I was able to break into my salad. So glad I thought ahead and grabbed something!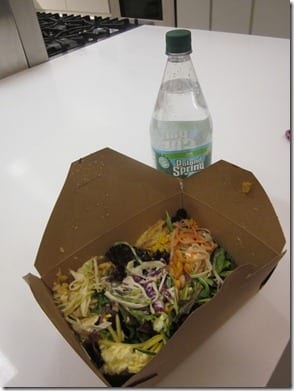 A bit later the crew and guys were back and we did one more fun beer drinking scene in the test kitchens. Then, it was time to move to the final location – the Central Park reservoir.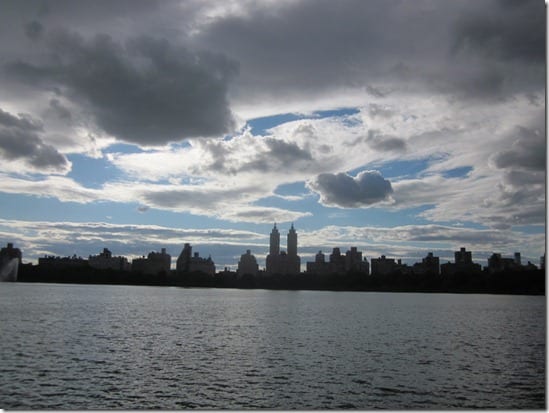 The path was pretty busy with runners and walkers, but we set up camp and tried to shoot when there was a gap in the crowd.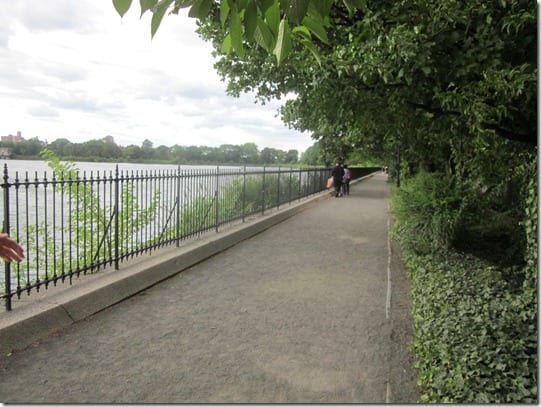 It was a little weird because people would slow down and watch us shooting. Then, they would realize I wasn't famous and walk off disappointed.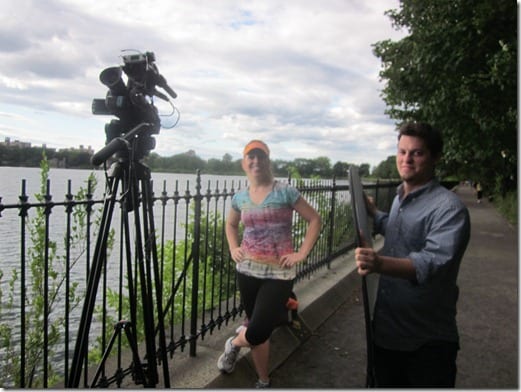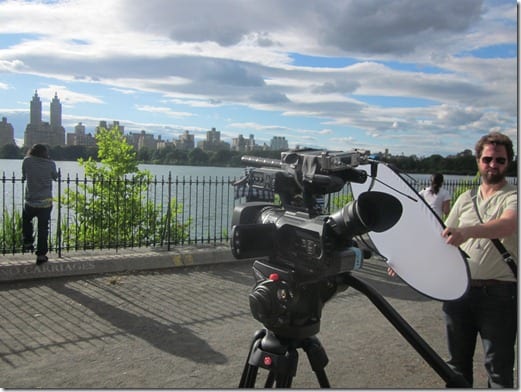 (Side note: I saw Will of Will & Grace while I was walking to the building earlier and was super excited! They were looking in the wrong place for famous people!)
After my hydration bit I had an apple while we waited for the next set up.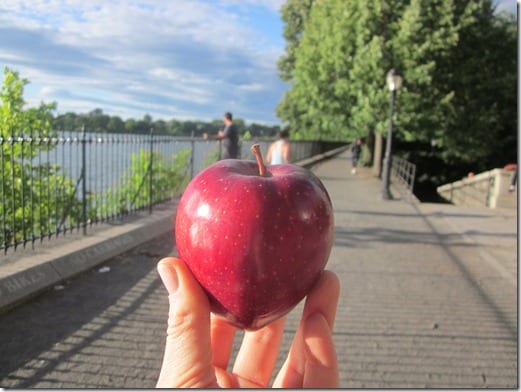 The last few shots were of the four of us running. We went back and forth on the path a few times with 3 cameras placed at different distances.
And the final shot was our sign off. It was appropriate that the "Good Luck!" shot was last, but it was also sad. We all worked so closely together for the last 48 hours I was sad for it to end.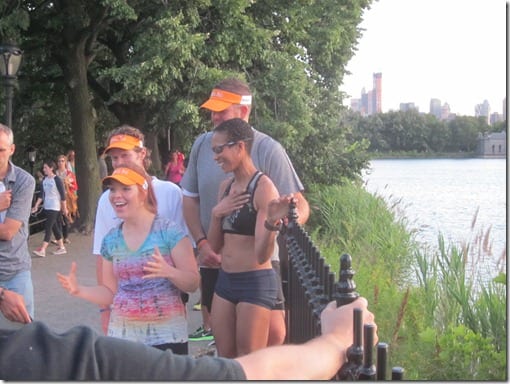 We wrapped about 8:30pm and headed back to the hotel for a quick change.  Jen left us at this point so it was just me and the guys with their SOs.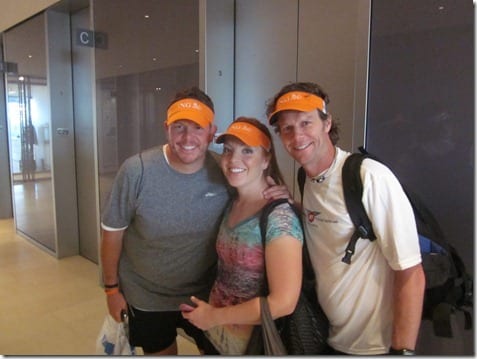 Then, we headed to 3 Monkeys bar for celebratory drinks! I started with a vodka tonic.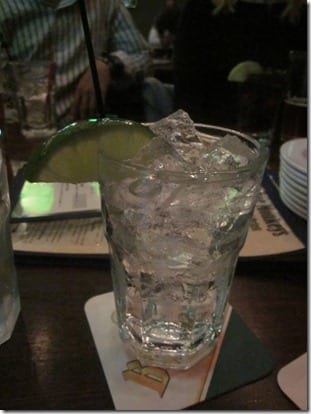 But we also got free cards to try the new Malibu Red.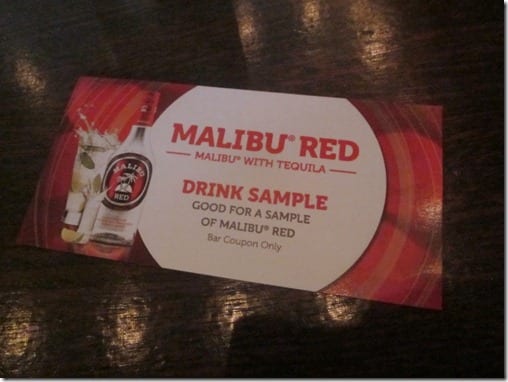 Yes please.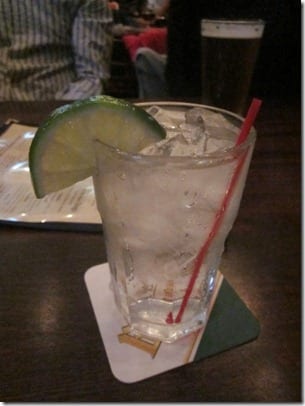 We also shared a bunch of appetizers. I was super hungry at this point and ordered the fish tacos and sweet potato puffs as part of the group order.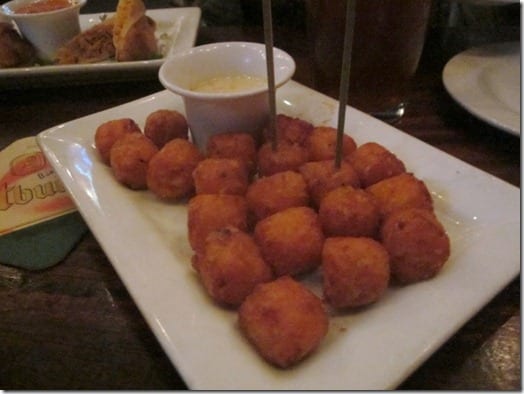 The fellow ING classmates are NOT food bloggers so it was nice to be around different people on this trip. But, they harassed my picture taking a little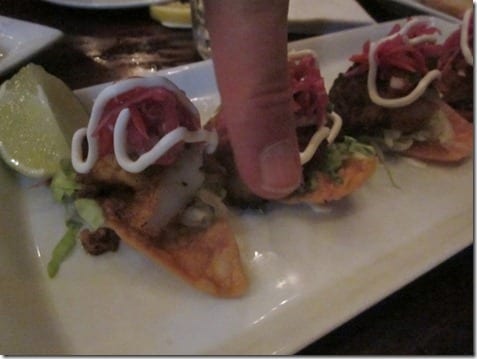 We also shared mussles and buffalo chicken spring rolls.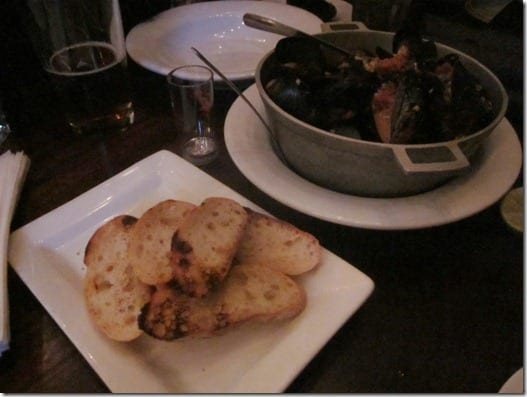 I had high hopes for the gravy smothered fries, but they were just okay.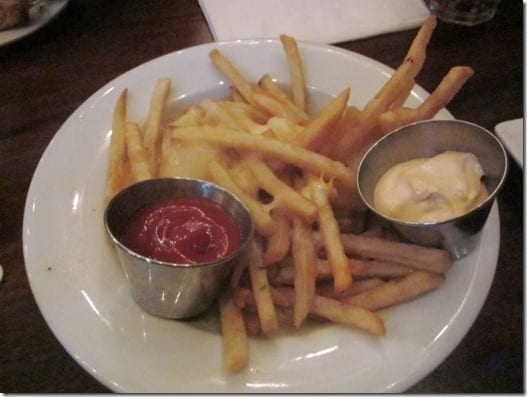 We lingered for a while talking over the events of the last two days and all the training we have ahead of us. Steve and I couldn't stop talking running.
Finally the rest of the group shut us up by moving the party to a karaoke bar.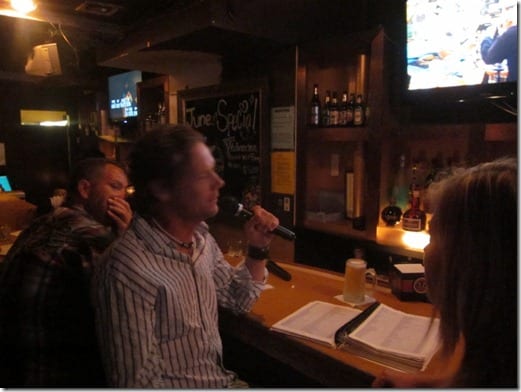 I stopped drinking at this point and just hung out. Finally I headed back to the hotel around 1am. Solo. The group was still going strong! But, I had a car coming for me at 5:15am and still needed to pack.
I crawled in bed around 2am and set my alarm for 5 – the last minute possible. Now I'm on the plane on my way back to SoCal.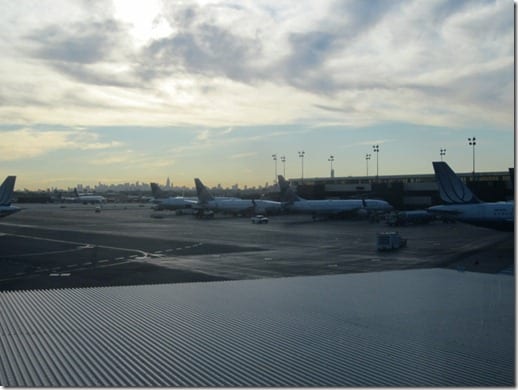 The entire experience was completely amazing. I feel so so lucky to have been chosen for the ING Class of 2012. I want to thank the ING NY Marathon group for letting me be a part of this. I hope I can live up to the expectations!
I'm excited to train for New York and I'm excited to share my point of view with other runners. I'll talk about training this week. But my laptop is dying and I kinda need a nap.
See you in California!
Run SMART Goals
Fill out this form to get the SMART Running Goals worksheet to your inbox!