Yesterday I played it pretty low key and relaxed most of the day away in the air conditioning. I usually only turn it on for an hour during the week but Ben had it on half the day because of the heat wave!
I finally headed out for errands around 4pm and made a stop at Whole Foods to refill my precious Bragg's liquid aminos and got dinner.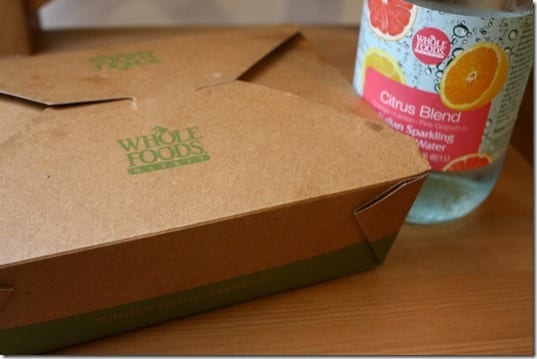 I grabbed a chocolate chip cookie from the bakery case for dessert. I know I've tried their vegan cookies, but couldn't remember when was the last time I had the "Amazing Chocolate Chip Cookie" as they label it.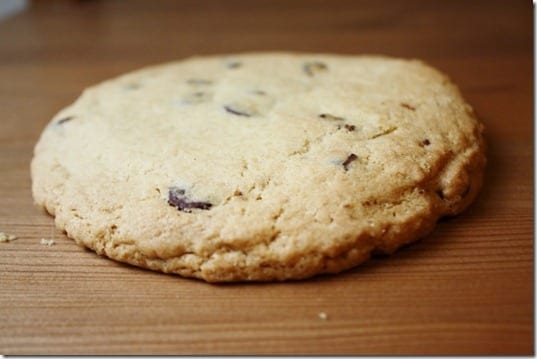 I haven't reviewed a chocolate chip cookie in a while so I thought I'd take this cookie seriously. I try to take all my desserts and blog posts as serious as possible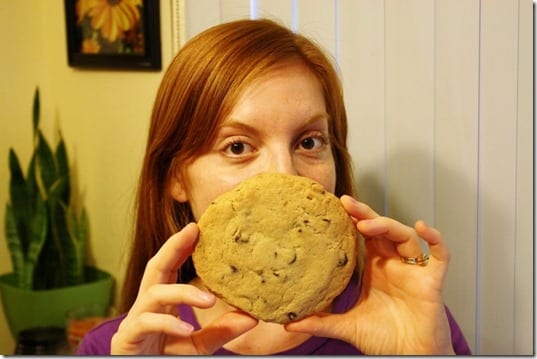 The Best Chocolate Chip Cookie Criteria:
One a scale from 1 to 5
Presentation: 3 – Plastic baggie, self serve. Shouldn't whole foods have some organic hippie bag that actually makes the Earth better when you bury it?
Size: 5 – Perfect!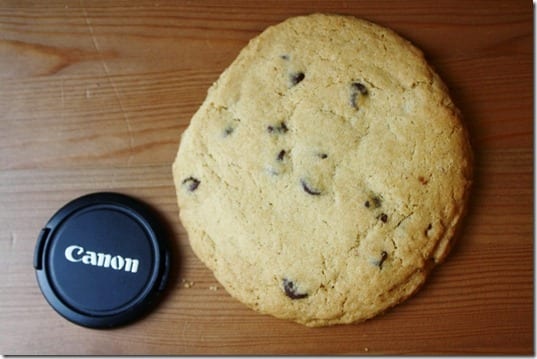 Thickness: 4 – Good thickness, but didn't have the 'bite' I was expecting from it.
Amount of Chips: 3 – It looked like it had a good amount, but a few bites had zero chips, not okay.
Overall Taste: 3.5 – Good, but something was missing from it. I'm not sure if it was too buttery or not sweet enough or what, but I wasn't in love.
Other:  Loved the size and thickness from the appearance so my expectations were somewhat high. Ended up being just okay. I wouldn't get it again, there are a lot of other pastries in that case that were calling me and are probably better than this one.
Eat me!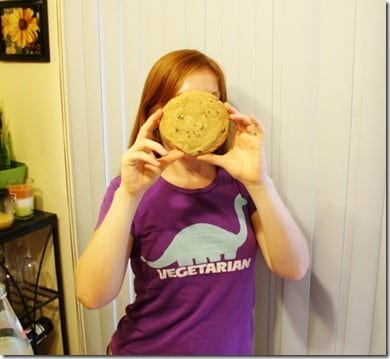 I started falling asleep around 9:30pm and hit the sack. Then, around 11pm Ben was rustling around and woke me up. I forgot he wanted to go see the Meteor Shower. We got up and drove out to a local campsite to check it out.
We had to drive out of the 'burbs because the light pollution made it impossible to even see one star from our house.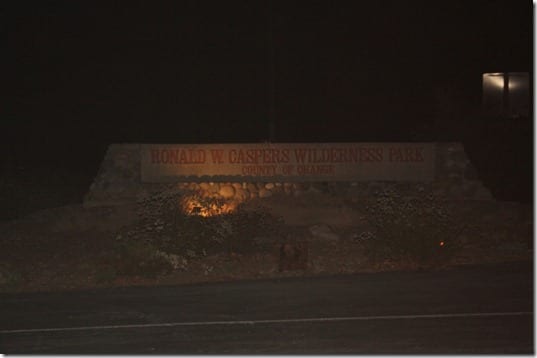 It was the Perseid Meteor Shower <- you can read science stuff there.
We got to the camp site, parked and leaned up against the car for an hour watching for shooting stars. I saw about 4 of them!!!
I also downloaded the Google Sky app – you point it up and it has all the stars and planets labeled in the direction you're looking. Amazing.
We got home around 1am and I was wide awake?!$@>@ Boo. I had a bowl of cereal and watched Locked up Raw (the only non-infomercial option!) until I felt like I as was ready to sleep.
I wanted to sleep in, but my body clock still has me up and blogging at 7:30am. Not sure what's on tap for today…
Question: Can you see stars in the night sky from where you live? Have you ever seen a shooting star?
Run SMART Goals
Fill out this form to get the SMART Running Goals worksheet to your inbox!