Hello! Did you guys stay up late watching the election coverage? This was one of the few times that the time difference was on my side and it wasn't too late in CA when they called it.
This morning I woke up early and did a quick 3 miler and some stretching. Not sure what's in store for this weekend (more on that below) so I didn't want to get too crazy with running.
Breakfast! I wanted jam on that toast, but held out. And that naner was served up with AB.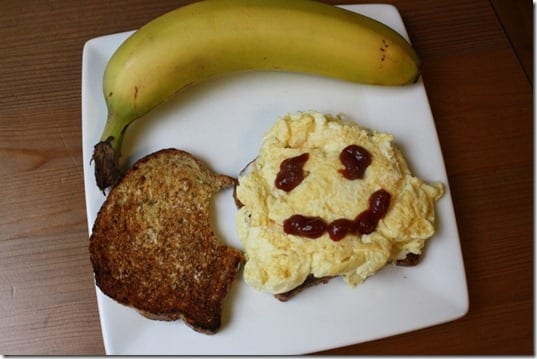 Since the ING New York City Marathon was cancelled in the 11th hour, I am a little lost when people ask me, "So what are you going to do now? Find another race?"
I seriously got a few text messages that said, "What are you going to do?!"
Um, I don't know.
Marathons are big scary beasts to me. So, even though many other bloggers jumped right into signing up for another race I wasn't so quick to do that.
Off the top of my head I know that:
Ali On The Run ran Manchester instead of NY on Sunday
And Ashley from Healthy Happier Bear will be running Philly in 2 weeks!
Please Note: Ash knows of a couple that lost everything in Hurricane Sandy and set up a Target wedding registry to replace their things. Check out Jen & Pedro's Rebuilding Registry here.
A lot of upcoming races offered would be NYC runners steeply discounted bibs. I don't know if I'll do a full to fill the void or what exactly yet, but I'm looking at all my options. All I know is, I have to decide asap since I'm ready now and won't be in another few weeks unless I keep training.
While all of that is up in the air – this isn't…
I am a big fan of half marathons and know I'll be running Santa To The Sea Half Marathon in Oxnard Dec 9th. Oxnard is a bit north of Los Angeles and I'll be doing this in please of the closer Holiday Half I did last year.
The kind race organizers at Santa to the Sea offered me a free bib and ONE FREE BIB for an RER Reader! The race is a Half Marathon Dec 9th outside of LA. Please only enter if you can make it.
To Enter: Leave a comment saying "I want to run the Santa to Sea Half!"
Open to all, but transportation/travel/Santa Costume not provided. Closes 11/9/2012 at 8am PST.
Pile on the Milers that Need Your Support!
Question 2: I got this question last night from Erin – please chime in below with your advice!
Run SMART Goals
Fill out this form to get the SMART Running Goals worksheet to your inbox!