Helloooo! This morning I ran 1.5 miles to the gym, messed around with the weights and then ran back.
Breakfast was a veggie omelet with a flatout spread with Laughing Cow cheese. I also had a scoop of sunflower seed butter while cooking because I cannot go without it.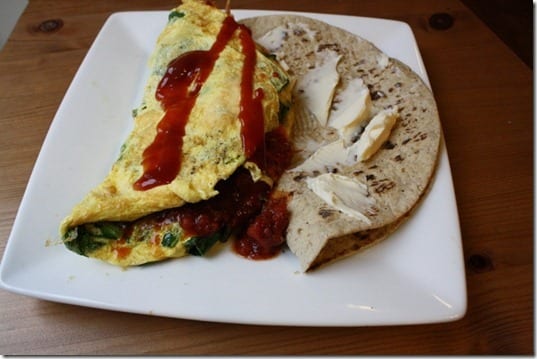 Happy Holidays!
I got this Rosemary tree from Trader Joe's yesterday and am tempted to just use this for our Christmas tree. I LOVE Christmas, but I'm pretty busy this week, out of town this weekend and am not sure if it's worth it to drag out the decorations next week since we are spending the actual holiday in Florida. Would it be tragic if I didn't decorate (beyond this tree with one ornament)?
I have run the Rock N' Roll Las Vegas Half Marathon the last two years. But, last year they changed the race to start in the evening. The Half Marathon starts at 4:30pm (it's not late, but is dark by the time you're done so you run the "strip at night").
Last year I was super worried about what to eat before the race. I am a morning runner and pretty much always have coffee and AB on toast before a long run or race. Running after lunch presents a big problem because you need to fuel, but you don't want to eat too much or too little before a 13 mile run!
EVERYONE IS DIFFERENT, so you have to run, eat and repeat in a way that works for you. Here is what worked for me…
What I Eat Before an Evening Race or Run:
1. I had a 'normal' breakfast – eggs and toast with jam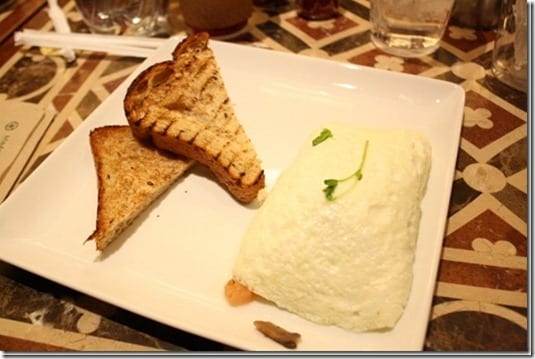 2. I didn't drink alcohol on the day of the race even though I was in Vegas and it's the right thing to do. Sad face happy belly.
3. I had a few bites of Ben's Chinese food and a salad for lunch ( a lot of people can't handle veggies before a race – so be careful on this one if you have a sensitive stomach).
And pre-race I had a big ol' salty pretzel about 2 hours before the race. <- I am a huge proponent of salty carbs before a race so this worked perfectly!
Running the race? Check out my recaps here: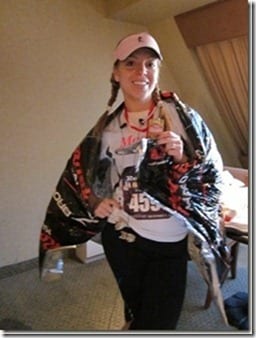 Question: Do you workout or run in the evening? What do you eat before??
Run SMART Goals
Fill out this form to get the SMART Running Goals worksheet to your inbox!