I have been a big big fan of Ruby since I first saw her reality show a few years back. I don't know why it really struck a cord with me, but I adore her. She had a show a few years back that documented her life in the South and weight loss. Ruby was always open about her struggles on the show and worked with a trainer, dietician and therapist (<- very important for some people's journey).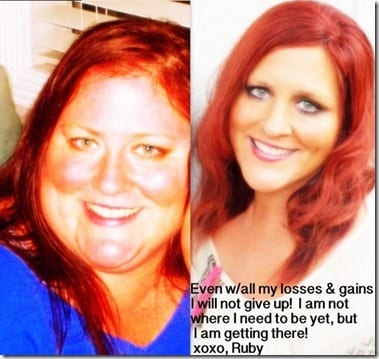 (source)
I was recently contacted by her publicist with an offer to talk to her. Um, I was so excited! I am a huge fan and supporter of her healthy living journey so I jumped at it.
Ruby had a bit of a set back when her brother died last year and gained some of the weight she lost back. Now she is doing the 90 day Visalus Challenge in an effort to lose a lot of lbs quick style.
She's also currently training for a triathlon in March. She's working up to do a 1 mile walk, 1 mile bike and 1 mile hike in LA. (I'll be back with details on this if local readers want to come out and participate or watch!!!)
Ruby struggled with her weight since she was a child so we chatted a lot about that.
Ruby: "My mom was incredible, but she was an enabler. I was 300 pounds at the age of 15. She let me eat whatever i wanted to eat. That is so bad for you… eventually it will kill you."
Monica: "What can we do to help prevent kids from becoming overweight?"
Ruby: "They have Pizza Hut and fast food in school. Please don't have junk in your home. A child is going to grab whatever is there. If you have an apple or an orange or a cookie  – what are you going to choose? I think we should eat healthy around children. don't beat them up. Don't tell them they're fat. Don't make their self esteem go any lower than it is. I know a lot of parents try to compensate, they feel guilty for working or being busy. I know a lot of parents want to make their kids feel happy. But, we have to take back control. You're going to hurt them later in life."
Monica: "When did you start dieting?"
Ruby: "In high school we would go to get fast foods. I was the one getting bigger, I wasn't an outcast. I felt like I belonged with my friends. But when i first got my first crush at 16, he said 'I like you but you need to lose some weight.' I did try to. I tried every diet out there. But the quick fix, that doesn't work."
Monica: "Where are you now on the journey?"
Ruby: "When my mother died and the show it broke my heart. It was a year February 8. I lost all control. I gained back to 398. I made up my mind October 11th and went to my trainer. I was ready to change.
It's not about being the perfect 10 or a perfect person. I just want to be  able to do what Iwant to do. If I want to ride a roller coaster I can.
Today I am 352! I weighed in 2 weeks ago."
Monica: "Do you have any tips for people struggling with their weight loss?"
Ruby: "It's so important to write down what you eat. I know people use
spark people or my fitness pal. Whatever I eat, I a going to write it down. I am  going to have to burn it."
Monica: "What are you eating these days?"
Ruby: "If I want something sweet I make these protein muffins that are on my Pinterest."  <- I'll try to find the recipe for you guys, but I don't have it now.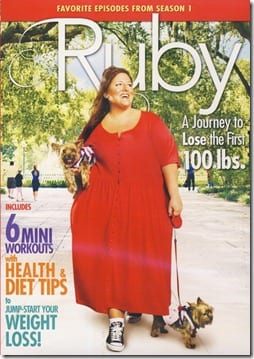 Ruby DVD Season One Giveaway – To Enter Leave a Comment with what you are eating for lunch today.
Open to residents of the US and Canada. Closes 2/14/13 at 8pm PST.
Winner of the Applebee's Giveaway: (email me and I'll send you the gift card)
Winner of the Theragesic Giveaway: (the company will contact you for info)
GRAND PRIZE WINNER: Lauren Clark
RUNNER UP: Adrienne Graves & RUNNER UP: Patty Thomas
Run SMART Goals
Fill out this form to get the SMART Running Goals worksheet to your inbox!