This morning I woke up bright and early for a quick 3 mile run – that's all I had time for but you gotta work with what you got
Then, I hit up John Wayne (the airport, not the guy) to head to San Francisco. The Orange County airport is so much easier to use than LAX!
Iced coffee and oatmeal brought from home (ate eggs at home too).
Made it to San Francisco!
Quick wardrobe change…
And the first thing I did when I got there was Mission: Iced Coffee
I dropped my stuff off at the hotel and headed to the Ferry Building…
Just the tip: The best iced coffee in the world is from Blue Bottle Coffee Co. in the Ferry Building in San Francisco.
I am an iced coffee connoisseur and I support this message.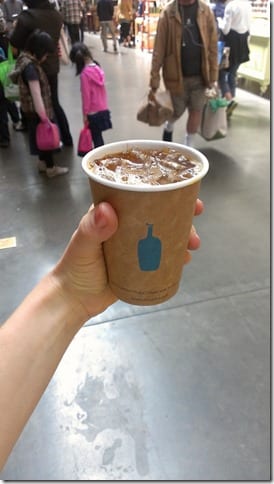 Then, I grabbed some cherries and headed to my meeting
Question: What's your local airport?
Run SMART Goals
Fill out this form to get the SMART Running Goals worksheet to your inbox!