Hello! Happy Friday!
This week has been busy for me, but I am almost caught up with everything I procrastinated while in Florida last week.
This morning I was fighting with SkinnyRunner about her trying to con me into running a crazy hilly race. Then, I got distracted and went for a run. Well, she found me!
We happened to be running the same path and did a couple of miles together! Score one for fate.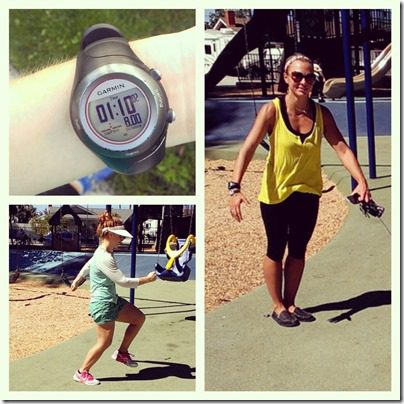 The day of the Boston Marathon bombing the world of road racing changed. It's sad, but a sport that is based on challenging yourself past your limits, fundraising for awesome causes and spreading the love of running got really shaken up. I had friends there (thank God they were all okay). I got calls from my friends and family checking if I was there. It really hit home.
Luckily, marathon runners are a relentless, badass group of people. They will not be stopped. So, the show will go on.
Fall Marathon season is the best, biggest season for the big 26.2. There is the Chicago Marathon, Marine Corp Marathon and New York City marathon among hundreds of others. But the race organizations have had to tweak the rules a bit for some safety precautions following Boston.
This is what it means for runners and their spectators…
1. Gear check – if you are going to check gear it must be in the clear plastic bag provided by the race. Most of the time you'll get these at the expo.
(source)
2. There will be more baggage checks. Runners and spectators will have their items checked at the expo, race and to get into certain race related activities. Don't bring bags you don't really need as this will slow down the process for everyone. Most races are suggesting ONE bag person, no bigger than a purse. Or murse if you're a guy.
3. Camelbacks and backpacks will NOT be allowed at most races. *Cats are probably not allowed either, but I'll check before I pack him in my bag.
What? I can't go?! Not cool.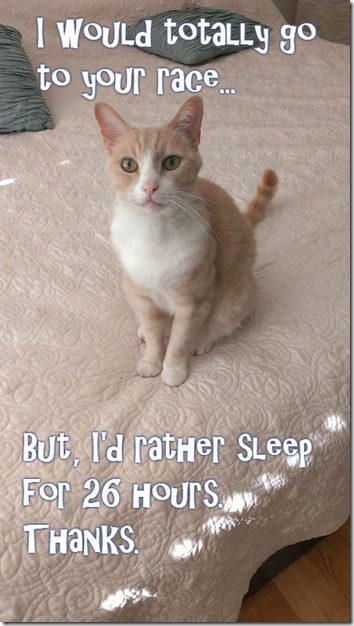 You CAN use handheld water bottles and hydration belts (like the ones I talked about in my vlog). But camelbacks and backpacks will not be allowed.
4. If you are unsure what your race will allow or not allow – check the website and actually open up all those emails they send before the race. All races should have their policies and updated safety information on the site well in advance of race day.
If you trained with a camelback or backpack you need to find out ASAP if your race allows that. If not, you need to find a new way to hydrate.
You should pack your gear check bag knowing it will have to fit in a clear, plastic bag. Don't bring anything you don't need.
Here are a few options:
Nathan Quick Draw Hydration handheld
Nathan Trail Mix Hydration Belt
Marine Corps Marathon Safety Information with approved and banned items.
The New York City Marathon has a list of prohibited items here.
Related: Update from one of the amputee victims of the Boston Marathon bomb. via WSJ
One victim seeks more support from funds. Via Washington Post.
How the Boston Marathon Bombing will affect road races. Via Runner's World.
Question: Thoughts? Has the Boston Marathon bombing changed how you feel about big road races?
Run SMART Goals
Fill out this form to get the SMART Running Goals worksheet to your inbox!